Hank DeHay grew up visiting the vegetable patches of his grandfathers and hearing scraps of horticultural advice on the radio from Dallas garden guru Neil Sperry.
But it took a pandemic to make a gardener of him.
After narrowly making it home from their European vacation hours ahead of a travel ban in early March, DeHay and his wife, Ali, have hunkered down at their cozy bungalow on Parrott Avenue.
On breaks from teaching his Baylor University communications classes online, DeHay found plenty of time to build some raised beds using leftover wood from an old youth ministry theater set. He has filled them with seedlings of bell and jalapeno peppers, okra, cherry tomatoes, rosemary, watermelon and strawberries, relying on videos and websites for pointers.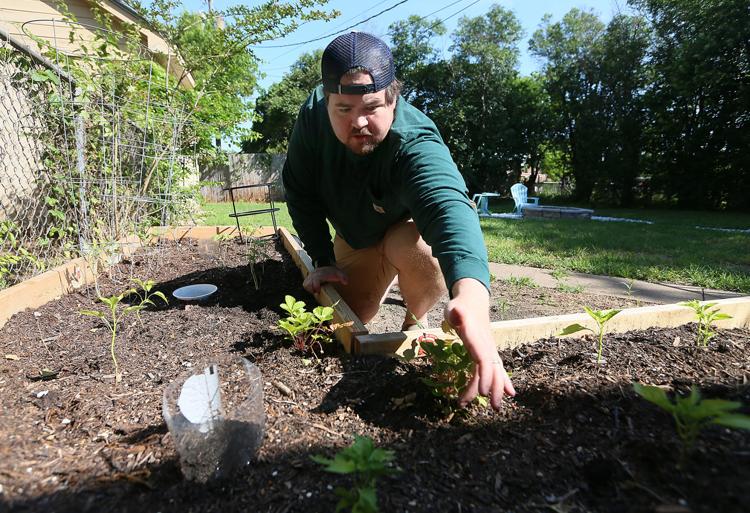 "I grew up listening to Neil Sperry, but I never thought I'd be heeding his advice," said DeHay, a Waco native.
DeHay is among a bumper crop of new gardeners seeking solace in the soil during the lockdown this spring. Garden businesses in Waco and around the country report that sales of seeds and nursery plants have soared. For some, gardens are a backup food supply in an uncertain time. Others, DeHay included, are just looking for a wholesome cure for cabin fever.
"There's just something about something you've grown yourself," DeHay said. "We decided we've got a little wiggle room, a little more time on our hands. … We try to have office hours, but we try to having something to escape to. So why not build that in our backyard and also reap the benefits and give to some friends along the way?"
Thomas Berg, manager at GreenLife Nursery and Landscaping at 1312 New Road, said he has seen a "huge uptick" in customers wanting to start gardening, and employees have tried to help them with advice on how to build and care for a garden.
"It's definitely kept us busy," Berg said. "The challenge is not just keeping plants in stock but also teaching them how to grow tomatoes so they don't die in our Texas summer. Probably 60 to 70 percent of them are people who are just starting gardening."
He said the widespread lockdown has been a "boon and a bane" for nursery retailers, increasing demand while disrupting supply lines as some wholesale nursery workers have been sent home as "nonessential workers."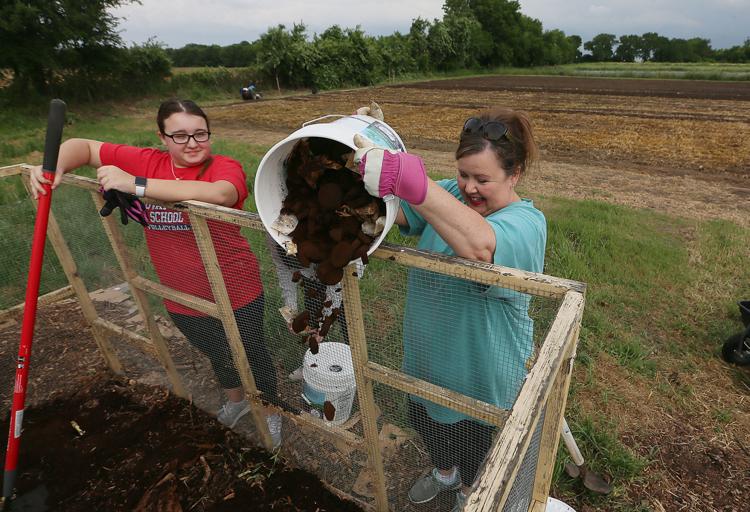 Jonathan Grant, executive director of World Hunger Relief International, a sustainable agriculture demonstration farm in Lacy Lakeview, said he has also witnessed gardening fever this spring. The farm has given away 1,000 surplus packets of seeds from its supplier, Bentley Seeds, and is working with home gardeners on "square-foot gardening" techniques.
"For them, it's a matter of taking control of their own food system and to have a say in what's available," Grant said.
Meanwhile, as the COVID-19 pandemic disrupted the organization's usual volunteer system, the farm has recruited families to work its garden, which provides produce for its community-supported agriculture co-op and the Waco Downtown Farmers Market.
"They didn't just want to get outside. They wanted to get in the dirt and get into the roots of things," he said. "It's a beautiful thing to watch families work together."
For some families thrust into the unfamiliar role of homeschooling children, gardening has become part of the daily ritual.
Trent Futral, a Mission Waco employee, and his wife Anna, executive director at CASA of McLennan County, are working reduced hours and splitting child care duties at their home on North 15th Street.
Futral said he was already planning to expand his side garden this year to a length of about 25 feet. But he ended up having more time to do it, and he was able to add drip irrigation and build up the soil.
"Mostly it was just a desire to have more vegetables and see the process from seed to plant to finished product," he said. "But I have had more time to work on it. The week I put it in was the week everything shut down. The kids were home from from school looking for something to do. We got compost and sand to mix with the soil and tilled it up."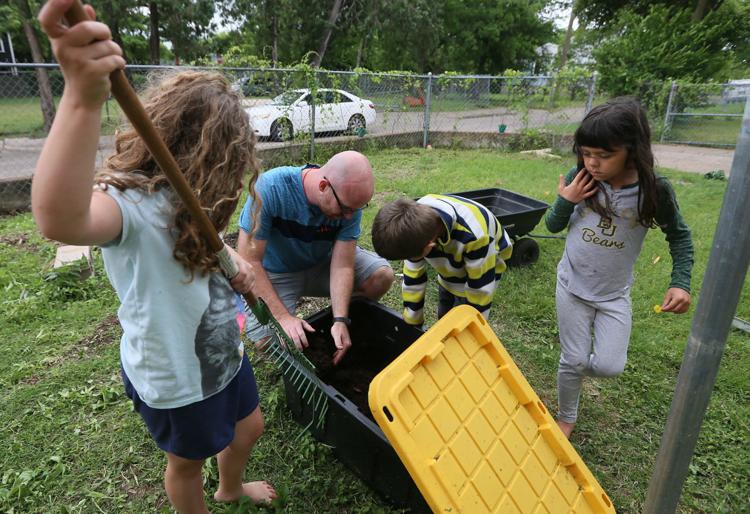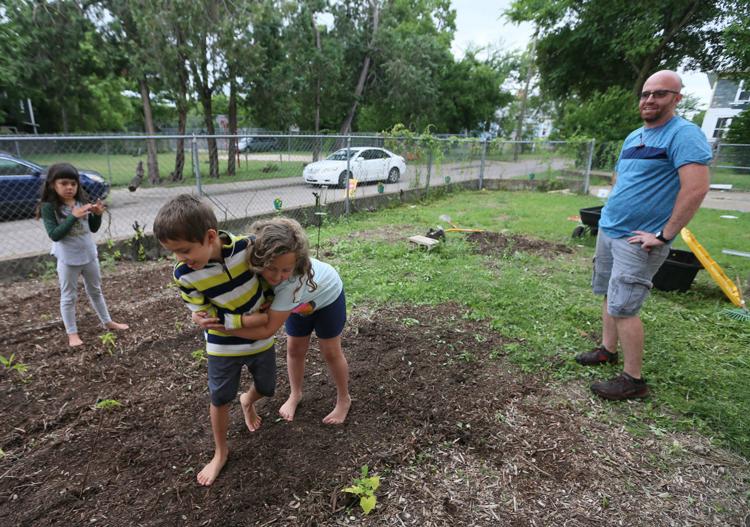 Futral's approach differed from that of the DeHays, who bought prepared garden soil and created raised beds to avoid having to deal with the compacted black clay soil of their Sanger-Heights neighborhood.
Living in a house built at the turn of the 20th century in the same neighborhood, Futral assumed his soil would be contaminated with lead, but he had it tested and found it had no problems.
Barbara Vance, veteran volunteer with the McLennan County Master Gardeners, said this spring has been a "gardener's dream," with beautiful weather, plentiful rainfall and, for many people, plenty of time on their hands. She sees gardening as a statement of self-sufficiency.
"It's like victory gardens in World War I and later in World War II," Vance said. "People are worried about shortages and worried about getting out of their homes. What's safer than knowing that your vegetables are grown in your own back yard? It's very comforting, and it's a great family activity for children to learn where food comes from."
Vance said it is gratifying to see people get enthusiastic about starting a garden, but she cautions newcomers not to get overly ambitious.
"Gardens do have to be maintained," she said. "The fun part is getting them installed."
Vance advises aspiring Central Texas gardeners to heed a few tips to avoid some needless trial and error.
Prepare the soil. That includes digging it up and working in organic matter such as compost or cow manure to improve aeration and fertility. "There's an old adage about digging a $5 hole for a 50-cent plant," she said.
Pick the right plants for the right place. Some plants sold at big box stores, such as blueberries and rhubarb, need more acidic soil than most of McLennan County offers, and some are not suited to Central Texas summers. Most vegetables require full sun, but check the label. And do not plant water-guzzlers next to plants that prefer dry conditions.
Mulch any soil that is not covered by a plant. Doing so will reduce watering demands and weeds.
Space things out, based on the size of the plant at maturity. Overcrowded plants are less productive and more susceptible to disease.
Water wisely. That means watering deeply instead of often. Drip irrigation works well for most plants. Do not water in the evening, as it invites fungus.
Vance said the master gardener's group has had to cancel its educational events and gardening hotline this spring because of the pandemic, but she said its website, https://txmg.org/mclennan, contains useful information for gardening in Central Texas.
---
Photo gallery: Virus outbreak protests and more
APTOPIX Virus Outbreak Mexico
APTOPIX Virus Outbreak South Africa
APTOPIX Virus Outbreak Colombia
APTOPIX Virus Outbreak Britain WWII VE Day
APTOPIX Georgia Chase Deadly Shooting
APTOPIX Georgia Chase Deadly Shooting
APTOPIX Virus Outbreak Brazil Amazon
APTOPIX Virus Outbreak Trump
APTOPIX Police Officer Killed
APTOPIX Virus Outbreak Florida
APTOPIX Virus Outbreak Pennsylvania Protest
APTOPIX Virus Outbreak Brazil
APTOPIX Virus Outbreak Turkey
APTOPIX Virus Outbreak Germany WWII VE Day
APTOPIX Virus Outbreak Belarus Parade Rehearsal
APTOPIX Virus Outbreak Uruguay
APTOPIX Virus Outbreak France
APTOPIX Virus Outbreak Texas Daily Life
APTOPIX Virus Outbreak Lithuania WWII VE Day
APTOPIX Virus Outbreak Spain
APTOPIX Virus Outbreak Germany WWII Victory Day
APTOPIX Virus Outbreak Belarus WWII Victory Day
APTOPIX Virus Outbreak Ukraine WWII Victory Day
APTOPIX Virus Outbreak Georgia WWII Victory Day
APTOPIX Virus Outbreak Final Goodbye
APTOPIX Virus Outbreak Spain
APTOPIX Virus Outbreak Russia WWII Victory Day
APTOPIX Virus Outbreak India
APTOPIX Virus Outbreak Ukraine WWII Victory Day
APTOPIX Brazil Protest
APTOPIX Virus Outbreak Cyprus
APTOPIX Germany Daily Life
APTOPIX Virus Outbreak Trump
APTOPIX UFC 249 Mixed Martial Arts
APTOPIX Virus Outbreak Russia WWII Victory Day
APTOPIX Virus Outbreak Venezuela
APTOPIX UFC 249 Mixed Martial Arts
APTOPIX Virus Outbreak Venezuela
APTOPIX Virus Outbreak India
APTOPIX UFC 249 Mixed Martial Arts
APTOPIX Virus Outbreak South Korea
APTOPIX Virus Outbreak Canada Snowbirds
APTOPIX Virus Outbreak Mexico
APTOPIX Virus Outbreak Georgia Mothers Day
APTOPIX Virus Outbreak Mexico
CORRECTION APTOPIX Virus Outbreak Canada
APTOPIX Virus Outbreak Brazil
APTOPIX Virus Outbreak Indonesia
APTOPIX Virus Outbreak South Korea
APTOPIX Virus Outbreak China
APTOPIX Virus Outbreak Netherlands
-- HIDE VERTICAL GALLERY ASSET TITLES (copy) --