Waco's riverfront is expected to stay soggy for another couple of weeks as Lake Whitney and Lake Waco continue to send pent-up floodwater toward the Gulf of Mexico.
The Brazos River river gauge in Waco was at 20.4 feet Wednesday as the river swamped most of the riverwalk, backing up into storm drains and keeping boat ramps closed. Levels are expected to drop to about 19.5 feet by this weekend, according to the National Weather Service's Advanced Hydrological Prediction Service.
The river was moving Wednesday at 27,770 cubic feet per second, according to the U.S. Geologic Survey, 17 times the river's median flow for June 12.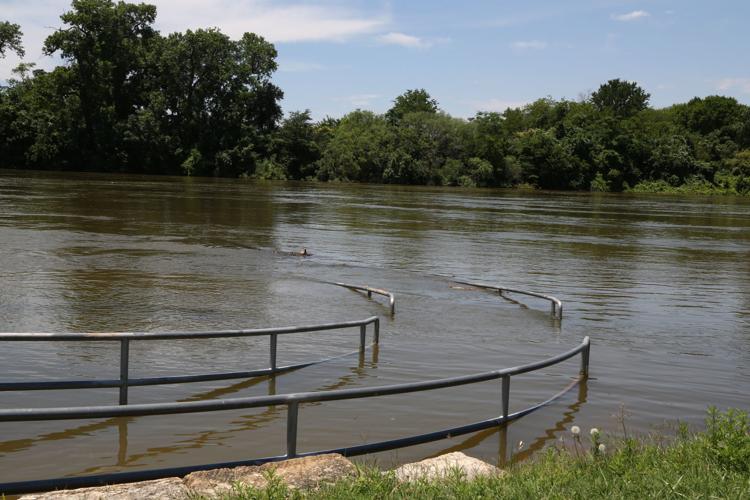 Most of that flow was coming from Lake Whitney, where the U.S. Army Corps of Engineers is releasing about 24,000 cubic feet per second to bring down water levels that are still 8.5 feet above normal. The lake level peaked in mid-May at 22 feet above its normal level of 533 feet above sea level.
Meanwhile, Lake Waco was releasing 3,373 cubic feet per second Wednesday as it stood at 4.7 feet above its normal level of 462 feet. Both Whitney and Waco lakes dropped about a foot over Tuesday and Wednesday.
Most of the parks around Lake Waco remain closed, but Lake Waco park ranger Mike Champagne said the recreation season is not completely lost.
Airport Park will remain closed for the time being after suffering from erosion and wave damage, but the Corps plans to open the Speegleville campground and boat ramp June 21. On July 1, boat ramps and pavilions at Twin Bridges and Airport Beach are set to reopen, along with some campsites at Reynolds Creek Park. Midway Park's campground is already open.
"I'd consider that a real good recreational chance for people," Champagne said.