Waco and McLennan County could see a peak in COVID-19 hospitalizations in as little as two weeks or up to two months from now, depending on the forecast model used and on how well residents adhere to social distancing and stay-at-home orders.
A University of Texas at Austin report predicts a peak in Waco cases as late as June, even without social distancing measures that have been put in place by the city of Waco, McLennan County and the state. Another forecast developed by the Covid Act Now website also predicts a peak in hospitalizations in June, while a statewide forecast by the Institute for Health Metrics and Evaluation at the University of Washington predicts a much earlier peak for the state — April 26.
Local health officials said these forecasts are helpful, but they are not predictions of when McLennan County will hit a peak of COVID-19 hospitalizations and when local hospitals will reach maximum bed capacity. Both Baylor Scott & White Hillcrest Medical Center and Ascension Providence hospital are prepared to more than double their intensive care units' bed capacity, if necessary.
Between both hospitals, they have a total of 54 ICU beds, 40 of which are in use, and a total of 521 hospital beds, as of Wednesday afternoon. But the projection models use different figures for hospital beds and do not account for the possibility of increasing the number of hospital beds.
Dr. Farley Verner, local health authority for the Waco-McLennan County Public Health District, said the projection models give him a gauge of how bad the situation may get here and how soon that might happen.
"What you have is a number of best guesses out there, and you can take those in summary and say that what's going to happen is probably somewhere within those ranges," Verner said. "But there isn't something that helps you decide whether this projection is more accurate than another, and there's quite a variability amongst them."
The University of Texas report predicts a peak in COVID-19 hospitalizations by mid-July, with the need for almost 2,000 hospital beds, if schools remain closed and people reduce their contacts with others outside their households by 50%. The model assumes Waco's estimated hospital capacity is about 500 beds.
If schools remain closed and people reduce their contacts with others by 75%, the peak in hospitalizations would not hit until mid-August and about 1,500 hospitals beds would be needed, according to the model.
That model's only scenario in which the local hospital systems would not be overwhelmed, unless they more than double their bed capacity, is if schools remain closed and people reduce their contacts with others outside their households by 90%. In that scenario, the number of hospitalizations would remain below 500.
But the Covid Act Now website predicts Waco hospitals will be overloaded by June 9, assuming hospital bed capacity of 600, three months of school closures and a loosely enforced stay-at-home order. The prediction also estimates that 48% of McLennan County residents will become infected and more than 1,000 will die.
If the stay-at-home orders are strictly enforced, Covid Act Now predicts hospitals will not be overloaded and that about 7% of the population will become infected, with fewer than 1,000 deaths.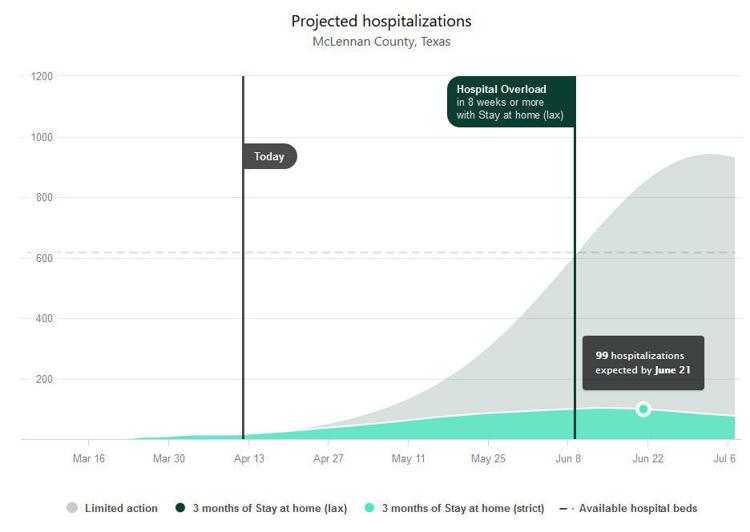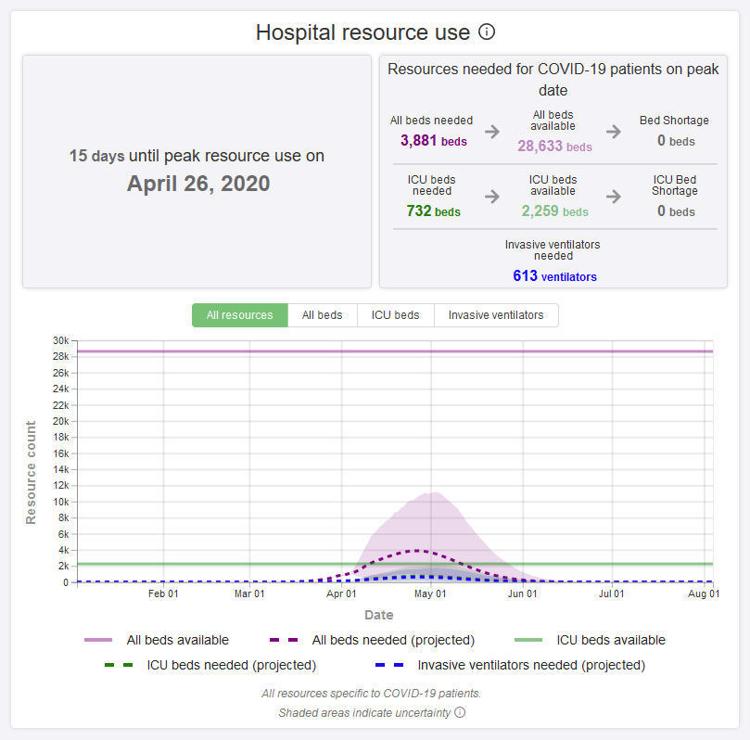 The Institute for Health Metrics Evaluation is likely the most widely used model across the country, including by the White House. It predicts Texas will have a peak number of hospitalizations on April 26 and that 2,350 people will die by Aug. 4, while taking into consideration Gov. Greg Abbott's statewide stay-at-home order implemented April 2.
Remy Pasco, one of the study authors for the University of Texas report, said the state should soon see how effective the social distancing measures and stay-at-home orders have been, because it takes between 10 and 14 days to see an impact. Pasco said if people have not been adhering to the guidelines, the overwhelming of available resources seen in more densely populated areas, including New York City, could easily happen here.
As of 3 p.m. Saturday, McLennan County had reported 69 total COVID-19 cases and two deaths. Five people remained hospitalized, and 36 people had recovered from the disease.
McLennan County Medical Society President Dr. William McCunniff said he believes the best strategy for handling the local COVID-19 situation is to continue to prepare and adapt, as more information about the disease is discovered and medical advancements in treating it are made.
"Regardless of the model used, which all encompass different data sources, they all tend to show that the local number of cases is going to, unfortunately, increase further before the rate starts to decline," McCunniff said. "I think it's important to watch the national and state trends and adjust our response accordingly."
Verner, the local health authority, said the city and county have used these projections to institute social distancing guidelines and the stay-at-home orders, while local health care systems have been preparing for an expected increase in cases.
"One of the messages I take from the projections is that the peak of activity, the peak of hospitalizations, the peak of all the parameters is coming later and later with newer projections, and the later the peak comes the better because that means we're able to flatten the curve, which is the goal all along," Verner said. "The longer it takes for the peak to come, the flatter the curve and the more likely it is that we're going to be able to cope with the peak, when it comes."
Another gauge the health district looks at to see when a peak might occur is how many new COVID-19 cases per day are reported in McLennan County, Verner said. That number has been relatively stable for the past two weeks, with zero to four new cases reported per day.
"We would like for that to mean that the curve is still pretty flat, but the predictions are we will have an increase in the number of cases in the coming weeks," he said. "That can be affected significantly by how well people continue to follow the social distancing and stay-at-home orders."
McCunniff said he believes people are taking COVID-19 seriously and following the directions of local leaders. The other doctors he has talked to have not had problems getting patients tested, which was difficult in the early weeks. But he would like to see more widespread testing availability.
"I'm cautiously optimistic that we are seeing some positive effect from our city's efforts," McCunniff said. "We are all in this together."
Photo gallery: The latest scenes from the coronavirus pandemic in the U.S. and around the world