Waco-McLennan County Public Library's new book nooks have evolved this summer from a convenience for Waco Regional Airport customers to a teaching tool across the community.
The library this spring placed a freestanding shelf at the airport, stocked with donated books and free for anyone to borrow. Within the last month or so, library officials have expanded the concept to the Bledsoe-Miller, Dewey and South Waco community centers, as well as the Downtown Transit Terminal on Eighth Street.
"It's nice, you know," said Jessica Emmett, the library's community services director. "Even if you have books at home, someone else's books are always cooler."
The library set up the first book nook at the request of Airport Services Director Joel Martinez, who contacted the library and asked for books for waiting flyers. Emmett said the library teamed up with the Parks and Recreation Department to find places where the books would get a lot of use.
"We have always kind of looked at different ways that we can get our library services out to people where they are," Emmett said. "When we're talking about people who are visiting a community center or the airport, if you're doing some waiting, what would be a great thing for you to do?"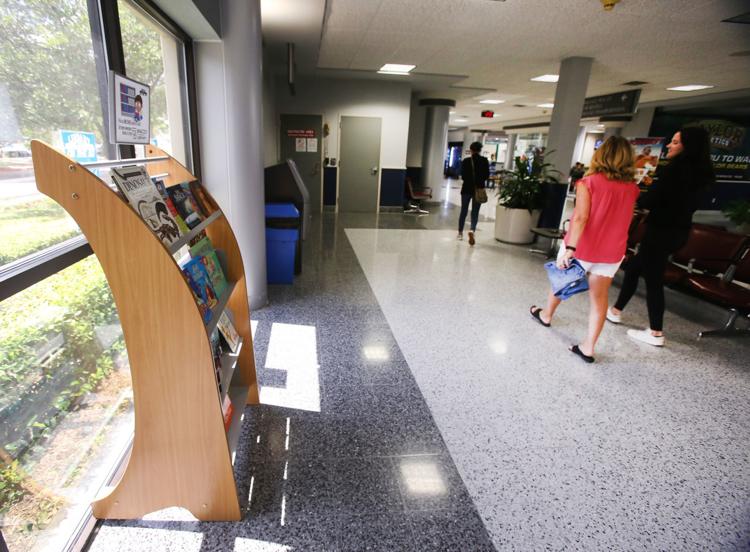 Emmett said the book nooks in the airport, transit terminal, and the South Waco Community Center are aimed at all ages. The ones in Dewey and Bledsoe are specifically meant to tie in with their after-school programs, with books aimed at elementary-age kids.
"We asked the locations, 'Who do you anticipate using it and what kind of books do you think they'd like?' " Emmett said.
South Waco Community Center, which hosts a lot of adult programming, has a more all-ages selection, and the airport nook holds books for a wider range, including picture books for very young children.
"We are hoping to expand it, so we've been looking at some other opportunities to put these shelves out," Emmett said. "If you want one at your place, you can always contact us and we can always figure out if that's going to be a good fit or not."
Emmett said the book nook at the bus station is the most prone to running empty as passengers take books and continue on their routes. She said in the community centers, books are taken less often.
"We got them out right before school started because we knew that after-school programs were starting out," Emmett said. "We're hoping that they can go places where people can enjoy them, like waiting rooms in doctors' offices."
Recreation Programmer Tracy Miles with Dewey Recreation Center said there are about 60 kids in the center's after school program, all between the ages of 5 and 13.
"They enjoy reading the books, they enjoy the wide variety to choose from," Miles said. "We were just excited to incorporate the books into our after-school program."
At Dewey, students submit short summaries of each book they pick up and complete as part of the program.
"It's things like that that help them full-on engage with the book instead of just reading it," Miles said.
The nook books all come from donations. Emmett said the donated books are often fed into programs like the book nooks if the library already has copies of it.
"Citizens bring them to us and sometimes we put them in our collection, depending on whether we need them or not," Emmett said. "Sometimes we put them in the [Friends of the Library] book sale, they go that direction."
Emmett said the program could prove particularly useful during summer, when kids attend community center summer programs and contend with what's known as the "summer slide," a decline in reading ability through summer when kids may not read every day.
"They do have summer programs, so if they have the books available next summer or during spring break, definitely that could keep some kids from falling behind or losing those skills over the break," Emmett said.