The estate of respected firearms collector Leo Bradshaw Jr., whose reputation as a straight shooter reportedly allowed him to close $100,000 deals with a handshake, goes up for sale to the highest bidders this weekend.
Scott Franks, co-owner of Waco's A&S Auction Co., said he could not remember an auction generating as much buzz among gun dealers and weapons enthusiasts regionally and nationally. He said he expects a packed house at A&S, 900 East Loop 340, when the rapid-fire bidding starts at 10 a.m. Saturday, to be followed by a second round at 10 a.m. Sunday.
"Leo is such an icon in the community, I expect a tremendous turnout. I would say between 300 and 500 bidders easily," Franks said before excusing himself briefly to welcome gun enthusiasts from Missouri in Waco for the event.
"We've handled a lot of sales, but you can't compare somebody like Leo to anybody else," Franks said. "He was the most well-thought-of person I know of. You mention Leo Bradshaw, and everybody stops and pays attention. He was that kind of a guy, the absolute best of the best on firearms and firearms documentation. He knew what he was looking at, and was honest with everybody."
Bill Berry, a six-decade friend of Bradshaw's, accompanied him on trips around the state to appraise collections for grieving families. More times than he can recall, Berry joined Bradshaw on the drive to Austin and a trip to McBride's Guns Inc. on San Gabriel Street, a famous gun shop boasting one of the largest firearms inventories in the nation. Its reputation in the industry attracted celebrities and political figures, among them Julia Roberts; Willie Nelson; Joe Ely; Lyle Lovett; Hank Williams Jr.; Lou Ferrigno, best know for playing "The Hulk;" wrestler "Stone Cold" Steve Austin and President George W. Bush.
"He liked to buy anything he could resell, sometimes 10 to 12 at a time," said Brian Langford, a veteran salesman at McBride's Guns, speaking by phone. "His crew would hang out two or three hours while Leo shopped."
Langford said Bradshaw came across as the genuine article.
"When he asked you how you were doing, he meant it. He wasn't just passing time," Langford said. "He would come in two, three maybe four times a month. He was very knowledgeable about what he bought and sold."
Generations of locals came to know Bradshaw as the owner and operator of Cogdell's, a store at New Road and Valley Mills Drive selling merchandise ranging from Aqua Lung scuba gear to housewares, hardware, boats, motors and gift items. It also had a gun department under Bradshaw's supervision.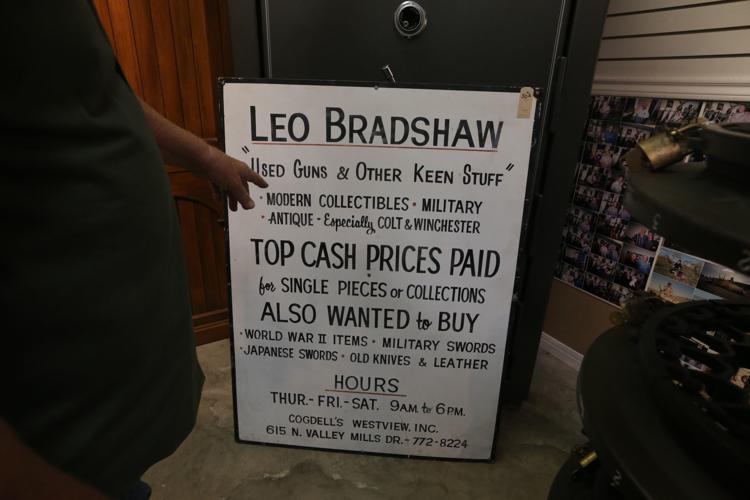 Stuffed and mounted animals in Cogdell's included a towering brown bear Bradshaw killed on a hunting trip to Alaska using a .338 Winchester Magnum.
"If I'm not mistaken, he had to shoot it twice," said Berry, who was not along on the guided hunt but heard Bradshaw's recounting of the experience.
Berry said Jonas Brothers Taxidermy, a high-end taxidermy and trophy shop in Denver, Colorado, prepared the animal for shipment to Waco.
After nearly a half-century on Valley Mills Drive, Bradshaw in 2003 moved his gun shop to Wooded Acres Drive. Eight years later, in an interview with the Tribune-Herald, he estimated he had sold 225,000 firearms during his lifetime. He continued to pursue his passion until his health failed, undergoing 11 surgeries over three years, his wife, Jeannie, said by phone.
"I remember him saying, 'My mind's good, but my body's gone,' " she said.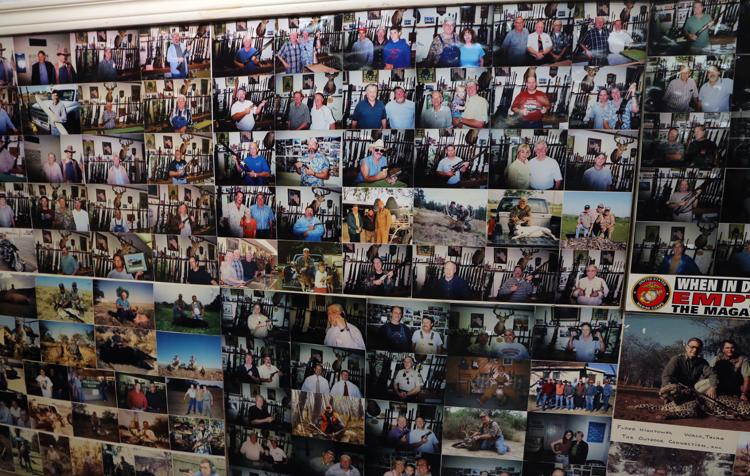 Jeannie Bradshaw said she considered attending the auction, but decided against it because she feared it would prove emotionally draining.
"I think about driving into the parking lot, seeing all his gun buddies, and I'd have tears running down my cheeks," she said. "I just can't do it."
Bradshaw said her husband kept few guns around the house. Asked if he had a prized possession, something he would never consider parting with, Jeannie said, "No, that was something really strange about Leo. He would collect firearms, and he had personal guns, but there wasn't anything in particular he intended to keep a long, long time. He was always more interested in helping other people with their collections. There were times people would say, 'I need such-and-such gun,' and he'd say it wasn't right for what they were trying to accomplish. He'd refuse to sell to them. He would not show guns to just anybody. You had to be the right guy with the right collection."
Franks, with A&S Auction, said Bradshaw had sets of Browning and Ithaca shotguns and Model 94 Winchester carbines that should generate great interest at this weekend's auction. Berry said a Model 70 Winchester .30-06, Bradshaw's favorite rifle for whitetail deer hunting, also is available.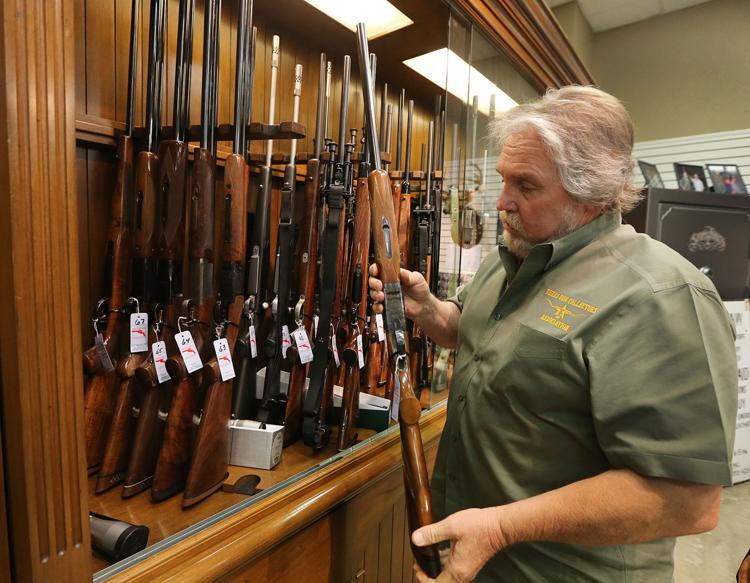 Also to be included in the auction will be the firearm collection of the late George Monroe Herbert, a retired Department of Public Safety trooper. Franks said A&S also will hold the last in a series of estate sales for longtime Mart businessman and firearms collector Paxton Littlepage, who died in 2015.
"We've been selling on the Littlepage estate for years. It included 3,700 firearms, which is the largest single collection we've ever sold," Franks said.
Promotional material on the combined auctions says 650 items, including more than 500 firearms, are featured. The rundown includes an engraved hammerless shotgun and firearms produced by Colt, Sharps, Remington, Springfield, Smith & Wesson, Weatherby and Henry Arms, among others.
Would-be bidders may view the items during preview day Friday.
"A&S has done a beautiful job of re-creating Leo's little office," said Berry, who with Franks assisted Jeannie Bradshaw in retrieving, sorting and displaying items in the auction. "It was very well done."