Wacoans have left their mark on Instagram, and the social media site has done the same to the city.
Well beyond the selfie-ready confines of Magnolia Market at the Silos, social media users have shown a fondness for Waco murals, architectural landmarks, Cameron Park, the Suspension Bridge and the new "Sculpture Zoo" along the Brazos River.
While smartphone-wielding visitors get acquainted with Waco's quirks, hashtags have also helped local photographers and other creative people find each other for meet-ups, jam sessions and more structured events.
The Collide Creative (spelled collidecreatve on Instagram) account, currently run by Baylor University student and musician Ryan Thomas, has gained 1,275 followers over the last three years. The account also hosts interviews with local artists and entrepreneurs.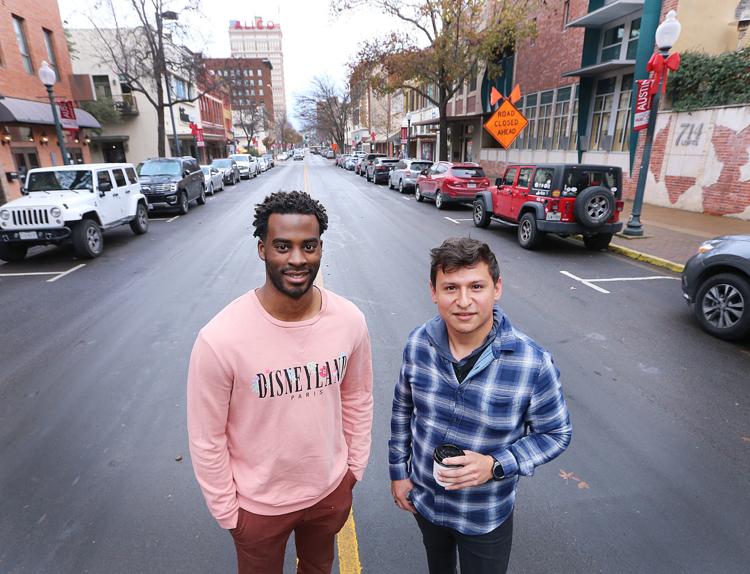 "We'll probably start putting our hands into other things creatively, but mainly we throw events that enable people to find friends within their craft, or in another craft, grow at what they do and hopefully highlight them in the process," Thomas said.
Their first meetup at 2nd and Clay brought in 150 people, at which point he said he felt they'd hit on something.
"It wasn't normal to see creative events happening," Thomas said. "Now, you see people having the faith to do that, holding multiple events, like WacoWork and Cultivate (712)."
Thomas said as much as he likes iconic Waco locations like the Hippodrome and the Waco Suspension Bridge, some of the group's most interesting photography comes from less obvious spots: in vacant warehouses, construction sites, abandoned homes and wooded areas.
"A lot of places, we'll drive by and say 'Wow, it would be awesome to have a photo shoot there,' " he said. "Sometimes we'll have a meeting point that's more on the beaten path, but the more engagement we've had, the more attention that's paid to what we're doing on social media, it's been easier to do stuff that's off the beaten path."
Miguel Limones, another photographer who helps Thomas plan meet-ups, said the parking lot outside of the Waco Convention Center that gives them a perfect view of the ALICO Building is a personal favorite.
"We did a smoke grenade photography shoot, and I wanted to make sure there was no grass, nothing that could catch fire on a summer day," Limones said.
Limones said that when he started, he knew very little about photography, save the black and white photos he'd taken for classes at McLennan Community College. Over the years Instagram has helped him sharpen his skills and the photo shoots have helped him find people with more experience to learn from.
"It's about challenging each other and having fun," Limones said. "It's not about marketing anything, it's just going out, having fun and learning how to shoot.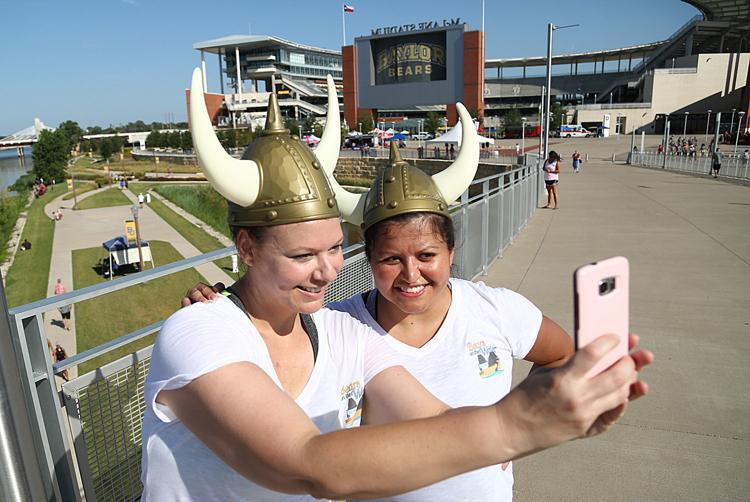 For other participants, it's very much about marketing. Clase Thrifts and Goods, Baylor Flowers, Union Hall, Brotherwell Brewing and countless other establishments sport murals or designated selfie-spots that encourage customers to show themselves, and the art, to the world.
City Center Waco communications director Wendy Gragg Elm Avenue office is close to several murals, including the "Storytellers" mural on the East Waco Library, Revival Eastside Eatery's mural and older ones that predate the trend, like the "Cast Thy Burden Upon the Lord" and "Each One, Reach One, Teach One," murals.
Gragg said public art is a way to improve quality of life in a city, and commissioning local artists is a great way for businesses to support them.
"Specifically, murals and art at businesses I think is great, because it's helps them set themselves apart," Gragg said.
She said people will venture to a business to see a mural and end up staying for the shopping, or vice versa, and that effect holds true for visitors and locals alike.
"It helps introduce people to Waco flavor," Gragg said. "When I go places, I don't want to see the same things and eat at the same places I do in my own town. I want to do different things."
She said the blue and white Waco mural visible from the upstairs patio of Dichotomy Coffee & Spirits, painted by the Wacotown group, is particularly popular, and taking a photo one's coffee cup with the mural in the background has become a common move.
"You can take a picture with it, but do not get off the patio," Gragg said.
Gragg said her home city of San Antonio's street art scene has taken off in recent years, and she'd love to see the same thing happen in Waco. She said the graffiti competitions at East Side Market could lead to an even bigger and better scene.
"It's so cool, and now every city I go to I'll look for those areas," Gragg said.
Christina Mason, one half of the duo behind the travel Instagram account The Crafty Voyager, was doing just that when she snapped a selfie in Waco. She and her husband, Chris, their dog and two cats live full-time in a 19-foot RV since April 2019, traveling from place to place and documenting their travels on their Instagram account, inviting followers along for the ride.
The Masons had just left New Orleans for North Dakota when they passed through Waco and something caught their eye. The "You Look Nice Today, Wacotown" mural at 117 North 7th St. can be spotted on their Instagram feed along with photos of winding nature trails in Maquoketa Caves State Park, Sioux Fall in South Dakota and wildlife preserves South Carolina.
"We were just kind of making our slow way up, and of course we wanted to see Chip and Joanna's little establishment there," Mason said. "Usually when we go somewhere I look up the top 10 things to do, and I was quite surprised. None of the lists mentioned the murals at all."
Mason, who makes and sells crafted items on Etsy, said she and her husband seek out art unique to the area when they go somewhere.
"I love the art itself, and how much it can just draw me in," Mason said.
While their living situation sounds unusual, the Masons are just one example of a couple living a lifestyle documented under hashtags like #rvlife, #buslife, #vanlife and other related feeds. She said while the lifestyle has its challenges, they felt as though they weren't truly living before adopting it.
"We're living now," Mason said. "We still have to work. We're not old enough for retirement and we didn't have a house to sell, but we're seeing places, and it's really fun."
Mason said she and her husband documented the renovation of their camper, transforming its interior into something more closely resembling a tiny house, with white cabinets, wooden floors and decorative touches like fairy lights so common to Instagram. She said documenting the process helped her find friends living the same lifestyle, and the account serves as a running log for family and friends back in their home state of Maine.
"It looks and feels like a home," Mason said. "We started following other people who were doing the same thing, and kind of at the same place in their journey that we were. It's interesting to see what other people are doing and how far they've come."
The Masons, whose travels have taken them far away from Waco by now, said their stop in Waco made them realize something. When the time comes for their adventure to end, they wouldn't mind calling Waco home.