Almost 170 years after slaves built it in Freestone County, a log cabin is finding a new location behind a Waco home nearly as old.
The cabin, initially occupied by Freestone County pioneer Sterling Sims after his slaves built it in 1852, is being reassembled behind the Historic Waco Foundation's Earle-Napier-Kinnard House at 814 S. Fourth St., a brick house started in 1856 and expanded over the years.
It is the latest site for the oak-planked cabin, donated to the foundation by the family of Robert Davis, who bought the already-damaged cabin from Baylor University in 1959.
Since its construction on land near Simsboro, a few miles outside Teague, the structure rested at Waco's Cotton Palace Park and at Harrington Park, which Baylor later bought, before its time at Davis' home on 64th Street in the 1960s, then his Woodway home.
As one might suspect, after 167 years, six locations and a major fire, only the cabin's silvered, weathered walls are original, and some of those are missing completely.
Its 19th century builders might have to squint hard to recognize the connection between the one-room remnants and the two-story dogtrot cabin they constructed. The cabin's present front porch, for instance, replaces the central dogtrot passage that separated the cabin's two sections. A framed side window initially was a front door, and a boarded space on one wall covers where the fireplace and chimney, too fragile to make the move, went.
Oversize 14-by-14-inch, hand-hewn foundation timbers 18 feet long sit on the ground, unlike the original ones buried at ground level. The whole second floor is missing, and the roof, when finished, will have shingles rather than overlapping planks.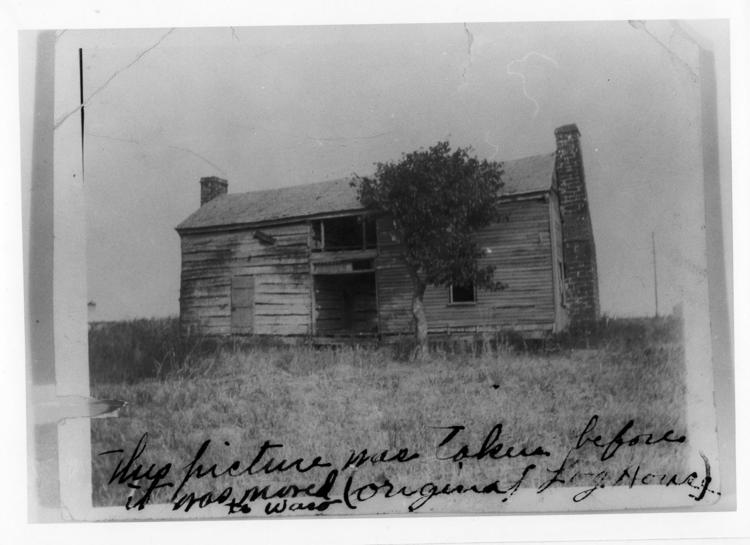 For Historic Waco Foundation Executive Director Jill Barrow, the fact that the cabin walls still remain is remarkable enough.
"We don't have that many log cabins that people lived in standing," Barrow said. "Most have been dismantled or burned."
The cabin has a measure of Waco history during its years at the Cotton Palace Park, where the family of the original owner moved it in 1894, its use as one-story museum and meeting place for the Mary West Chapter of the United Daughters of the Confederacy and then use by Baylor University before its last 60 years at Davis' home properties. But the structure's example of a common type of early Waco home explains what the Historic Waco Foundation saw in it.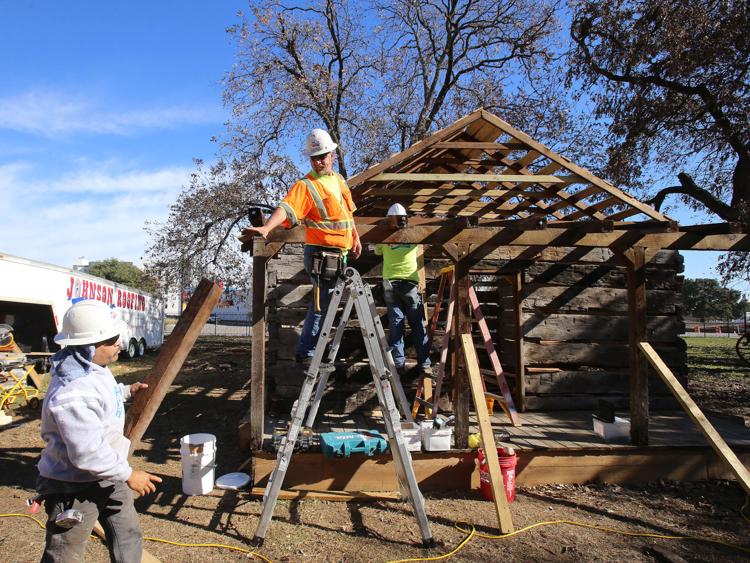 Standing at the cabin now being reconstructed by a Johnson Roofing crew, Barrow explained how the cabin fits the history of Waco.
Pointing to the Earle-Napier-Kinnard House, she said, "At the time this brick house was built, there were more log cabins in Waco than brick homes."
Once reassembling and repairs finish on the cabin, it will become part of school and house tours, suggesting what life might have been like for early Waco residents.
"It gives great visuals. It's a great addition for our school program," Barrow said.
Bringing it back to life has made a challenging month's work for supervisor Roy McCown and his small crew. They hammered metal tags into each plank and log, disassembled its walls, breaking off the cement used as chinking, and moved the pieces to the back of the Earle-Napier-Kinnard property.
After securing period sill timbers through Homestead Heritage, which has moved and rebuilt 18th and 19th century wooden structures for years as one of its businesses, the work crew found balancing the cabin walls on a wooden frame, rather than concrete, a bit tricky.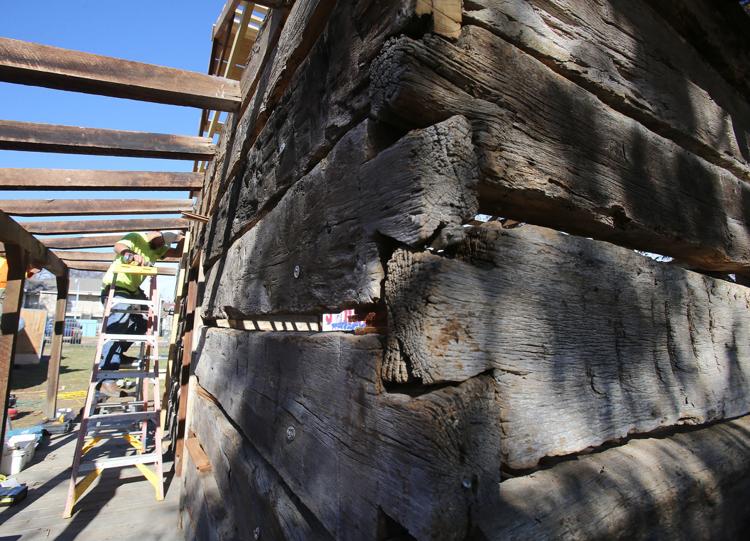 Some boards did not fit as well after concrete chinking or rotted pieces were removed, requiring shims to hold them in place until they could be fastened securely. The oak, seasoned for more than a century-and-a-half, showed McCown why it is still around. It is so hard that workers had to predrill holes for screws.
With cabin walls erected and roof and porch installed, the Johnson Roofing crew is in the later stages of its work, awaiting Homestead Heritage workers to chink exterior boards with mud.
After its use as a family home and a stagecoach inn, the cabin, then reduced to a single level, served as an example of frontier life during its years at Cotton Palace Park. The UDC moved it to the Baylor campus in 1933 and Baylor acquired it in 1947. During its years as a museum, it counted among its visitors Texas Gov. Price Daniel and national broadcast personality Paul Harvey.
The idea for the cabin relocation came from Davis' daughter Pam Chick, who had contacted the foundation to see if it would be interested in the cabin, Barrow said. HWF officials said she donated the cabin in September. Chick could not be reached for comment on Friday.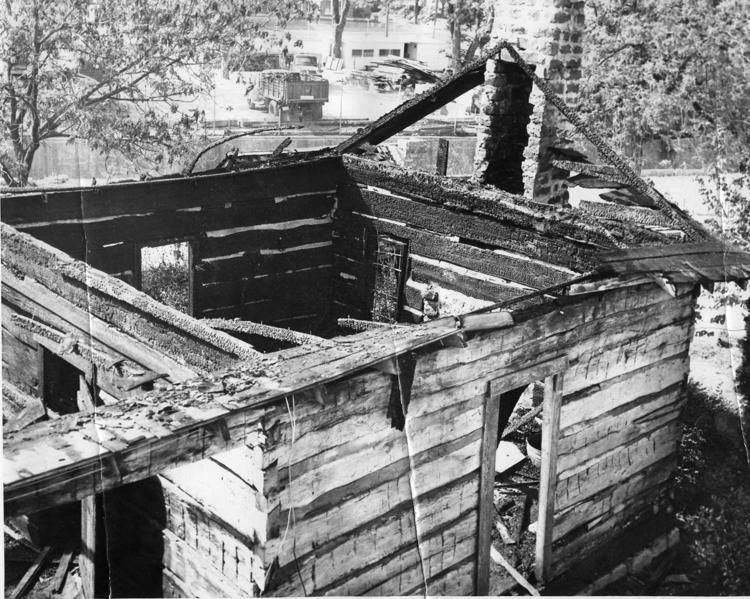 Her father had rescued what was left of the cabin after an April 30, 1959 fire destroyed one of the cabin's two rooms and its roof. Surviving timbers, some scorched by flame, were piled at the site, and, according to a 1999 Baylor Lariat story, were awaiting a final conflagration at the next Baylor homecoming bonfire when Davis intervened and secured the wood.
He rebuilt the cabin in the backyard of his house on North 64th Street, then moved it in 1971 when he and his family moved to Woodway.
Barrow said she hopes the cabin will be finished and ready for its next round of visitors later this month.
"It's not going to move again," she said.