The suspect in a Hewitt Drive bank robbery Tuesday fired a shotgun at least four times at close range into the windshield of a Hewitt officer who was pursuing him, Hewitt Police Chief Jim Devlin said Wednesday as more details of the incident emerged.
Dallas Scott Bohanan, 25, of Waco, remains in McLennan County Jail on felony charges of aggravated assault of a police officer and evading arrest. Officials added a federal aggravated bank robbery charge Wednesday, meaning Bohanan is now being held without bond. Meanwhile, the police officer, Clint Brandon, is on medical leave from the department because of an injury from the shooting, Devlin said.
Police said Brandon arrived at the scene of the ongoing robbery at the PointWest Bank, 420 N. Hewitt Drive, at about 9 a.m. Tuesday and saw the suspect exiting the bank. Bohanan was carrying an undisclosed amount of cash and a long gun, Devlin said.
When Brandon ordered Bohanan to show the officer his hands, Bohanan fired at least one shot at Brandon. The officer took cover, and the two exchanged gunfire, Devlin said.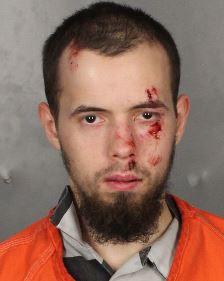 Bohanan got into a pickup truck parked near the entrance to the bank and fled.
In the 100 block of North Hewitt Drive, Bohanan is believed to have noticed Brandon in pursuit with his patrol car's emergency lights flashing. Devlin said the suspect stopped his car, stepped into the roadway and fired the shotgun at least four times at Brandon's patrol car, piercing the windshield in several places.
Bohanan was 18 to 20 feet away from Brandon's patrol car when exited his pickup and the shooting started. As the shots rang out, Brandon threw his car into reverse and tried to put more distance between himself and the shooter, Devlin said.
Shotgun pellets struck Brandon's patrol car and shattered out the back window.
Pellets also hit the patrol car's light bar, dash camera and caused other damage to the car. After the shooting, Devlin said Bohanan returned to his truck and continued to evade officers.
Additional officers took over the pursuit near Bagby Avenue and Corporation Parkway. A detective took Brandon to Baylor Scott & White Hillcrest Medical Center for medical treatment, Devlin said.
Bohanan drove to a Waco neighborhood and crashed his pickup truck near Garden Drive and Wingate drives, police said. He ran into a yard in the 3300 block of Clover Leaf Drive, where he was later captured by Waco police.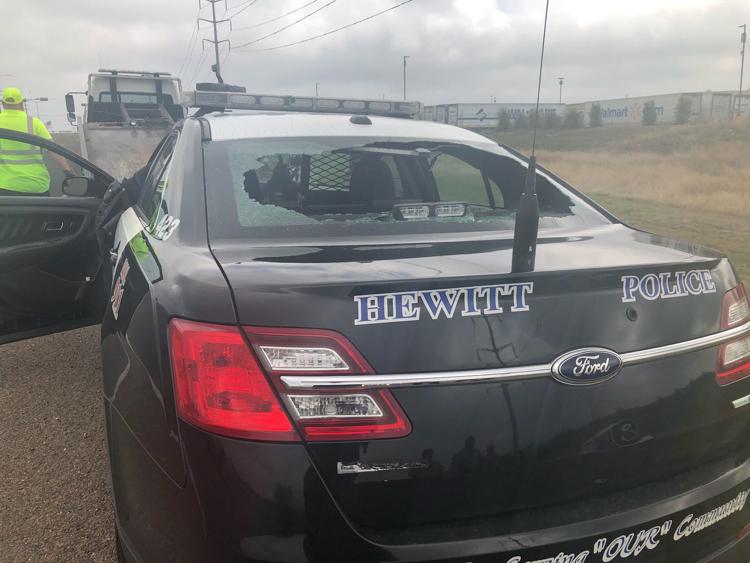 Hewitt officers worked with troopers with the Texas Department of Public Safety and Waco, Woodway and several other police agencies to process about five crime scenes along the six-mile pursuit route. Devlin said the FBI will investigate the bank robbery while local officers will investigate the other crime scenes.
Waco police investigated a hit-and-run crash near New Road, where Bohanan is believed to have struck a private vehicle during the pursuit. Officers said no one was injured in the hit-and-run crash.
Medical leave
Brandon remained on medical leave Wednesday after sustaining injuries during the incident. Devlin said after he is medically cleared, he will be placed on administrative leave with pay pending an officer-involved shooting investigation conducted by the Texas Rangers, per department policy.
Devlin said Brandon will likely remain on administrative leave until the Rangers submit their findings for review to a McLennan County grand jury. He said he was proud of all his officers and thankful for the assistance from partner agencies.
Bohanan was arrested on a first-degree felony aggravated assault of a public servant with a deadly weapon and third-degree felony charge of evading. A federal bank robbery charge was added Wednesday. He remained in custody at McLennan County Jail on a no-bond hold.