Hiding in plain sight behind the pillars and fortress-like facade of the Grand Lodge of Texas is a world of art, architecture and history.
Some 4,000 Masons from across Texas are expected to pass through those doors at 715 Columbus Ave. next weekend for their annual "communication" or convention.
But many locals do not realize the public is welcome year-round to visit the building and its treasures for free.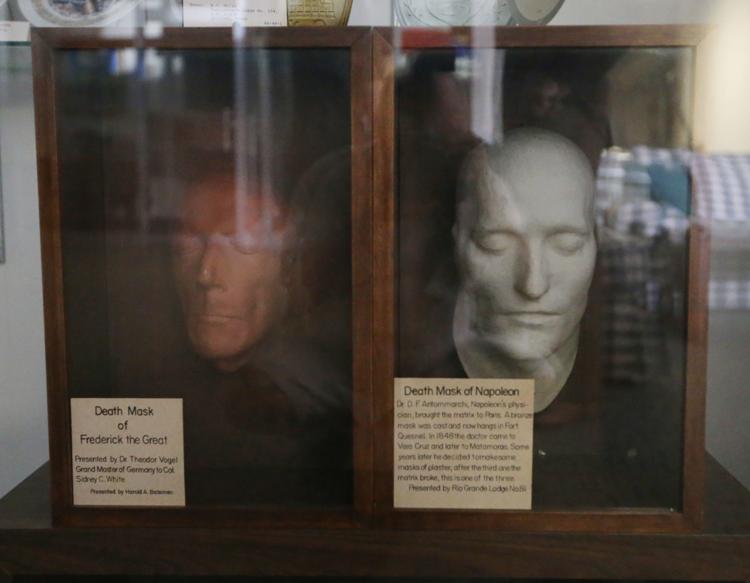 In an extensive downstairs museum, visitors can see a wealth of Masonic memorabilia from the past three centuries. A death mask of Napoleon, a lock of Sam Houston's hair and the silk sash of Revolutionary War hero Marquis de Lafayette are on display. There are eclectic exhibits on historic guns, wars, railroads and the Holocaust.
Of equal interest is the building, a one-of-a-kind eight-story granite structure built in 1948 as a monument to the fallen of World War II. Its unusual dimensions are based on the biblical descriptions of the Temple of Solomon.
The building façade includes a stained-glass depiction of the origins of Texas Freemasonry near an oak tree in Brazoria. At ground level is a carved bas-relief sculpture of the construction of Solomon's Temple by the French sculptor Raoul Josset, known for his sculptures at Dallas Fair Park, the 1939 World's Fair and the La Salle statue in Indianola, Texas. He also designed the giant pillars that hold celestial and terrestrial globes.
The hub of Freemasonry in Texas, the 150,000-square-foot building contains a 3,700-seat auditorium used for Masonic conventions and some local events, along with several other meeting spaces and offices.
But it remains an enigma for many Wacoans, said Robert Marshall, manager of Waco Lodge 92 and a historian of Freemasonry.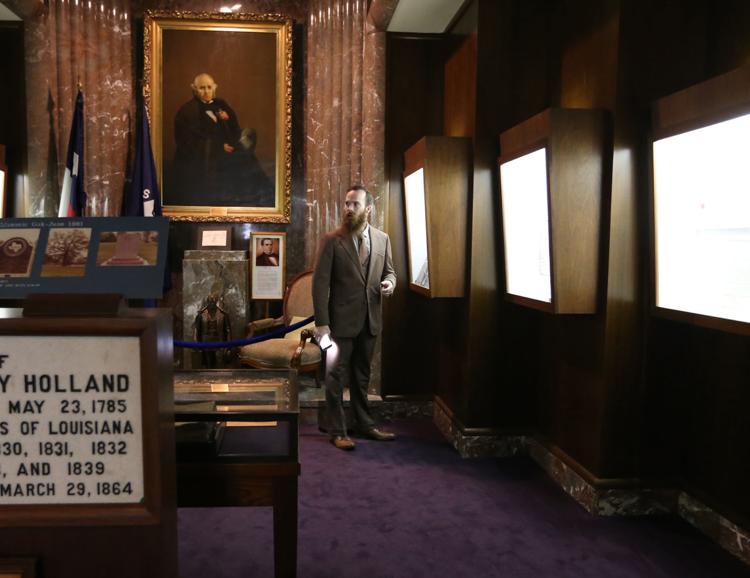 Marshall, a graduate of Baylor University, comes from a line of local Masons but did not appreciate the building until he was an adult.
"Even living in Waco with connections to Masonry, it was a giant mysterious building to me, like it was to everyone else, which is a shame," he said. "Here's a giant museum full of some of the most incredible history, typically Texas-related, but it was not even on my radar growing up in Waco."
B.J. Greaves, an architect involved in historic preservation projects such as the Dr Pepper Museum, agreed that the building deserves more recognition.
"It's an exquisitely done building with all its details, inside and outside," Greaves said. "People who live in Waco are aware of the building but not necessarily all the features inside, like the library and auditorium. A lot of people would be shocked to know how big the auditorium is."
The very existence of the Grand Lodge of Texas in Waco is a credit to past Masons who struggled to bring it here and keep it here.
Waco has had a strong Masonic presence since its earliest days, and Marshall said it has historically had twice as many Masons per capita as the average Texas community.
Waco Lodge 92 was formed in the pioneer village in 1852, and members included Joseph Speight, who helped bring Baylor University to Waco.
At the turn of the 20th century, Masonic officials decided to move the Grand Lodge of Texas out of Houston, and Waco made the winning bid. Waco's first Grand Lodge opened in 1904 in an ornate building at Sixth Street and Franklin Avenue, now occupied by a parking garage.
The lodge was a center of civic events in the early 20th century, but by the 1940s, local Masons were ready to lead the charge for a larger building and bought the land for the new building a few blocks away.
The new building cost $2 million, the equivalent today of more than $23 million, and was unrivaled among Waco structures erected in the 1940s. It was designed by a prominent team of Texas modernist architects including Robert Leon White, who helped design the University of Texas Tower; Thomas Broad, who designed the Love Field Administration Building in Dallas; and Donald Nelson, who designed the Dallas Mercantile Bank building. The resident architect was Walter Cocke Jr., whose Waco-based firm was known for its exacting control over construction details, Greaves said.
The building has been used in the past for community events such as Waco Symphony Orchestra concerts, and it is still available for rent. Marshall said the two-level auditorium was designed to give everyone the best seat in the house, and the acoustics are superb.
About three years ago, climate control was installed for the auditorium, making it suitable for events year-round.
Marshall said he believes the facility needs more community use if it is to continue serving Waco through the coming decades.
"As Masons, we use this three weekends out of the year," he said. "The other 49 weeks, it could be used for anything. … I think there's a giant gap between the potential value and the actual value of the building. It could really be a hotbed of culture."
The library and museum are open to the public from 8:30 a.m to 4:30 p.m. weekdays, and group tours can be arranged by calling 753-7395 or sending an email to gs@grandsecretaryoftx.org.