It's an image that could inspire an epic John Ford Western movie.
Seven tough hombres, backs to the saloon bar, beer bottles hoisted high, stare into the lens of celebrated Waco photographer Fred Gildersleeve.
Their hats tilt at jaunty angles, their boots are covered in dust or mud. An imposing man with a watch chain and three-piece suit gives the camera a stern side-eye from beneath his hat brim. Over his shoulder, An African-American bartender stands with a stoic, heavy-lidded expression in front of a sign that says "Don't ask for credit: It hurts us to refuse you."
Down the bar stands a grubby-looking man with a 100-yard stare and a foot stuck out as if challenging the viewer to a fight. By the screen door a couple of boys look up as if startled to be caught by the flash in this den of sin.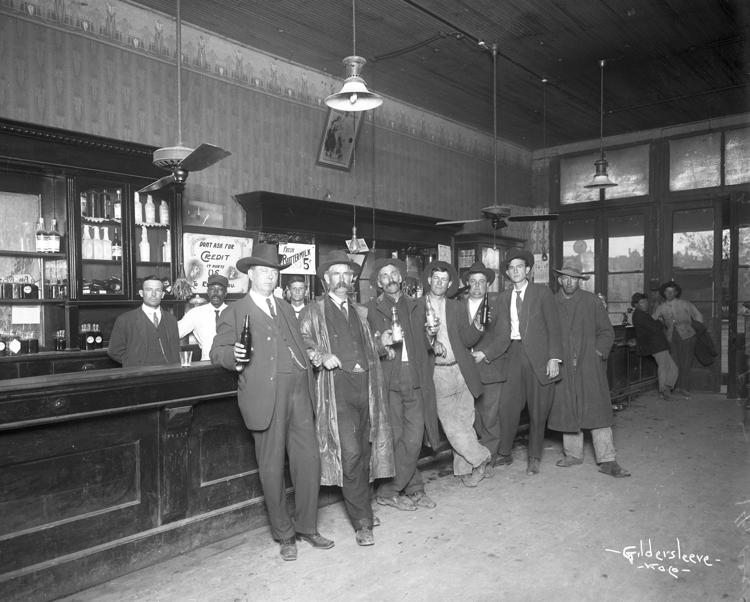 The image from 1916 is one of 186 Gildersleeve photos in a new coffee-table book, "Gildersleeve: Waco's Photographer," created by the staff of Baylor University's Texas Collection and published by 1845 Books, an imprint of Baylor University Press. It is the first book-length collection of Gildersleeve's photos, which capture in unrivaled detail a restless Texas city on the rise in the first quarter of the 20th century.
Baylor Press Director Carey Newman said Gildersleeve captures the excitement and pride of Waco a century ago, similar to the spirit of Waco today.
"At the very moment Waco is reimagining itself, a book like this shows that the dreams we now entertain were also dreamed by those before us," Newman said.
"The joy for (Baylor) Press in doing this book right now is because so much conversation about Waco is taking place by so many people. This book documents our past, but his book is also fodder for our future."
The book, which costs $49.95, can be preordered at http://www.baylorpress.com and will arrive at local bookstores Saturday. A book-signing event and lecture is planned for 6 p.m. Nov. 8 at the Mayborn Museum.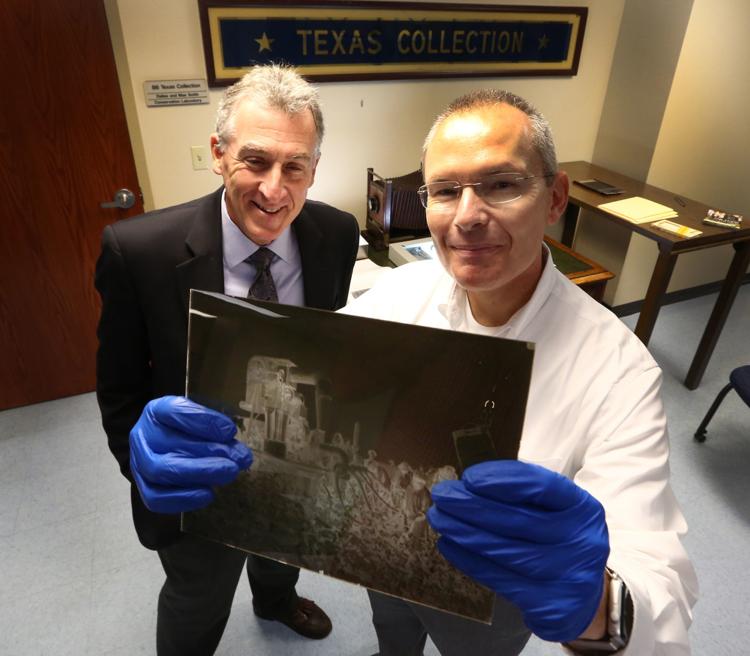 The Texas Collection possesses some 2,500 Gildersleeve negatives, many of them on 8-by-10-inch glass plates used in a large-format view camera. Curators selected photos illustrating Waco's social life both high and low, as well as photos of Baylor University, local industry and agriculture, schools, the Texas Cotton Palace and the World War I-era Camp MacArthur. There is also a good collection of aerial and panoramic photos, Gildersleeve specialties, and photos of cars and motorcycles. Other photos depict his travels in Mexico and around Texas.
Many of the photos in the book have never been published, while some are familiar from reprints in this newspaper, décor on local restaurant walls or previous Waco history books, including "A Pictorial History of Waco," the 1964 book by Roger Conger.
But those familiar pictures get new life in the new book. Texas Collection audio and visual curator Geoff Hunt spent hundreds of hours cleaning the negatives, scanning them in at ultra-high resolution, then using digital editing software to reveal nuances that had been obscured in some earlier reproductions. He was guided in those editing decisions by original prints made by Gildersleeve himself.
"Those little details may be seen for the first time," Hunt said. "Even if people have seen a photograph, they're going to see it in a different way."
In addition, the thick, high-gloss paper and four-color printing process yield a noticeable improvement over some prior reproductions, like seeing the world through a new pair of glasses.
Take the saloon picture, which appears in Conger's book identified as "horse traders in a saloon." In "A Pictorial History," the bartender's face is a dark blur, and the expression of the grubby cowboy on the end is unreadable. The two scamps by the screen door are obscured by shadow, as they probably wished to be.
In the new version, you can read the labels on the whiskey bottles, see the scuff marks on the bar, the spit-marks on the wood floor and the eyes of the subjects, who appear to be in various stages of intoxication.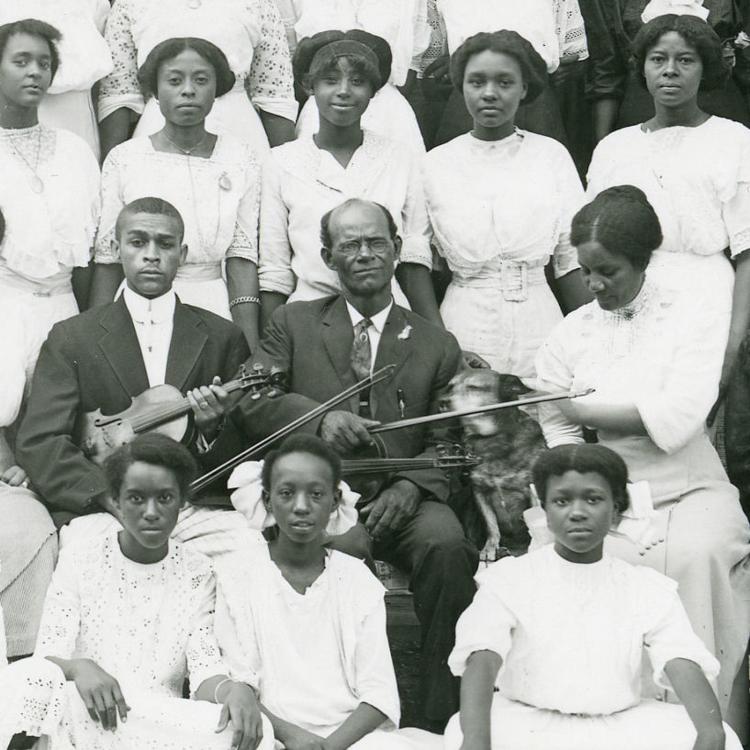 Another photo shows the choir and orchestra of an African-American congregation, New Hope Baptist Church in 1909, posing under a live oak tree. The photo captures the lace patterns on the women's white dresses, the raised eyebrow of a violinist and the smile of a woman who is petting a dog.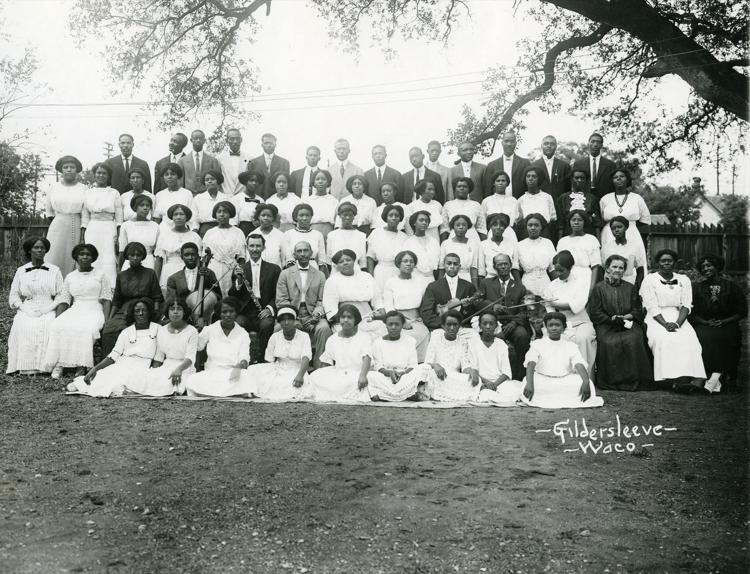 Another captures the flowers and frilly dresses of a May Day fair at Sanger Avenue Elementary school, circa 1916, along with the scowls of little boys who seem to wish to be elsewhere.
A photo of the Crystal Palace Studio and Pool shows a panoramic vista big enough to take in the whole natatorium and its balconies, as well as the Padgitt Co. building across the street, but it is detailed enough to show the smile on the girl about to do a back flip off the diving board, as well as the spokes on the wheel of a car parked outside.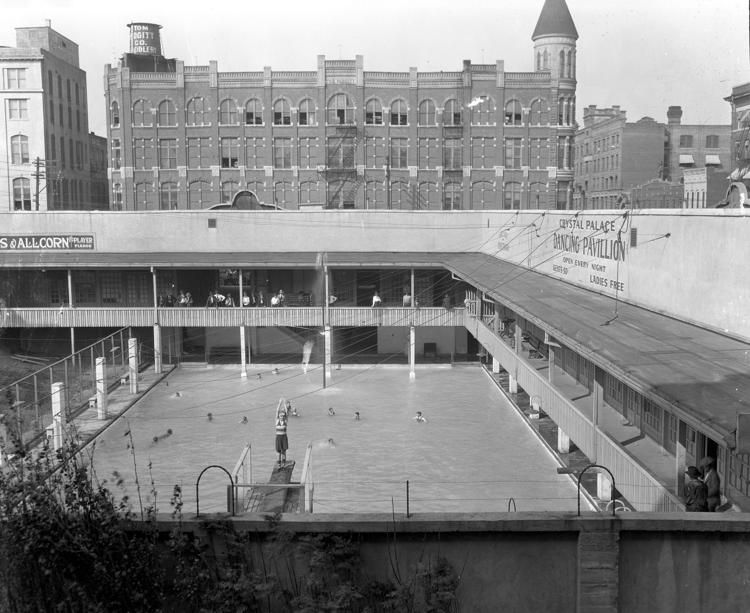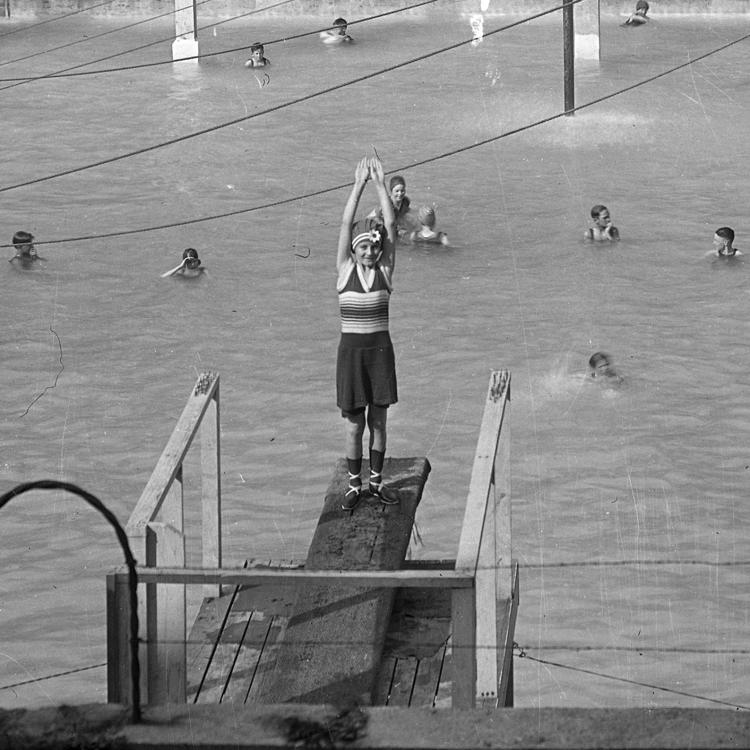 The reason Gildersleeve's photos can be blown up almost indefinitely is the large-format negatives he used, negatives about the size of the photos printed in the book. Gildersleeve also used good lenses and knew how to overcome the limitations of his bulky camera and the slow film speeds of the day.
With those skills he was able to capture football players in mid-air in a photo of the Baylor-Texas Christian University game in 1909. His skill with magnesium flash powder allowed him to take a crisp nighttime photo of thousands of people in front of the Goldstein-Migel Co. department store fashion show.
"It's like photographing a lightning strike," Hunt said. "You had to time it just right. He knew how to do it."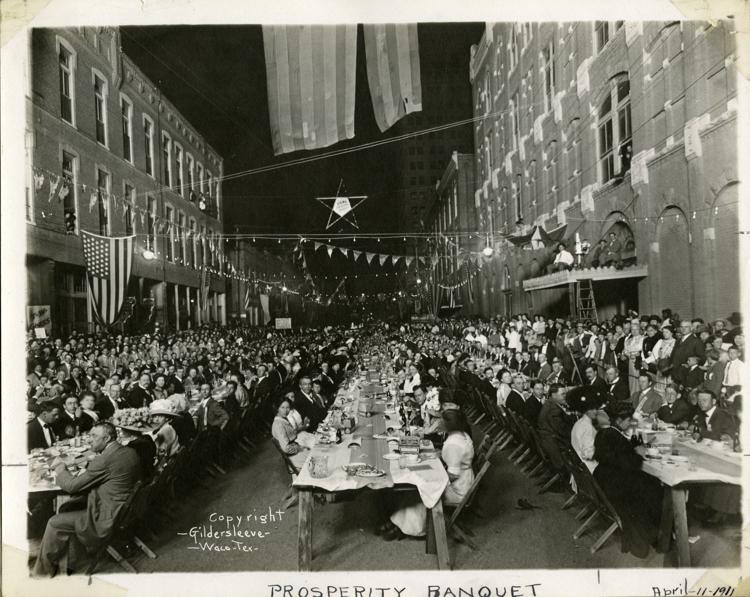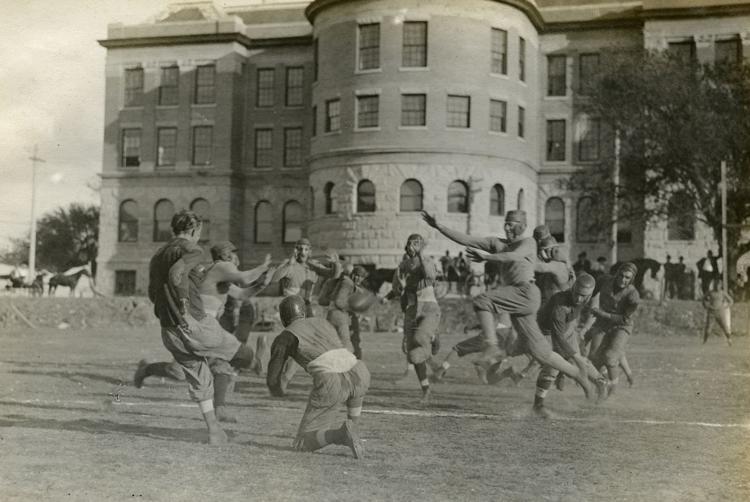 Detail despite limited technology
Rod Aydelotte, longtime Tribune-Herald photo editor and Baylor photojournalism instructor, said Gildersleeve was a master of composition and a genius at capturing detail and motion with limited technology. A photographer with his skill would be a "superstar" today, Aydelotte said.
"He had no zoom lens, no high-speed ISO film, no digital, but 99 percent of his images are so tack-sharp that it's unreal," he said.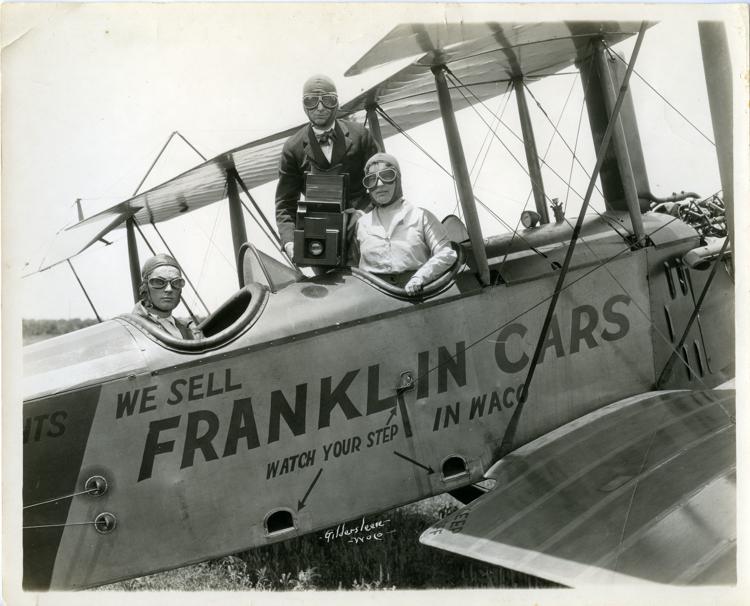 Aydelotte said the Texas Collection also deserves credit for converting those old negatives into high-resolution digital images, a process not nearly as straight forward as it may seem.
"It took Geoff and the Texas Collection to get that caliber of a film scan," he said.
Hunt worked on the project with Texas Collection director John Wilson, who wrote the introductory biography.
The book traces Gildersleeve from his upbringing in Missouri, where the family moved after the death of his father, a Union veteran officer, to an Illinois photography school and ultimately to Waco, where he started working for an established photographer. Gildersleeve quickly became a celebrity in Waco, riding around with his Excelsior motorcycle and sidecar with his camera and supplies. He gained entry to Waco society with his membership in the Masons, Rotary Club, Young Men's Business League and many other civic enterprises.
In addition to social events, he made money photographing local businesses and Baylor University and selling photos to newspapers, including this newspaper and the Dallas Morning News.
Postcards
He was also a prolific producer of postcards, including scenes not considered picturesque. Among his postcard images was the horrific lynching of Jesse Washington in May 1916 on the town square. With his usual precision, he documented the thousands of jeering spectators who had gathered to see a mob hang and burn the black teenager who had just been convicted of murdering a Robinson woman, Lucy Fryer, who was killed just seven days earlier.
The photos ignited national outrage and an investigation by the NAACP. Today they are on display at the National Civil Rights Museum and other museums.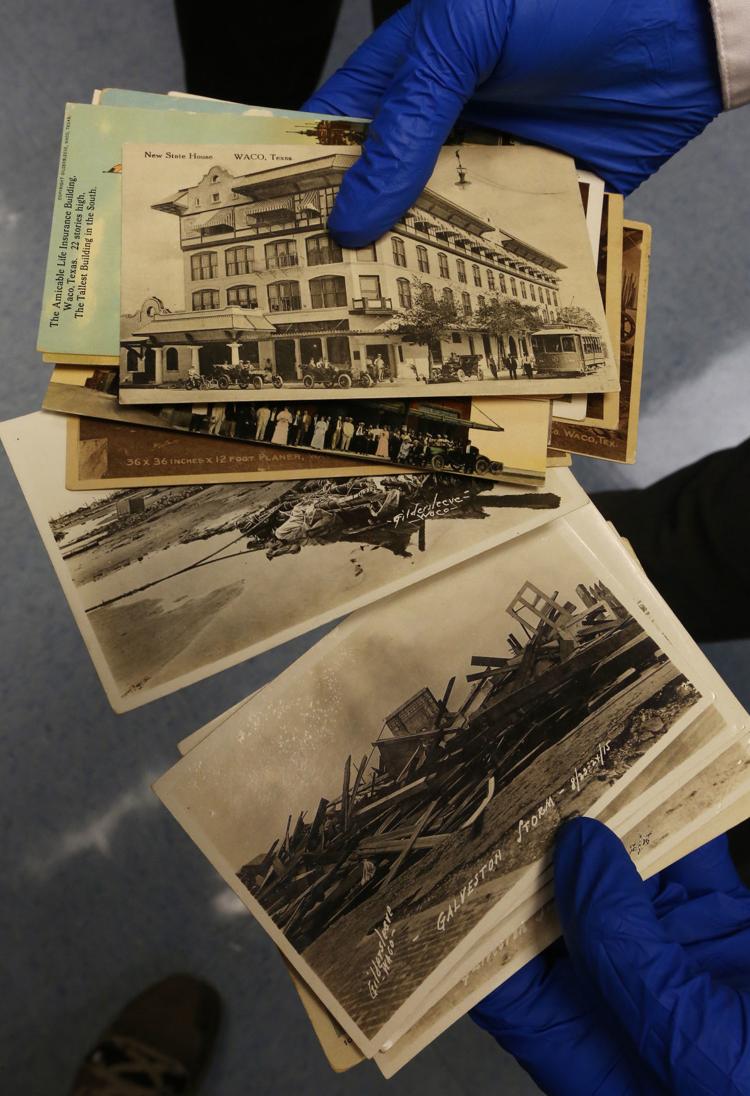 Gildersleeve told an NAACP investigator he stopped selling the postcards after he was admonished by "city dads" on the grounds of "bad publicity."
Hunt said he and Wilson decided not to use the photo in the book, because it could be troubling for young readers, and a high-resolution image is publicly available on the Library of Congress website.
Hunt said he wonders how Gildersleeve, a non-Southerner, thought about about the lynchings of the time.
"We'll never know his true intent," he said. "It's extremely important that these photos were taken. That's what put the NAACP into action against lynching."
The book suggests that the Washington incident tarnished Gildersleeve's reputation, but he continued to be hired to photograph events of both white and black society through the first half of the century. Apparently, community leaders also forgave him after an infamous photo shoot 1938, when he arranged to capture a panorama of some 2,500 Shriners gathered at the old Cotton Palace building. The magnesium flash powder he placed in the rafters went off as planned, but it sent a flock of frightened pigeons over the diners and ruined some suppers.
Donated glass negatives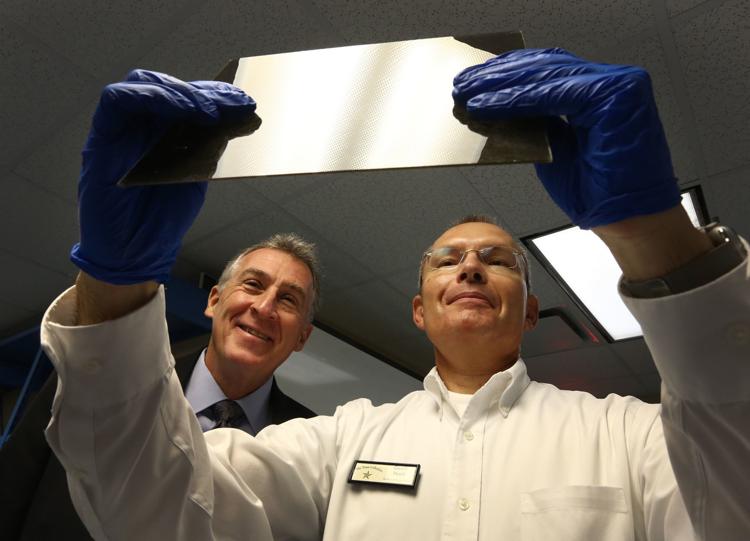 Conger, the Waco historian and community leader, tended Gildersleeve in his later years, when the photographer's health and marriage went downhill before his death in 1958. Conger once asked for access to the glass negatives stored in Gildersleeve's backyard shed. On opening the door, Conger found that half of the negatives had fallen and were smashed beyond repair.
Conger donated the remainder to the Texas Collection and used many in his "Pictorial History" in 1964. One avid reader of the book was Hunt, who acquired his copy at age 14 and became a lifelong fan of Gildersleeve and photography in general.
"I knew it was a big deal," Hunt said.
He said he hopes the new volume will bring Gildersleeve to the wider audience he deserves.
"I think of it as art photography," Hunt said. "I wanted it to appeal to anyone interested in history and photography as an art form."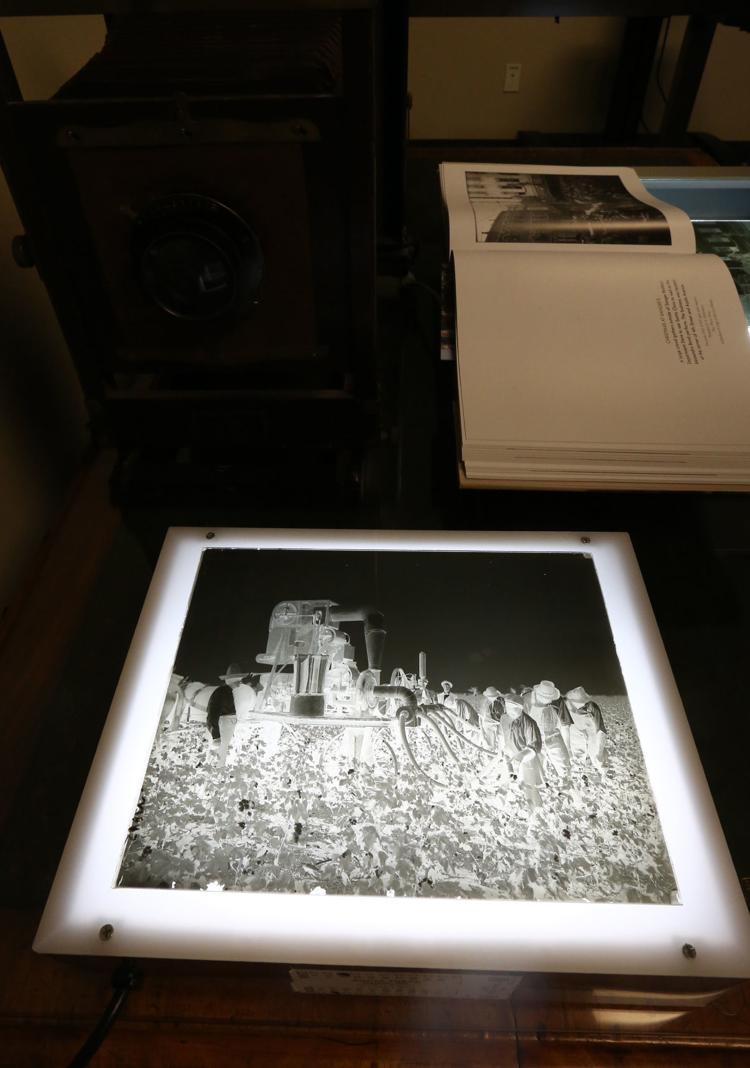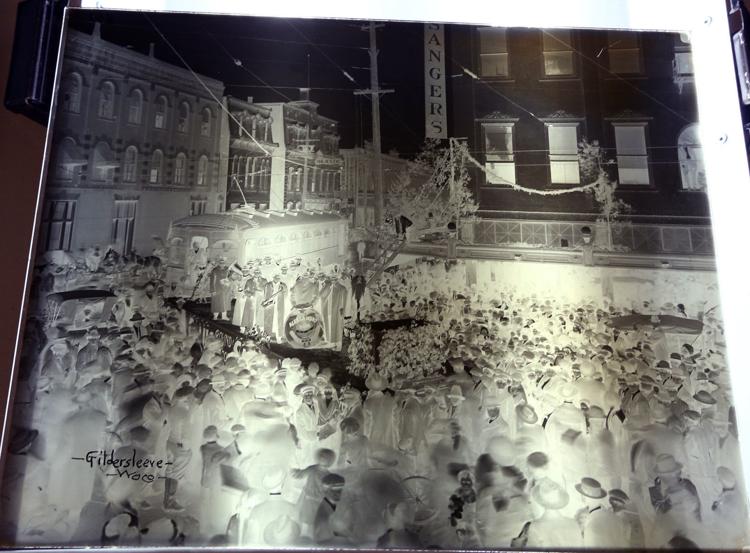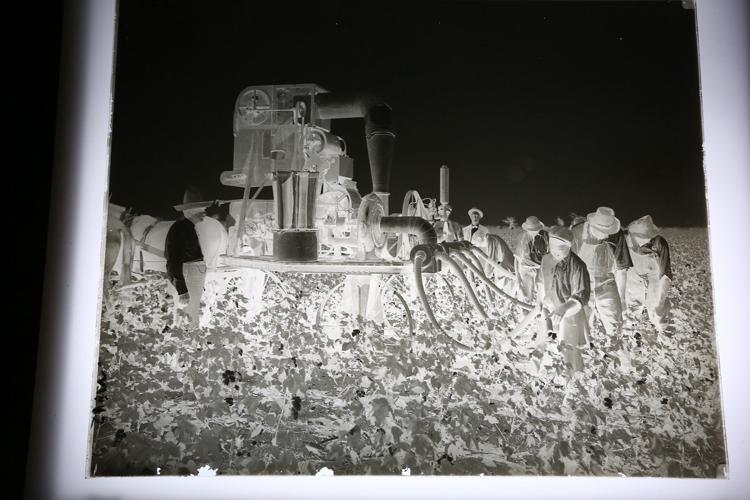 ---
More views from Gildersleeve's world