Crews were assembling barges Thursday at Brazos Park East, preparing to float them down the Brazos River to the site of a two-year project to demolish and rebuild the Interstate 35 bridges.
Crews with Webber LLC are expected next week to begin removing lead paint from the pair of main-lane bridges, causing closures along parts of the east and west riverwalks.
In January, demolition work will begin on the southbound bridge, requiring southbound traffic to be shifted onto the northbound bridge, with two lanes of traffic each way, Texas Department of Transportation spokesman Ken Roberts said.
That three-lane bridge, which is about 50 years old, will be replaced by a new four-lane bridge by late next year, Roberts said. Then all traffic will be shifted to the new southbound bridge in early 2021 while the northbound bridge is demolished and replaced, with an estimated finish date in late 2021.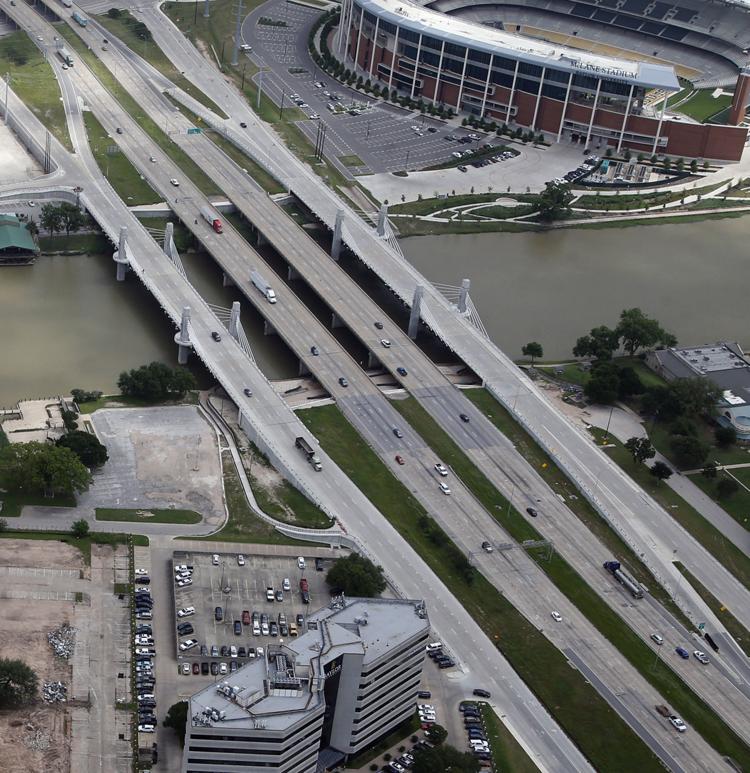 Roberts said motorists can expect delays during the replacement project.
"We're doing everything possible to minimize the impact on the traveling public," Roberts said. "With the knowledge that it's going to have a significant impact on the public, we're going to do everything we can to make sure we have traffic flow through the project area."
The bridge replacement is one of the most complex parts of the overall $341 million project to rebuild and expand Interstate 35 from 12th Street north to Loop 340. The interstate project, which also includes overpass and ramp replacements, is expected to be complete sometime in 2023, though TxDOT is hoping to expedite the work by offering Webber LLC incentives for an early finish.
The new main-lane bridges will be not only wider but higher than the original ones, putting them roughly level with the distinctive frontage road bridges, which were completed in 2014 at a cost of $43 million. That will give I-35 motorists a view of the river through Waco.
Crews next week are expected to erect cranes on the barges to begin removing lead paint from the main-lane bridge railings to prevent contamination of the river below, Roberts said.
"We want to make sure we protect the waterway," he said.
Jonathan Cook, city of Waco parks and recreation director, said he expects closures of the riverwalk sections under and around the bridges next week.
"We're going to have signage up to let people know the riverwalk is closed," Cook said.
He said he hopes the closures over the next two years will be only "intermittent" given the growing popularity of the river. At the same time, the city is planning next year to start on a $5.2 million, two-year renovation of the historic Suspension Bridge.
But Cook urged river users to be patient.
"It's going to be upward of 24 months, but if you can look three years down the road, it will be great to have all these things finished at the same time," he said.