Prompts to stimulate creativity, one aided by second graders and the other by Facebook friends, have led to a similar place: new children's books by Waco writers.
For retired Waco Independent School District teacher Jo Anne Beaty, a real-life story shared with her students ended up in "The Goat Woman," the first children's book published by Baylor University Press on its 1845 Books imprint.
For Act Locally Waco director Ashley Bean Thornton, a personal monthlong challenge to see if she could write a nursery rhyme a day evolved into "Miss Bean's New Fangled Nursery Rhymes," a self-published fundraiser for the community nonprofit.
Beaty's book drew on her own experience, a point she was trying to prove to a class of second and third graders at Hillcrest Elementary School more than a decade ago. Sometimes it is good to start with something that happened to us, she told her beginning writers, and shared from her childhood.
Beaty told them about growing up near Camden, Arkansas, and "the goat woman" of her childhood, a woman in disheveled, odd clothing seen tending goats in nearby Smackover who served as a convenient subject for their scary stories. As Beaty grew older, she saw the woman less as a person to fear and more as an individual who just happened to be a little different.
Smackover's real goat woman, it turned out, came from a community of Roma, also known as Gypsies, in the Mississippi Delta. She lived in a circus truck, sang opera and played organ for a small Baptist church.
Beaty had her elementary school audience's attention from the beginning, however, with the phrase "goat woman."
"Their eyes would grow big," she recalled.
To mirror a writer's process to her class, Beaty wrote the story down, mistakes included for sharp-eyed students to catch, then in drafts that changed and improved.
She and her students moved on after the six-week writing unit, but their reaction to her story told the teacher she had struck gold in terms of reader interest. She returned to the story as a possible children's book after retiring in 2012 from a career teaching at Parkdale Elementary School, Hillcrest and Live Oak Classical School.
The goat woman of her past became a teaching moment for her story's main character, a 7-year-old girl named Jodie, troubled by nightmares of being pursued by a mysterious, threatening character in worn, dirty clothing and smelling of goats. Through her grandmother and a visit to a goat farm that dirtied her own clothes, Jodie sees her fears of a goat woman change to pleasant dreams populated by a flower-eating kid she names Daisy.
"Sometimes we're afraid of the wrong things," Beaty said.
The former school teacher used illustrations from her students for her original "Goat Woman," but asked Waco artist Joel Edwards to illustrate her book, asking him to minimize the people pictured to give readers room to imagine their own.
Edwards created his illustrations on a digital tablet. He said his philosophy of painting — leaving room for a viewer to supply details from their experience — neatly dovetailed with Beaty's idea on readers' imagination.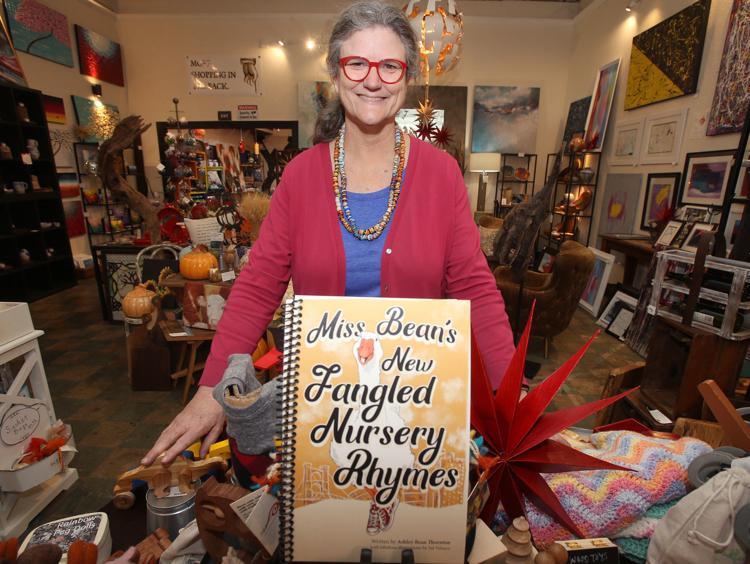 Thornton's book came from a personal challenge to write a nursery rhyme every day for a month, she said. Coming up with a limerick or rhymed verse often required a broad range of subjects.
"The first thing you learn is not to be super-picky," Thornton said with a laugh. "I'd write about 'What did I see today? A squirrel! A tree!' "
She shared her challenge on Facebook, and after finishing her challenge, she had 30 contemporary nursery rhymes — and readers on Facebook leaning on her to print them.
Two years ago, Thornton had written two stories in the short children's book "Bad Friends and Monsters" as a fundraiser for J.H. Hines Elementary School. So when friends encouraged her to publish, she agreed, doing it as a fundraiser for Act Locally Waco, with illustrations by Waco graphic designer Sal Velasco. Her self-published book came out last month.
Both Thornton and Beaty have been busy in recent weeks, signing copies of their books, reading their work and visiting with readers. Both books are available locally, "The Goat Woman" at Barnes & Noble Booksellers, Fabled Bookshop & Cafe and Cultivate 7twelve, as well as at amazon.com, and "Miss Bean's New Fangled Nursery Rhymes" at White Elephant, Cultivate 7twelve and the Waco Downtown Farmers Market.
A veteran reader to children, Beaty has read "The Goat Woman" to students at area elementary schools, the Waco-McLennan County Library, her high school class reunion and local bookstores and shops. Her favorite audience, however, was one closest to her heart.
"I read it to my grandchildren," she said. "That was the best thing."