If walls could talk, hundreds of thousands of stories from Waco speedsters would echo throughout the Speed Cave Museum in Axtell.
Thousands of photos and items chronicling the history of dirt track racing in and around McLennan County fill the museum's rooms. It is a labor of love by owners Joe and Eileen Armstrong, who started the effort to honor and preserve local racing legacies.
"It is kind of like going back in time," Eileen Armstrong said. "It is stuff you would not see anywhere else and it has a lot of spiritual meaning to me, which sometimes the items speak to me, like items of men who have passed away. Sometimes they speak to me about where I should set them. The stories just go on and on."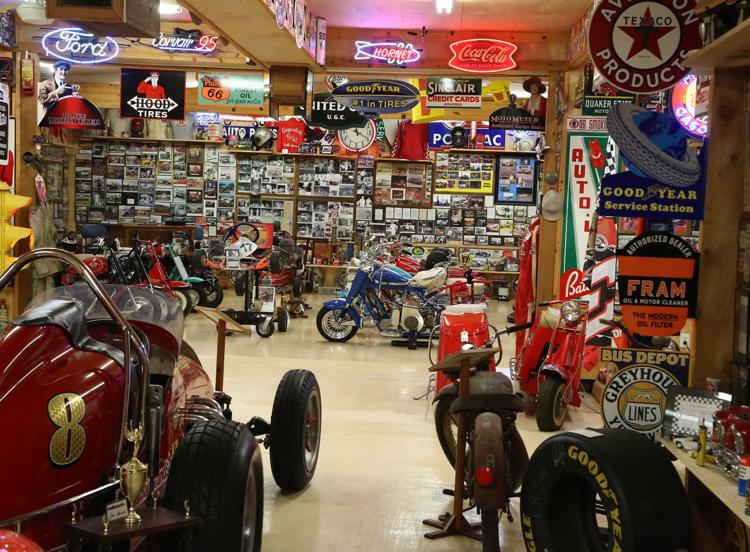 Eileen, 65, and her husband of nearly 38 years, Joe Armstrong, 73, opened the Speed Cave Racing Museum in 2010 at 436 Woodlake Lane in Axtell, outside their home. Gordon Wooley, Bill White, George Green, Chuck Daniel and Paul White are among the racers with mementos on display.
"These guys really are my heroes and to come in here and see their things on our walls means a lot," Joe Armstrong said. "It is sometimes overwhelming because I know most of these guys. I know the blood sweat and tears that they put into their whole lives in this."
The couple started their collection in the 1980s with a pair of 1958 Cushman motor scooters.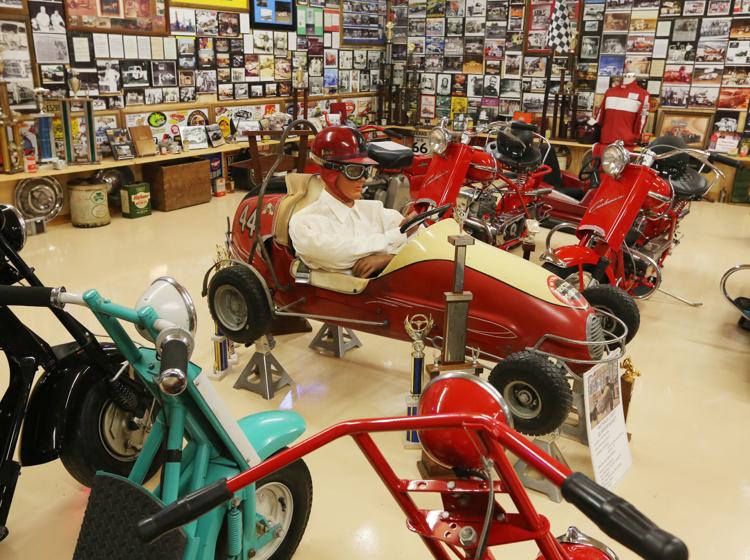 "She asked me if I wanted those scooters and said we had the money to buy them back then," Joe Armstrong said. "They came as a his and her's, so really those are the two things that started this all. They are irreplaceable."
Special event
The Armstrongs will host a special museum event from noon to 5 p.m. Nov. 17 to celebrate racing and showcase the museum to fellow enthusiasts.
"We are expecting a crowd of more than a 1,000 people throughout the day," Joe Armstrong said. "We have people coming from as far as Kentucky to our event and we can't wait to get everyone together, see everyone laughing and let them just be here."
Displays in the museum include a late 1950s sprint car nicknamed "Scrappy." Originally built by Hank Henry, machinist Done Menard rebuilt the car after a significant crash.
"The accident tore the rear-end part, from the driver's seat back, off," Joe Armstrong said. "That is why we call it 'Scrappy,' because he pieced it back together from spare parts, but that car has a lot of history to it."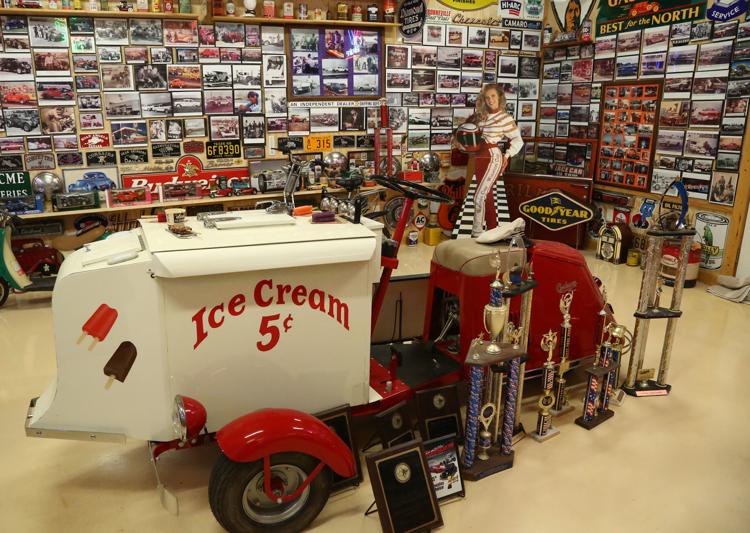 Another fan favorite is a 1954 Cushman Truckster that was used as an ice cream vehicle.
"Originally when you bought it, you bought just the rear-end part with the motor and you could put any type of box you wanted on the front," Joe Armstrong said. "We bought it in Illinois and it still has the original paint on it and license plate with it."
The couple has worked closely with the Heart O' Texas Speedway in Elm Mott for a number of years, track promoter Selby Holder said. Part of their dedication to keeping Waco's racing history alive has included overseeing the Heart O' Texas Speedway Wall of Frame with Joe Armstrong's brother, Tommy, Holder said.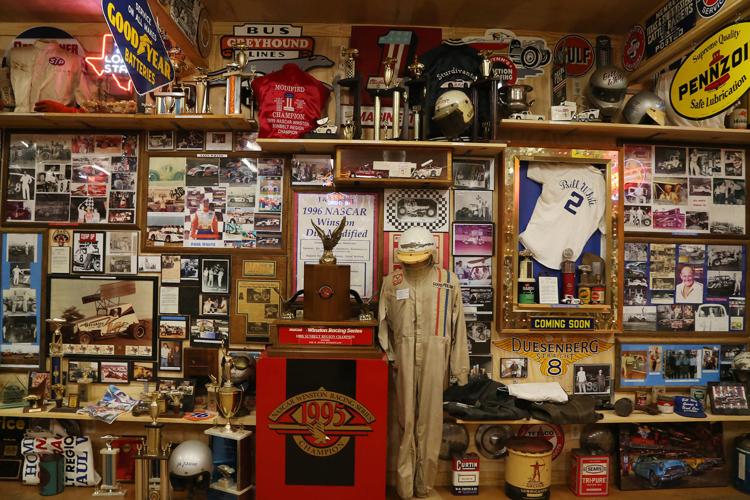 "They have captured racing history in Waco from the Cotton Palace (Fairgrounds Oval), where racing originated in 1916, to Suicide Bowl to the original Heart O' Texas Speedway to the current speedway," Holder said. "They've captured every bit of the history of dirt track racing, the national championships, family traditions and everything in there."
Holder said this year's inductees onto the Heart O' Texas Speedway Wall of Fame will be featured at the museum's event next weekend. Guests will be invited to visit with past and present racers, take photos and talk about the love of cars and racing throughout the event, he said.
"There is a true pride that is living out there," Holder said. "Our inductees aren't only honored in our Wall O' Fame, but they are honored in their museum and I think anyone who comes out to the event is going to see the love of racing that is all around their museum."
The couple also collects vintage signs, many with ties to Waco history. They said guests are invited to tour their home, where thousands of metal signs and other vintage decor is displayed.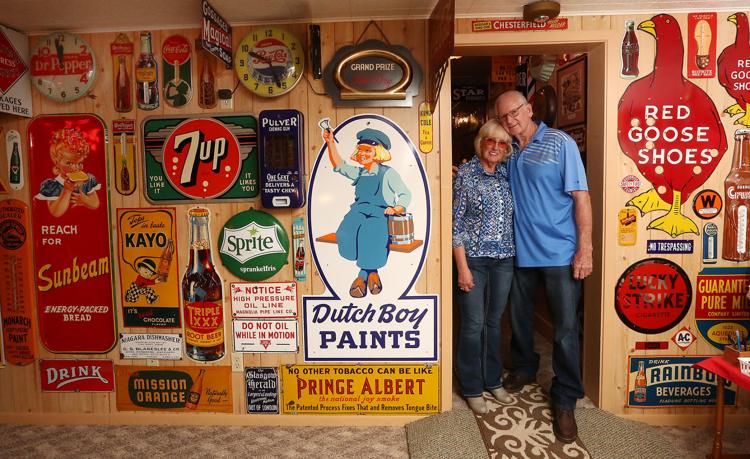 "We've been collecting signs as long as we've been together," Eileen Armstrong said. "There is so much history that we try to keep alive and it is something that we both really enjoy."
Back in the racing museum, Joe Armstrong said he ran as a drag racer in the 1960s and 1970s. He said his family owned dirt track cars his entire life, but his mother was scared to race, fearful of injury.
"I almost got killed in a drag car," Joe Armstrong said. "Me and my brother have been involved in racing all our lives, been around it and we just want everyone to know their (legacy) is still remembered."