Jessica Dugan's life has not always turned out like she had hoped.
Growing up in Dallas the daughter of an alcoholic father, the 29-year-old Dugan dropped out of high school to get married at 18. That marriage lasted six months.
Her second marriage also ended in divorce. Her 8-year-old son was taken from her by state child welfare workers and is living with a relative. She has not seen him or talked to him in more than five years.
Her first daughter was born while Dugan was addicted to methamphetamine and abusing alcohol. She arranged for the girl to be adopted. Her third child, a girl named Serenity, is 2 now, but Child Protective Services workers also took custody of her for a time in 2017 because of Dugan's continued substance abuse and homelessness issues.
"That was it for me," Dugan said. "That was rock bottom."
Dugan is in a much better place now. She went to rehab, kicked drugs, spent time in a Waco recovery house called Sunshine Recovery House and proved to a judge and CPS officials that she was ready to regain custody of Serenity. On June 3, Dugan will celebrate two years of sobriety.
Like hundreds of families that came before them in the 25 years Compassion Ministries of Waco has been giving homeless families a leg-up, Dugan and Serenity have lived in an apartment at the nonprofit since May last year. Theirs is in Hope House, which the nonprofit opened in 2002 to double its capacity to 52 beds.
"This place has just been a safe, really stable environment, which is a big change from where I was, you know?" Dugan said.
She said she is grateful for the opportunities given her at Compassion Ministries to turn her life around.
Dugan is now general manager of Luna Juice Bar, which has a shop at 1516 Austin Ave., a block from Compassion Ministries, and a truck at Magnolia Market at the Silos. She also serves on the board of directors at the Sunshine Recovery House, which is operated by her friend and owner of Luna Juice Bar, Summer Shine.
Compassion Ministries will celebrate its silver anniversary with an open house at 5 p.m. Thursday at its office at 1421 Austin Ave. Supporters can tour the office and Hope House, which has 12 private apartments for families accepted into the program.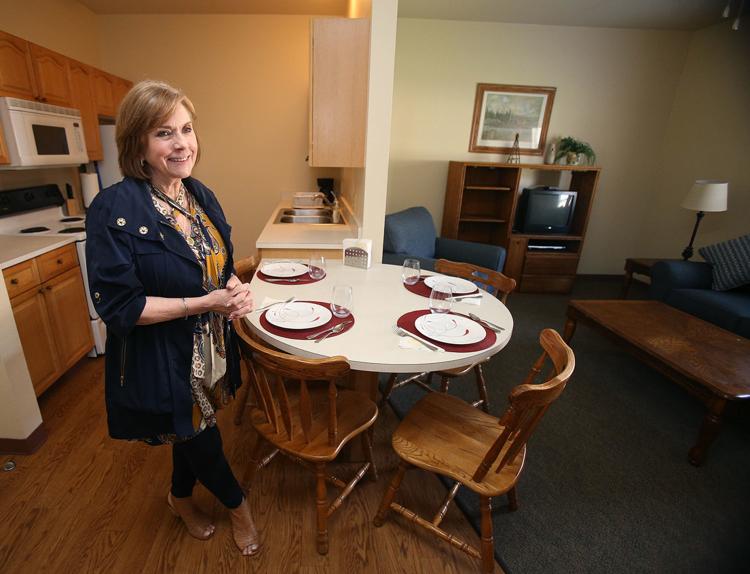 Jill McCall, executive director and the guiding star behind Compassion Ministries since 1999, said officials also will reveal the contents of a time capsule that was sealed 15 years ago.
"This organization has seen a lot of change in 25 years, but we have consistently been able to help homeless families over all that time," McCall said.
She is also eager to talk to supporters about Compassion Ministries' fundraising campaign. The program stopped receiving federal funding more than two years ago and has raised $4.5 million of its goal for a $5.5 million endowment fund to help keep the transitional housing program going.
"There are just not enough spaces, places, beds for families with children in this area, and if Compassion was lost, there would be a real void in this community without it here," McCall said. "If you look at what compassion does, it is not just a place to stay. It is a program that teaches responsibility and accountability, hoping that all those who complete our program are going to be self-sufficient for the rest of their lives.
"It all goes back to the old saying, 'You can give a man a fish and feed him for a day or you can teach him how to fish and feed him for the rest of his life.' That's what we are doing here."
Besides the stability of the Hope House, Dugan also said she appreciates the classes offered by Compassion Ministries volunteers in life skills, budgeting and other important matters. They helped Dugan fill out applications to enable her to become the first resident to qualify for a Habitat for Humanity home while living at Compassion Ministries.
That is another way to help combat what many have said is a lack of affordable housing in Waco, McCall said. Many two bedroom apartments are in the $800 to $900 range for monthly rent, while a Habitat home can cost about $485 monthly, she said.
Dugan is required to devote at least 100 "sweat equity" hours as a volunteer at another Habitat home before Habitat volunteers will start on her home, she said.
Compassion residents are required to stay clean and sober, are drug tested and must find jobs. They pay rent to Compassion on a sliding scale and are reimbursed for half the rent they paid when they leave to get them started in a new place and have a bit of a nest egg in case of emergencies.
"Jessica is a person who never thought about getting her credit cleaned up or ever dreamed that she would have a home, never dreamed that would be possible, and here it is, ripe for the taking for her," McCall said. "We like to say that we are providing hope, help and housing for homeless families.
"We are not just giving them a place to stay. We are giving them tools to put in their tool box to become self-sufficient for the rest of their lives."
Compassion Ministries started after conversations in 1993 between five pastors of downtown Waco churches about ways to help Waco's homeless community. It was incorporated a year later, and McCall, a former juvenile probation officer who has directed the tremendous growth in the nonprofit, became executive director five years later.
An old motel was razed at 1401 Austin Ave. in December 1999 to make way for the space now occupied by Hope House, which has served as transitional housing for more than 800 families since 2002.