Words seemed inadequate to communicate the life-changing experience of her recovery from a paralyzing accident, so Waco resident Liz Mitchell turned to art: art that pictures the fragmentation of one's body, art that shows the shallowness of placing high value on one's appearance, art that shows a determination to overcome the odds.
Her creations, produced within a year as her way of celebrating her 40th birthday, goes on display Sunday and Monday at downtown Waco's Cultivate 7twelve, 712 Austin Ave., with a possible future showing in New York. Mitchell will talk about her experience and her show at 6 p.m. Monday.
Her "C7" solo show, its title taken from the broken vertebra that radically changed her life seven years ago, represents a crystallization of those years, communicating lessons — and thanks — to those around her. It achieves a goal she set a year ago, to create an art show by her 40th birthday and in the process give her children something tangible as her accomplishments.
"Hitting 40 was impactful for me," she said in a recent interview. "I'm excited. I wanted to accomplish something that seemed impossible at the time."
"Impossible at the time" could cover any number of things in Mitchell's last seven years, following a fall off a balcony that left the then assistant district attorney in Dallas with a broken neck and most of her body paralyzed.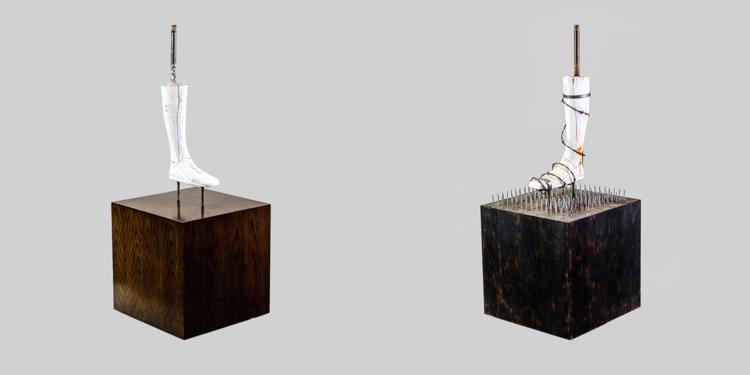 Coming out of a medically induced four-day coma in a Dallas hospital, she realized her life before the accident was over and a radically different life lay ahead to discover. Doctors determined she still had control over her right arm and hand, an early sign that rehabilitation was possible. At her side was her boyfriend at the time, Brian Mitchell of Mitchell Construction, and in the months that followed that short relationship would progress to marriage.
Not only marriage, but parenthood as during her long recovery, Mitchell would give birth to a daughter and son, Dot and Marz. She also would see a shallow, casual faith in God deepen to a real and meaningful one. And a lifelong love for art would come to the forefront and provide the tools to share her experience.
"I believe my life was spared and I was given a chance at recovery. I don't take that lightly," she said. "This show is part of that."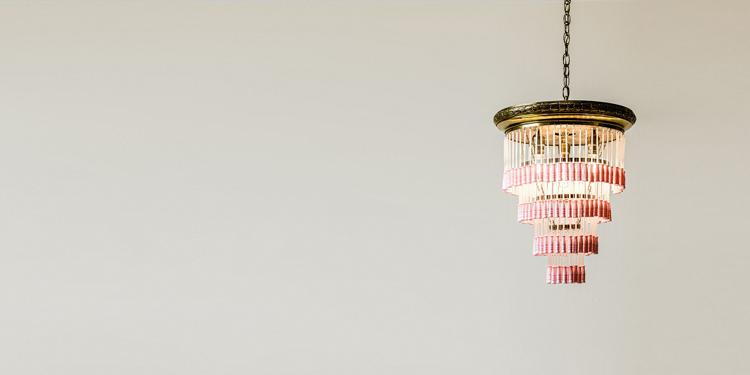 Objects in the "C7" show map the stages of physical recovery and emotional adjustments over years of rehab in Dallas, Temple and Waco: a head fixed to a stump with truncated roots, a model of a foot circled with barbed wire and stepping on a nail-studded panel, images of legs losing their definition, a walking cane in a display box, a sheep's head with a scroll containing a parable in its mouth, a chandelier crafted from urinary catheters.
Seven years from near-total paralysis, Mitchell has use of her limbs and walks with a cane, although she said she is in a two-year window for maximum nerve recovery. In addition to her physical recovery, there is a personality change, too.
"This is the struggle that brought me to what I am today. I became a better version of myself," she said. "You think about who you were and who you want to become. You can be a 'bitter buddy' or make the most of it."
The pieces in her show are meant to tell, not sell.
"I want the show to be seen by as many people as possible," she said.