No one with a passing interest in Waco history can avoid the iconic pictures of Fred Gildersleeve, who documented everything from the construction of the ALICO Building to Baylor University football games, floods and a downtown Ku Klux Klan march.
But a new digitization project by Waco's Lee Lockwood Library and Museum is allowing the public to see the images in a fresh way.
Texas Scottish Rite volunteers are scanning the estimated 1,200 Gildersleeve photos in the collection one by one and sharing them online at texsrhistory.org.
Those photos may look familiar to readers of local history books, including Roger Conger's "A Pictorial History of Waco." But click on the images and zoom in, and rich details of Waco life in the early 20th century emerge.
You can see Billy Holt's downtown sporting goods store in 1915, with a collection of Indian motorcycles half-hidden behind a display case.
You can read signs for Bull Durham tobacco and Old Virginia cheroots. On the Suspension Bridge in 1912, behind the railing is a corseted, parasol-shaded lady, pointing out something in the river to a companion. Another man appears to be riding or pushing a high-wheeler bicycle.
A picture on the town square from the same year shows the faces of farmers come to town with their wagons full of hay, cotton and corn. One farmer is dressed to the nines in a bowler hat and tie. You can see the carved stone pilasters and leaded glass windows of the ornate old City Hall.
"I got to looking through these things, and they're the most amazing images I've ever seen," said Dick Brown, a Texas Scottish Rite History Committee member who has been scanning the collection. "They're over 100 years old, and the detail rivals the best you can get with digital cameras today."
After moving to Waco in 1905, Gildersleeve captured thousands of minutely detailed scenes on his large-format camera, which used 8-by-12-inch glass or acetate negatives. He was a pioneer in aerial photography, panoramas and the use of elaborate lighting at night. He was the official photographer for Baylor and the State Fair of Texas and photographed four sitting presidents.
Brown, who lives in Dallas, said he first encountered Gildersleeve's work as a Baylor student in the early 1970s, when he took a photojournalism course by Adrian Vaughn.
"He used Gildersleeve photos to illustrate the things he taught us," Brown said. "When we found out we had all these pictures in the vault, I had to go see them."
Brown said the photos will help educate the public about Gildersleeve, Waco history and Texas Masonic history. Gildersleeve was himself a Mason and photographed important events in local Masonic life.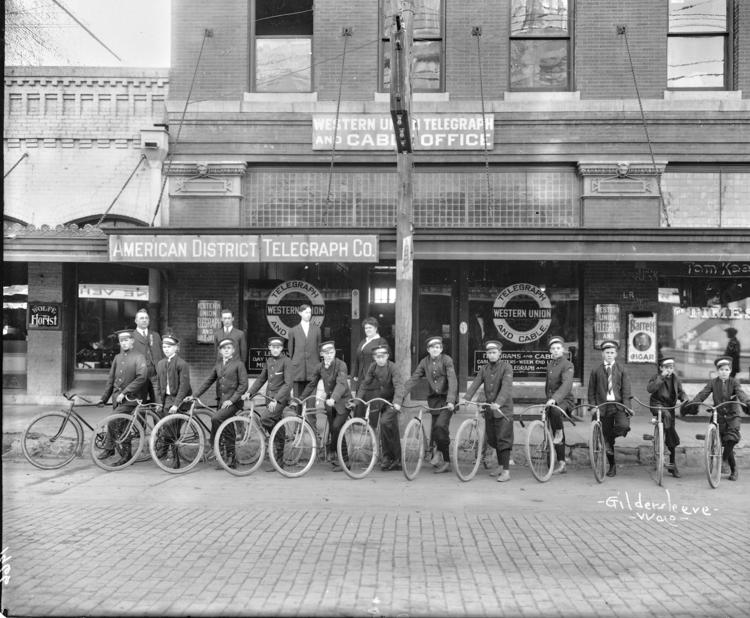 Before his death in 1958, Gildersleeve donated all of his photos and negatives to Conger, a fellow Mason and eminent Waco historian. Conger published many of them in his books, while donating prints to the Lee Lockwood Library and the negatives to Baylor's Texas Collection.
The Lockwood Library at 2801 W. Waco Drive has a small exhibit on Gildersleeve in an upstairs corner of the building.
Library archivist Sam Moody said he is hoping to do a much larger Gildersleeve exhibit in time for a "grand reopening" of the library in 2019, the 50th anniversary of the building.
Moody was hired last year as the collection's first archivist in about 15 years, and he said he is trying to update a stagnant set of books, archives and exhibits.
Moody said he hopes to bring more public attention to the treasures of the library and museum, which include Texas and Masonic history as well as rare books, including a first edition of Mark Twain's "Life on the Mississippi."
Meanwhile, the Texas Collection in recent years has been working to scan and restore the negatives. Geoff Hunt, audio and visual curator for the collection, said Gildersleeve kept his glass negatives unattended in a shed behind his house on Ethel Avenue. When Conger finally persuaded him to let him take a look, the two men discovered a shelf had fallen, breaking many of the glass plates.
Hunt and others at the Texas Collection have been scanning those fragments and stitching them together digitally.
Hunt said preserving the photos is the first priority, but he would eventually like to make them more accessible to the public, perhaps through an exhibit or book. He said the Scottish Rite project to put the material online is a good start.
Hunt said Gildersleeve photos are doubly important. They document Waco's boom years of the early 20th century, and they are great photography.
"He recorded Waco at its height as far as downtown goes," he said. "He took biweekly photos of the ALICO Building under construction. He was always on the spot. It's almost like he knew that years from now we would be relishing his foresight and his work."
Hunt traces his own love of photography to Gildersleeve's photos in Conger's book, which he bought when in his early teens. He said Gildersleeve was a master of architectural photography but also documented culture, whether on his trips to Mexico or in daily street life of Waco.
"He had a real eye for art," Hunt said. "He was not only a commercial photographer but an artist."
Texas Collection director John Wilson has recently met with Brown, the Scottish Rite History Committee member, about working together to preserve Gildersleeve's legacy.
He agreed that Gildersleeve's photos have value beyond the historical record they provide.
"I would say Gildersleeve never got the national attention he probably deserves," Wilson said. "The clarity of his work is incredible. He had a way of focusing in on people that was incredible."