In summer 1961, Baylor University's registrar and admissions director wrote a letter denying a graduate school applicant for a reason based in racism and routine.
"We have not yet taken down the racial barrier here, although I have been hopeful that it would be done eventually," Alton B. Lee wrote. "It seems that everyone is waiting for everyone else and no one will take the initiative in such matters."
The letter was mailed to Waco native Vivienne Malone-Mayes at 617 S. 12th St., the house in which she was born.
Twenty-five years later, Malone-Mayes could look back at that letter from the perspective of Baylor's first African-American professor and see it as blessing.
By then, she had earned her doctorate and other degrees, become a beloved math professor and served on a national organization for women in mathematics. She had led religious and civic organizations and had broken barriers all along the way.
"If they'd accepted me at Baylor, I would have just taken a few courses and not pursued a doctorate," Malone-Mayes told the Tribune-Herald in 1986, nine years before her death from an illness.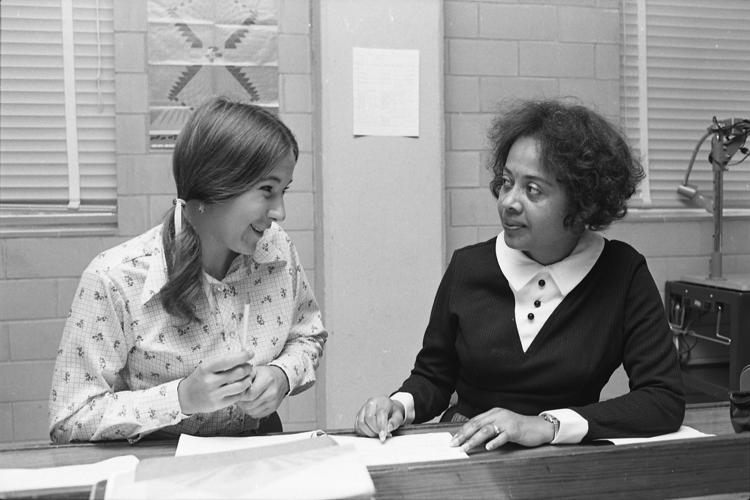 Malone-Mayes' admirers at Baylor will commemorate her life and achievements at a ceremony at 3:30 p.m. Tuesday, unveiling a bust of the professor in the third-floor lobby of Baylor's Sid Richardson building. Among those planning to attend is Baylor President Linda Livingstone.
Malone-Mayes joined the faculty at Baylor in 1966, three years after the board of regents voted to integrate the private Baptist university. In the meantime, she had taught at Waco's Paul Quinn College while earning her doctorate from the newly integrated University of Texas at Austin.
She retired from Baylor in 1994, a year before her death.
Malone-Mayes told her life story in interviews for Baylor's Institute for Oral History between 1987 and 1994. It is an unfiltered, relaxed story about her upbringing in Waco, the influences of her parents, experiences with racism and sexism, and career and civic achievements.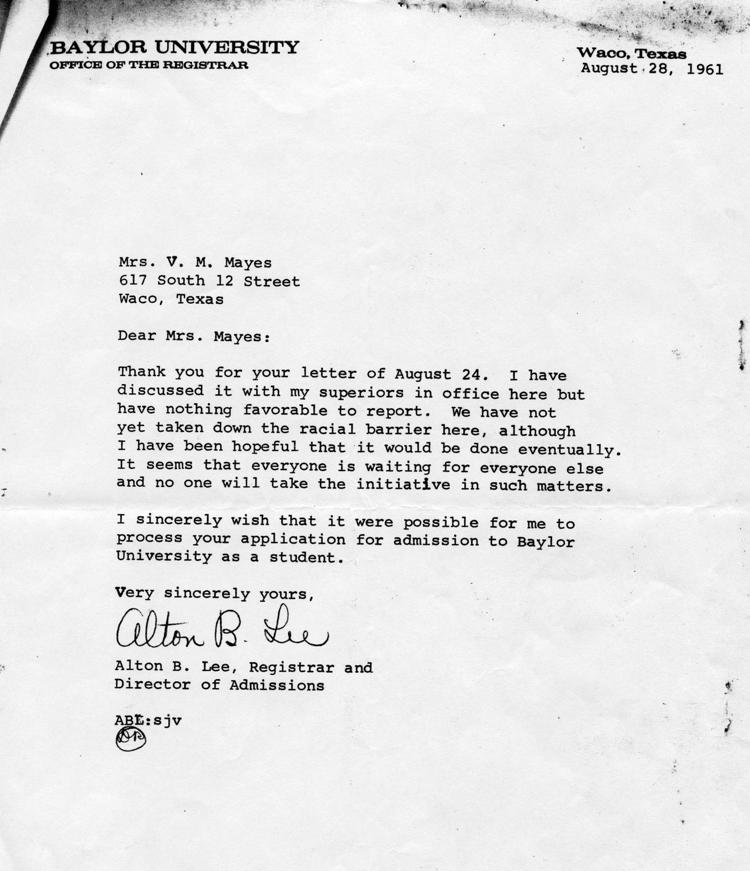 In a recent interview, Waco economist Ray Perryman recalled the influence Malone-Mayes had on him as a professor and later a friend and fellow faculty member. Perryman, who gave a eulogy at Malone-Mayes' funeral, called her "the most remarkable woman I've ever met in my life."
"There's literally not a day that goes by I don't think about her or benefit from things she taught me," Perryman said.
Her birthplace on South 12th Street was the home of her aunt. She grew up trying to please her well-intentioned but strict mother while remaining close to her more outwardly affectionate father.
"When I was in college (at Fisk University in Nashville, Tennessee), I wrote and asked him for five dollars, he'd send twenty-five," Malone-Mayes said in 1987. "If I wrote my mother for five dollars, I might get four dollars and fifty cents, but I hope I would get a five dollar bill."
She graduated from the all-black A.J. Moore High School in 1948 at age 16. As a girl, she met Beulah Barksdale, who would become the first full-time African-American librarian at Waco Independent School District. Barksdale fondly remembers Malone-Mayes as a friend who was goal-oriented and kind.
"She was always the same temperament, always cared about other people as well," Barksdale said. The two participated in the sorority Delta Sigma Theta, which was founded at Howard University and focused on African-American women.
From a young age, Malone-Mayes attended New Hope Baptist Church and performed a piano recital before attending Fisk. She later chaired math departments at Bishop College in Dallas and Paul Quinn College. Records show she was the first African-American woman to receive a doctorate from the University of Texas at Austin.
Malone-Mayes has been in the thoughts of Waco writers and historians. Robert Darden, a Baylor journalism professor and former Tribune-Herald reporter, wrote a profile of her in the Wacoan magazine, pointing out her accomplishments during the civil rights movement, her contributions to New Hope Baptist Church and her civic duties in Waco.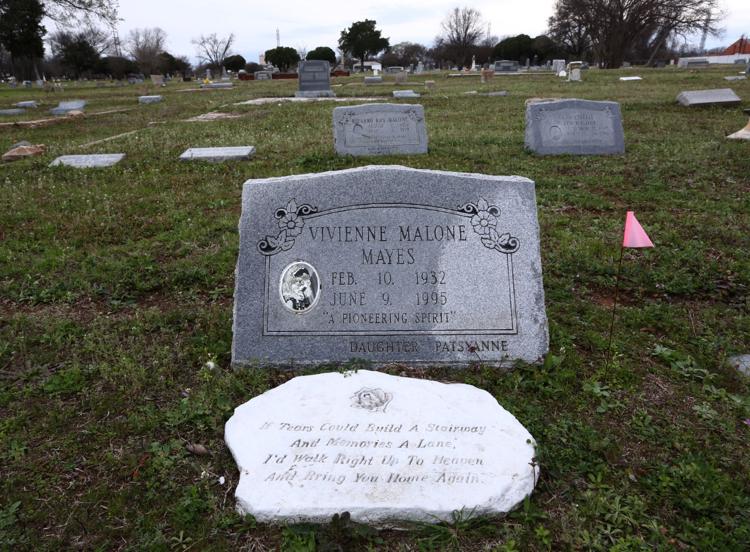 After Malone-Mayes' gravesite in Greenwood Cemetery was recently vandalized, Darden saw an opportunity for a long-overdue honor. Months of discussions about her led to the decision to recognize Malone-Mayes, who broke the color barrier among Baylor faculty just 10 years after being denied as a graduate student.
"(Students) saw a powerful, confident, successful woman of color in a setting that had been lily white for a long time," Darden said. "They saw what I hope they will see when they see this bronze."
Baylor journalism Professor Mia Moody-Ramirez, a former Tribune-Herald reporter, knew Malone-Mayes in the early 1990s.
"I remember her just being filled with grace," she said.
Moody-Ramirez, who was recently named chairwoman for the Baylor department of journalism, public relations and new media, said Malone-Mayes was an inspiration.
"I would think (her students) would've perceived it as being an honor, to be a part of the small population who can say they had an African-American teacher while at Baylor University," she said.
Perryman said Malone-Mayes' talent for mathematics went beyond the numbers. It was a way of thinking about the world shaped by her experiences.
"Yes, math is quantitative and math is technical and all that," he said. "But to her, it was also art and poetry and beauty. It was a way to express meaning in the world. She always taught me: anytime I was working on something complicated, which I do a lot of, until I got a solution that was simple and elegant, I needed to keep working, because it was probably wrong."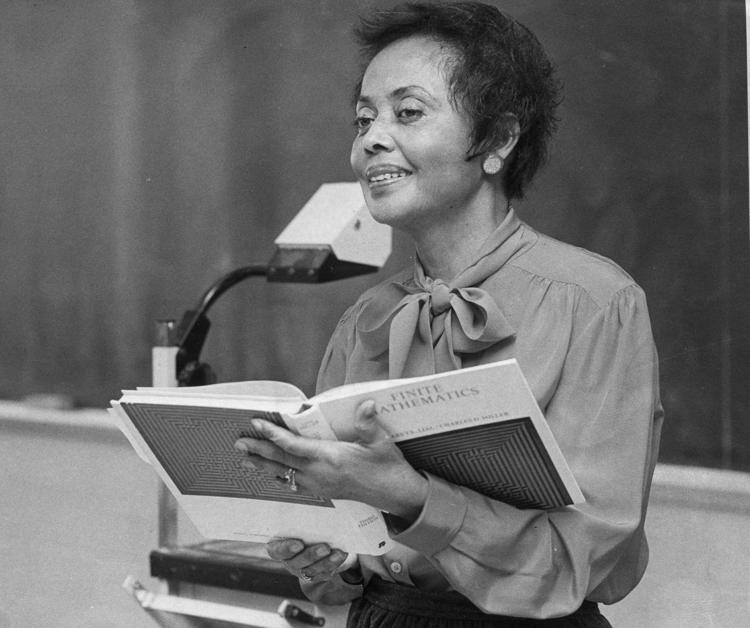 She first learned the elegance of math from her father. In a 1987 interview, she said she struggled with the commutative law of multiplication, which states that five times seven, for example, will produce the same answer as seven times five.
"And he just kept saying it until finally he made me discover the answer was the same. That five times seven is equal to seven times five," she said.
Lance Littlejohn, the current chair of the mathematics department, said the bronze bust stands 26 inches on a one-inch stand and weighs 50 pounds. He has received messages from friends and students of Malone-Mayes over the past several months. He plans to read some of those messages aloud on Tuesday.
"This is a historic day for Baylor," he said.
And for Barksdale, the honoring of her longtime friend further cements a legacy of service.
"I wish she could have known that she's finally what she wanted," she said.