In a house of worship at Baylor University, author and longtime Texas resident Sandra Cisneros told an audience Thursday how she came to write the highly acclaimed novel "The House on Mango Street."
Cisneros found herself speechless in her poetry seminar while earning her master's of fine arts degree from the University of Iowa because she felt she did not belong in the writing program. But that experience taught her how to listen and observe.
"Instead of quitting, I decided to write the book I had never seen on the shelves of libraries," she said at the George W. Truett Theological Seminary on Thursday to an audience of many who were clutching copies of her most renowned work.
Cisneros had discovered the other side of grief, rage, because she had never read a story like hers, so she set to writing. She thought about what she knew that no one else in her master's writing program knew and kept thinking until she thought of 10 things and then another 10 things. That was the starting point of "The House on Mango Street."
"I have never had writer's block since," she said.
The most important question Cisneros posed to herself was "What do I know that I wish I could forget?" She explored the most uncomfortable parts of herself, like the cockroach that peeked out of a drawer while she had guests over or the trash on her street that only got picked up once a week and attracted hordes of rats.
While Cisneros started "The House on Mango Street" from a place of rage while in school, she finished it in a place of compassion while working with students who lived in poverty and whose parents did not care whether they finished school. She finished the story for those students.
"Creating is an act against dying," she said. "Whatever we create with love, on behalf of those we love with no personal agenda, always comes out beautiful. That's a law of the universe. That's the most important thing I need to tell you today."
In addition to writing poetry and fiction, Cisneros is working on an opera of "The House on Mango Street" with Derek Bermel, a composer and clarinetist who recently served as artist-in-residence for four years at the Institute for Advanced Study in Princeton, New Jersey. She also is interviewing undocumented immigrants after receiving the Ford Foundation's Art of Change Fellowship.
Asked on Thursday how she felt about the crisis of children held in detention on the border and separated from their families, Cisneros said she is hopeful, despite the incessant, depressing news cycle.
"The undocumented are the subject of global news, but no one allows them to speak, and of course, they can't speak because they would put themselves in jeopardy," she said. "It's good to listen to them and, if we can, be a bridge to their stories."
"Coming to this town and seeing signs that say 'do not separate parents from children,' but they're not talking about the caged kids. They're talking about fetuses. Why are we not seeing outrage then for children being separated from their parents who are little ones?" Cisneros said. "That's not what the United States is supposed to be about. These are people seeking political asylum. I feel outrage because it's not American, and I don't see everyone speaking out the way they could, especially here in Texas. But on the other hand, I see coalitions that I didn't expect."
Cisneros said she sees people joining together to speak out against atrocities, including caged children, as a sign of hope.
"If anything, perhaps we're more united and we're organizing more than we have in decades," she said. "This is our time for us to be heroes. We have to be our own heroes. We have to speak up for those who can't speak."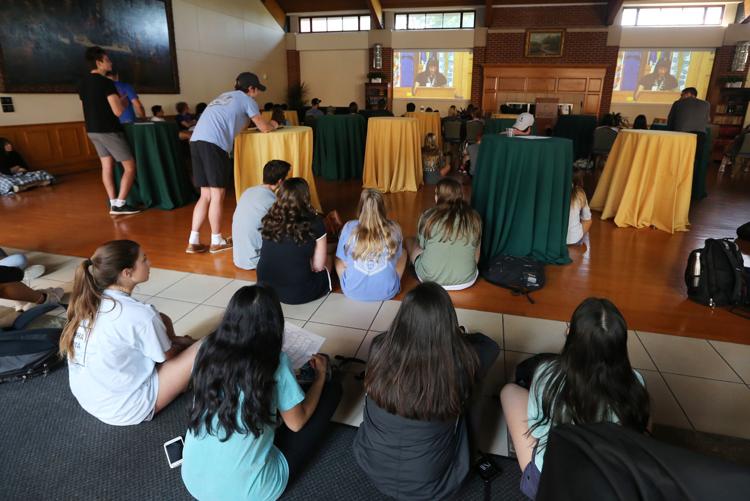 On Friday, Cisneros will go to Mexia to visit an English-as-a-second-language teacher who wrote her a "beautiful letter" about her students. Cisneros said students should read whatever they find interesting and fun, and parents should read to their children or just in front of them, like her mother would.
On the other hand, Cisneros said aspiring writers should keep their day jobs because they may never earn money from writing. She also told them to value their solitude.
"Solitude is sacred," she said. "That's time for you to develop your gift. That's the universe giving you time to take care of you."
In 2016, Cisneros received the National Medal of Arts from President Barack Obama. She also has won the Texas Medal of Arts, a MacArthur Fellowship, several honorary doctorates, and the PEN Center USA Literary Award. Cisneros now resides in San Miguel de Allende in Mexico.