Mia Miller, a Midway High School graduate, is approached regularly for autographs while strolling the Texas A&M University campus. Fellow students jockey for position, cameras at the ready. Guest lists always include her.
Miller, 19, is quite a student, with a 3.9 grade-point average as a nursing major, and she's a member of the revered Texas A&M Corps of Cadets, but those don't account for her popularity.
She plays second fiddle to the "First Lady of Aggieland," Reveille IX, the fetching collie whose sprint across Kyle Field before football games, as well as her presence on the sideline, remains yet another Aggie tradition.
Miller, a sophomore at A&M, is the first woman to serve as Reveille's chaperone. They sleep in the same room, take their meals together, attend class in unison. One might say they have great chemistry.
"We take her to the groomer once a week, brush her five or six times a day," said Miller, speaking by phone. "She has her own credit card, which the university provides for travel expenses, food, treats and toys."
Yes, Reveille enjoys a pampered life, but she never forgets the little people. On public appearances and to events likely to create a hullabaloo, she sports a paw stamp that serves as her autograph, Miller said, crediting the marketing and public relations department at A&M for the innovation.
Foremost in Miller's mind is protecting Reveille's dignity, especially when the rough-coat collie answers nature's call during a daily romp.
Applying military nomenclature, Miller said she assumes a "modified position of attention," also known as "parade rest," to shield Reveille from view "and to make sure nobody sees the queen when she's going to potty."
To suggest Miller takes her job seriously would be an understatement.
Last year, she was among the first women to join Company E-2, the Corps of Cadets' mascot company, when it opened its ranks to females. The male-dominated outfit sets rigorous standards for physical training, and expects women to pull their weight, according to a story in the Bryan-College Station Eagle newspaper chronicling Miller's accomplishments.
Her selection followed a yearlong tryout during which she pursued excellence in the classroom and in the Corps, immersed herself in Reveille-related history and orthodoxy, and delivered speeches and took quizzes on the topic. E-2 upperclassmen rewarded her hard work by naming her the newest handler.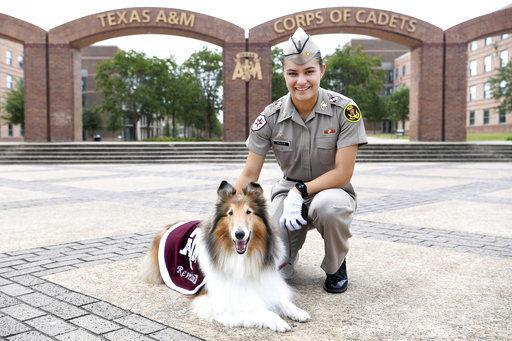 Ronny Boles, the cross-country and track coach at Midway High School, said nothing surprises him about the path Miller is blazing.
"We work out at 6:15 in the morning, and I bet we have 90 workouts a year, counting spring and fall, and she may have missed five during her four years here. I can't imagine she missed more, unless she was hurt," said Boles, a University of Texas alumnus who jokingly chides Miller about her college choice.
"One thing I distinctly remember is the district track meet her senior year. She ran so hard she nearly collapsed," Boles said. "When she does something, she does it all-out, which is the mark of an Aggie, though I leave that part out."
Mia Miller's parents, Randy and Rachel Miller of Hewitt, have every Aggie home football game circled on the calendar. The 90-mile trip to College Station to join the spirited, white-towel-waving throng on game day has become their own tradition, though both majored in accounting at Texas Tech University. Randy Miller manages the finance department of Coca-Cola's juice plant in Waco, while Rachel Miller returned to Tech to train for a career in the medical field, and now is an ER nurse at Providence Health Center.
Randy Miller said Mia loved horseback riding growing up, and he could picture her becoming Texas Tech's highest-ranking mascot, "the masked rider," and galloping into Lubbock's Jones AT&T Stadium for Red Raiders' games.
That all changed during a family visit to the Heart O' Texas Fair, where a Marine Corps recruiter challenged Mia Miller to perform pull-ups.
"Long story short, that's how she ended up at A&M, with an ROTC scholarship," said Randy Miller with a laugh. "I don't remember how many pull-ups she did that day. I know she can do 12 now, more than I can do."
Miller said any misgivings he may have had about his daughter joining the Marine Corps have been laid to rest, with his exposure to Aggieland.
"To glimpse the way military men and women come together to support each other, and to see upperclassmen and gunnery Sgt. Chad Parker, who is a magnificent man, look after her like she is one of their own, that is a great experience," he said. "I'm sure it's the same way in the Marine Corps."
Miller said he is equally proud of his older daughter, 21-year-old Lauren Miller, who received an associate's degree from the honors college at McLennan Community College and is pursuing a degree in finance at Texas Tech.
When Mia Miller says Reveille accompanies her everywhere, she means it. That includes rare trips home to Waco when her hectic schedule allows.
"I've taken her to a few places there, Walmart, for example," she said. "People really don't know who she is, a big superstar."
She summed up Reveille's personality for the Eagle: "A lot of people say that she seems really stoic and kind of quiet, but that's the face she puts on. Whenever we're playing around, we take the blanket off of her and she's like a regular dog. It's whenever you can get her behind closed doors and let her have fun, she's the best. She's definitely a goofy girl, too."
A goofy girl with her own credit card and entourage.