In their 50 years at 1105 Spring St., Frank and Mary Montoya have raised a big family, grown a towering pecan tree from seed and made countless cabinets and dresses in their backyard workshop.
What they have valued above all about their East Waco neighborhood is peace and quiet. So they had some worries when they heard in 2011 that Baylor University was planning to build a quarter-billion-dollar stadium three blocks away.
Now, as Baylor prepares next Saturday to play its sixth and final home game of the 2015 season, the Montoyas have no complaints.
"I thought it was going to be worse than what it is," said Frank Montoya, 78, a retired cabinetmaker. "I thought I wasn't going to be able to sleep at night. But now we sit outside and listen to the game. It's very calm."
For 18 months before the stadium opened, Baylor and city officials met with residents of the neighborhood to hear concerns and prepare for potential traffic and parking issues. The city built bike lanes along Orchard Lane and restricted street parking around the stadium, while allowing families such as the Montoyas to charge for onsite parking.
City officials say they have heard no complaints from the neighborhood since football season kicked off in August.
But some concerns linger about the long-term future of the neighborhood, which has come to be known as "Olive Heights" in recent years.
Change already has come to the neighborhood since the stadium was announced.
The stadium and the six-lane extension of Martin Luther King Jr. Boulevard to La Salle Avenue have made the once-secluded neighborhood more visible.
Largely as a result of the stadium, the 260-unit Lakewood Villas has been transformed from a troubled low-income apartment complex to "The Hype," a hip student complex with yoga classes, free Wi-Fi and poolside movie nights.
Property values have increased: One-fifth-acre lots around the neighborhood valued on the tax rolls at $800 in 2011 are now valued at $5,000. The Montoyas' home value has nearly quadrupled in that time, to $42,510.
Meanwhile, Baylor has acquired a big stake in the neighborhood's future by purchasing more than 110 lots and residential properties, some through tax foreclosure sales. Some of the older houses now sit boarded and empty.
Montoya said he's worried that developers or Baylor will eventually want him out of the way for development related to the stadium.
"You know and I know Baylor is expanding and buying property left and right," he said.
Baylor began acquiring the property around 2009, when the project began to create a research park at the old General Tire plant, just across Business 77 from the neighborhood.
At that time, the idea of a riverfront stadium was no more than a far-fetched dream, Baylor officials have said.
Baylor spokeswoman Lori Fogleman said the university has never had a specific use in mind for the parcels. She said universities often buy up land around them to ensure that they have room to grow in future decades.
"We own property in several areas," she said. "It's our obligation to think about the long-term perspective."
For now, most of the neighborhood beyond the block facing Martin Luther King Jr. Boulevard is zoned for single-family residential use, meaning commercial and multifamily development would be impossible without a zoning change.
Moreover, laws now prevent governments or other entities from taking private land by eminent domain to make room for new private purposes.
Councilman Wilbert Austin, who represents East Waco, was among the residents uprooted from his home in the 1960s Urban Renewal scheme that cleared low-income areas along the Brazos River. He said he would oppose any commercial encroachment into the residential neighborhood.
"I don't ever want to see any neighborhood be demolished," he said. "That happened to me about 50 years ago. I just don't want it to happen anymore."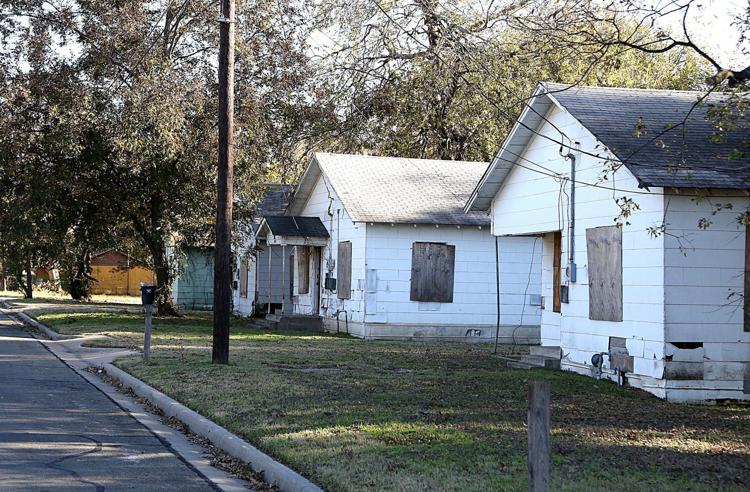 Wannika Muhammad, a businesswoman and former Waco school trustee who lives on Calhoun Street, said she has been tracking Baylor's purchases of neighborhood land. She said that before the stadium was announced, she refused three Baylor offers for her property, the last one being $35,000.
She said she doesn't question Baylor's right to buy whatever property it wants, but she'd like Baylor to communicate its plans to the neighborhood.
"We're not stupid," she said. "We know they're going to do something. I figure, just wait for it to happen. . . . Since we know it's going to happen, you're just going to have to make plans for yourself, assess your situation. Baylor doesn't make plans for me."
In the meantime, Muhammad is determined to make the most of the opportunity the stadium presents. She turned a vacant lot near her home into a combination parking lot and food court for McLane Stadium, which is a few blocks away.
"If you're coming over here, I and others want to some economic benefit from it," she said.
Muhammad, who was involved in the meetings with Baylor and the city before the stadium opened, said she's happy with the gameday experience.
"There hasn't been any negative impact," she said. "I have not heard of any major traffic issues. . . . Noise is not a problem. We could hear it a little bit, but it's not intrusive."
Megan Henderson, executive director of Waco Downtown Development Corp., was involved in the neighborhood discussions since East Waco is considered part of "Greater Downtown." She said it makes sense for Baylor to buy land in the neighborhood without having a specific use for it.
"What Baylor knows is that they're going to be adding value to either side of that neighborhood, and there's the likelihood of that becoming part of Baylor's master plan," she said. "I think that possibility is there, though I think it's in 20 or 50 years, not five or 10."
Henderson said she hopes residents take an active role in determining the future of their neighborhood.
"Staying the same is hardly ever an option," she said. "Districts grow or decline. The neighborhood was in decline before and now they're experiencing some change. What change is going to mean depends a lot of Baylor, a lot on the city, but a lot depends on residents and how they receive changes that are happening."
She said she is encouraged by the active role residents played in meeting with Baylor and city officials before the stadium's opening, then cooperating with each other in creating paid parking on private lots.
"They took a very practical, business-oriented approach," she said. "It's generally a good example of people responding to an opportunity."
The neighborhood still stands in contrast with the gleaming new 10-story stadium that looms over it.
It's a few minutes away from the downtown but feels semi-rural, with uncurbed streets, roosters crowing in back yards and mustang grapes overtaking trees and telephone poles. It appears from city maps that about half the lots in the neighborhood are vacant.
On a recent afternoon, a trio of neighborhood dogs — belonging to no one but fed by several people — snoozed in a sunny field, oblivious to a stranger passing on foot.
The river long isolated the area from the rest of Waco, and Interstate 35 has separated it from the rest of East Waco for the last half century.
Austin said that when he was young, the area was known as Sandtown and had a mixture of houses and businesses, including a livestock auction barn near H&B Packing, which still operates on Forrest Avenue.
The railroad that passed along modern-day Martin Luther King Jr. Boulevard closed in the 1960s, as did many commercial enterprises. Montoya said he remembers a whole line of shops across Spring Street from him, now occupied by a row of starter homes.
"There was a barber shop, an upholstery shop and a grocery store," he said. "If you didn't have any money, you could just wait until the end of the week and settle. . . . It was really a peaceful place."
That changed in the 1970s and '80s, when the low-income Pecan Gardens were built and soon became a haven for crime and disorder.
"You could walk out there and see drug deals — crack and marijuana — right out on the street," he said. "I started carrying a shotgun when I went outside at night."
In the early 2000s, problems with the apartments subsided, and the city of Waco was able to interest developers in building a subdivision on former city property around Brooklyn Park.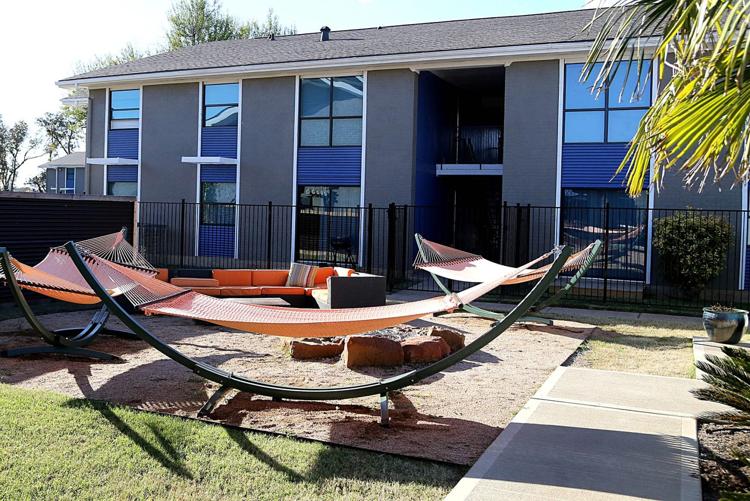 But violence flared again in 2011 at the complex, by then renamed Lakewood Villas, when two young men were murdered in a planned ambush. The apartments declined further and occupancy fell to 30 percent. In 2013, the apartments went into foreclosure, effectively wiping out government deed restrictions that required them to be low-income.
Citing the opportunity presented by the stadium and the new road extension, Nessel Development Co. of Dallas bought the property and did a major renovation in time for the fall 2014 semester.
Leasing agent Abraham Cleyver said the complex has occupancy between 70 and 80 percent and should go much higher when all of the units are renovated.
On a brisk fall afternoon this week, several Baylor students were shooting pool in the complex's new clubhouse while rock 'n' roll played. Behind them was a fully appointed fitness room, and just outside was a pool, a hot tub, cozy cabanas, fire pits and a waterfall feature fitted with colorful LED lights. Students can also check out bikes to ride to class.
From a golf cart, Cleyver showed off solar panels, an on-premise dog park and a several-acre area along Martin Luther King Jr. that residents can use for recreation or tailgating.
"If McLane hadn't been built, this wouldn't be here," he said.
The facility has live-in police to provide security and security cameras throughout.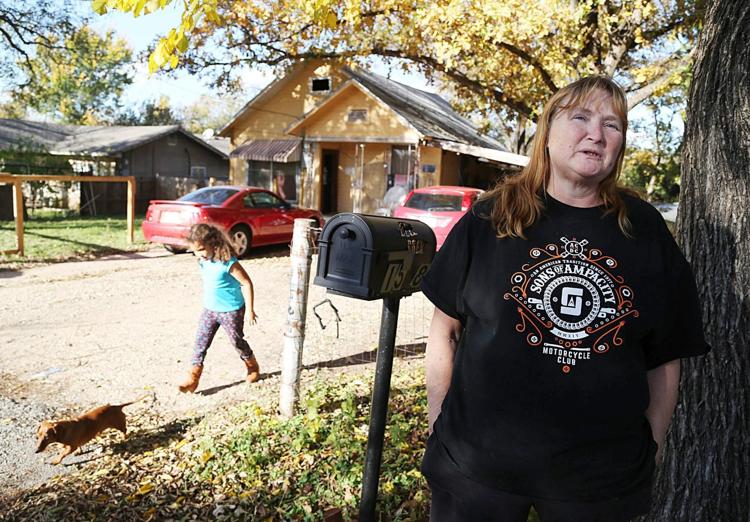 A block away on Walnut Street, neighbor Sandra Parker said she has noticed the difference since Lakewood Villas closed.
"This is a quiet street," said Parker, who lives with her electrician husband in a house her family has owned since 1939. "It's gotten a lot quieter since they renovated those apartments. We used to hear the gunshots at night."
She describes the neighborhood as a "small, interconnected community" with a bright future.
She said the stadium has brought nothing but positive change to the neighborhood.
"I thought it was going to be real noisy, but it's not noisy," she said. "Now we don't even have to leave the house to see the free fireworks."
---
Interactive map
Here's a glance at the Olive Heights neighborhood near McLane Stadium.