Elizabeth Bibus knows many of her fellow Tarleton State University/McLennan Community College graduates who she will address in her commencement speech have overcome challenges of broken families, violence, drugs and poverty to earn their degree.
What they may not know is how many of those barriers the 32-year-old Waco mother of five has overcome to get hers, with a master's degree next in her sights.
Bibus, who is graduating summa cum laude with a bachelor's degree in social work, will speak to more than 200 graduates in the College of Health Sciences and Human Services in Wisdom Gym, one of seven commencement ceremonies held at Tarleton's Stephenville campus.
What she will share with her audience, outside of thanks for everyone who helped her along the way, is the importance of resilience, not only in finishing one's education, but in living life.
"Never let your past or circumstances impede you. Trauma and adversity are not to be feared, but seen as a challenge," she said in a recent interview at MCC. "Never let a fear of failure put borders around your belief in what you are capable of doing. And, ironic as it sounds, embrace insanity: Those crazy enough to make change in this world often do."
Then an aside, "I'm really nervous about speaking," she said.
Backing up her speech is a life loaded with talking points, starting with her birth in Austin's Seton Hospital weighing slightly more than 4 pounds. The childhood that followed was often a chaotic blur. Both her parents struggled with drug addiction and eventually separated. A grandmother cared for Bibus and her sister Dana, but also had an alcohol problem.
Poverty kept them in public housing, and things did not improve when her mother moved them to Virginia to try and reconcile with family. Bibus did see her mother become sober: an Alcoholics Anonymous program led to her conversion to Christianity and a changed life.
"That let me know that true change, 180 degree change, is possible," she said.
Her mom's second husband went to prison, and the teenager, on the other hand, was in and out of juvenile court, dropping out of school by ninth grade. At 17, she was pregnant.
"You're partying one day and 'Ten Things To Expect While You're Expecting' the next," she said.
Bibus ended up in the Liberty Godparent Home for single pregnant young women in Lynchburg, Virginia, — "an awesome experience" — until she had her son. Her mom later decided to move her daughters to Hubbard, northeast of Waco, when Bibus' first child was a year old and she had a second on the way.
Six months after relocating to Texas, her mother was diagnosed with liver cancer. Four months after that, she was dead.
At 19, Bibus was a mother of three with custody of her teenage sister, living in Waco's Villages Apartments, the only public housing available to her. Her father, long out of the picture, had been clean and sober for five years, earned an engineering degree and was working as a NASA subcontractor when he relapsed back into drugs. He moved in with Bibus' family, his paycheck helping them move out of the Villages, but he later died, also from cancer.
In 2009, the shifting sands of her life started to find stability when she met, then married her husband, Maycol Arevalo, who had moved to Waco from Arizona. They had a child together, and his job enabled Bibus stay at home with their children, even if living on a shoestring.
Tattooed on Bibus' right arm is the phrase "The rest will fall into place." On his arm is its completion, she said, "As long as we have each other."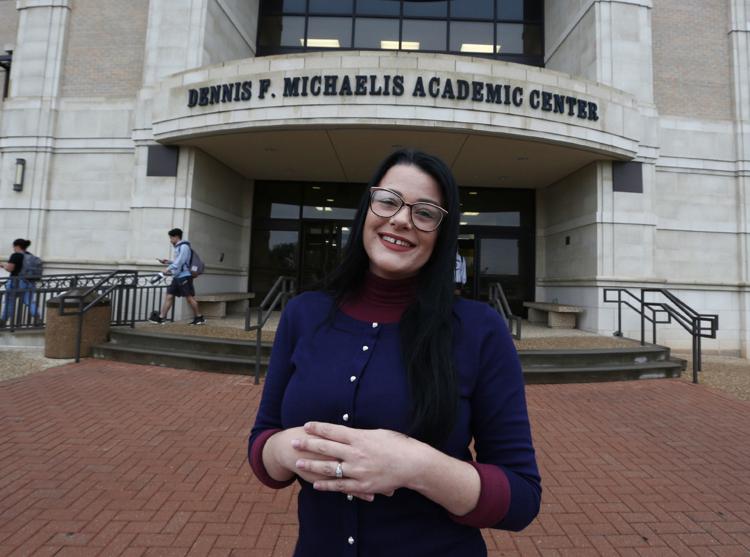 A scare over Arevalo's undocumented immigration status found them rescued by University of Texas at Austin law students working pro bono. He is now on a hardship work visa, she said. The incident also prompted Bibus to start thinking about how she could change things by going to college.
"Life is unfair, but some things don't have to be," she said.
And despite people in her life being damaged by drugs, violence and poverty, she knew firsthand they still were capable of love and change.
MCC's University Center offered the prospect of a Tarleton State University social work degree. Surprised that she passed the entrance exam, she started her studies in 2014, with Arevalo working odd hours and different shifts to cover her time at class, she said. In her second semester came her latest, unexpected challenge: pregnancy with a fifth child.
Bibus persevered and five years later has earned a social work degree without leaving Waco. She plans on finishing a master's of social work at Tarleton in the next year. Her and Arevalo's children — Devin, 14, Dylan, 13, Kylie, 11, Maycol, 10 and Isabella, 4 — are doing well at Tennyson Middle School's Atlas Academy, Indian Spring Middle School and Dean Highland Elementary School.
That balance of handling school work and family impressed Susan Copeland, director of the nonprofit RSVP Volunteer Program that connects volunteers, many of whom are senior adults, with nonprofits. Bibus' internship with RSVP, part of her social work degree requirements, saw her organize a dental clinic for at-risk kids at Waco Charter School.
"She was adamant about helping kids," Copeland said.
Bibus not only secured care for students and their siblings, but parents as well, all planned within a semesterlong internship.
"It was one of the best projects we've ever seen. … She pulled off a pretty big one," Copeland said, adding with a laugh, "I'm pretty sure she doesn't sleep."
Armed with a social work degree and with a master's in sight, Bibus wants to help others through change.
"My dream job is macro social work: creating legislation, writing policy, maybe politics," she said. "I'd like to focus on rebuilding the public education system."
People in poverty are no less people despite their circumstances, she said.
"Money can't buy happiness, but it can buy comfort and free up your mind from stress," Bibus said.
Her advice to her own children mirrors her hard-won lessons on what is valuable in life.
"I want them to grow up with a sense of individuality," she said. "Take nothing for granted, find their passion — and find a way to use them for others."
Even if public speaking makes her nervous.