McLennan Community College engineering student Charles Stewart may be finishing his degree online through distance learning, but he's using much of that technology and education, plus a dose of Marine hoo-rah, to help local medical needs during the coronavirus pandemic.
Stewart has put his knowledge of 3D printing and computer design to use in recent weeks, producing hundreds of computer-printed straps that make medical masks more comfortable to wear and passing them on to volunteers creating those masks.
And, if that's not enough, the former Marine Corps helicopter mechanic is on his way to designing a low-cost face shield for medical personnel that 3D printers can produce to supplement local supplies.
For the Axtell native, it's simply a case of seeing a need and figuring out how to meet that need.
"I felt totally useless staying at home," said the 29-year-old mechanical engineering student and father of two. "But this has been a great opportunity to exercise the skills I've learned over the years . . . It's been pretty awesome."
Several weeks ago, Stewart was juggling the logistics of switching his final semester of classes to work from his Hewitt home after MCC canceled in-person classes for the spring as a measure to curb the spread of the coronavirus. He and his wife Tori were readjusting schedules to accommodate online classes and raising a 6-year-old son and 2-year-old daughter when Stewart's engineering graphics professor, Paulina Sidwell, asked if he'd like to help out with a project.
Sidwell, who has taught her MCC classes online since moving to Los Angeles three years ago with her husband, had heard from fellow faculty member Alisa Petree, a volunteer for Waco Mask Seamstresses, about the need for a strap to hold protective masks in place and take pressure off the wearer's ears.
Stewart had worked as Sidwell's in-class student liaison, operating MCC's 3D printers as his work-study job, and she remembered his ability.
"He got really, really good (at 3D printing). He's one of those where you give a student a little something to do and they go way deeper than you thought," she said. "I asked (Stewart), 'Could you do it?' and he said, 'Absolutely. I'm on my way,' " she said.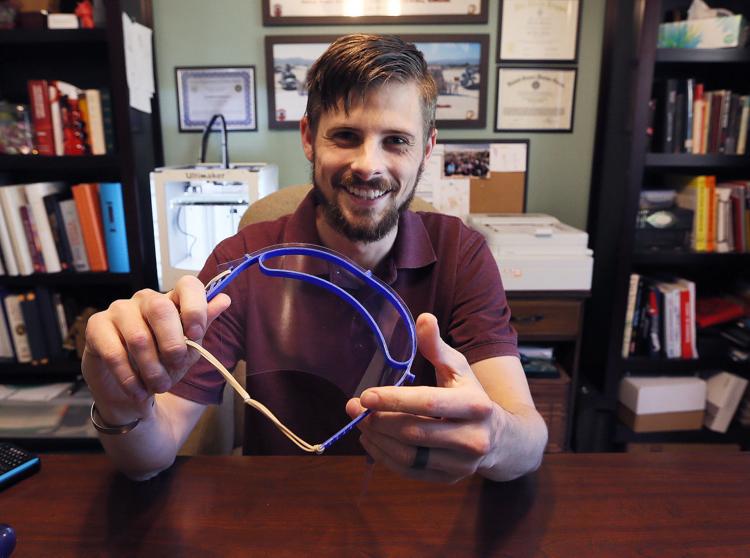 The MCC student jumped to the task, employing one of MCC's printers, then buying a smaller, cheaper one to produce more. While a 3D printer enables low-cost manufacturing in a variety of places, building items from plastic filament, it's slow and methodical. To speed up the process, Stewart decided he needed more printers, so he set up an online GoFundMe fundraiser to do so. Thanks to support, some from his Marine comrades across the country, Stewart bought another four printers and put them to use. "I can make five (ear guards) an hour and close to 100 a day if I'm printing non-stop," he said.
Stewart makes periodic checks on the machines' calibration, but says there's not much supervision needed. "You push a button and let it do its own thing," he said.
With work underway on the mask straps, he turned to a new problem: how to create low-cost face shields for medical workers. He started with a pre-existing design for a face-plate brim and found it even slower, taking three hours to print. Stewart tweaked the design to produce four pieces that could be snapped apart, cutting production time by more than half in the process.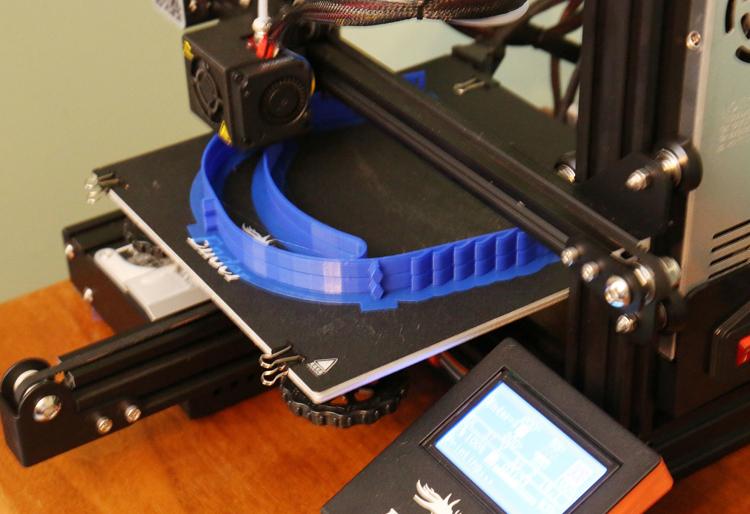 That's the sort of imaginative work that sent Stewart to college after eight years in the Marine Corps, where he worked as a helicopter technician and mechanic in the U.S., Okinawa, South Korea and a 2012 tour of duty in Afghanistan. Fixing and flying helicopters is one thing, but Stewart wanted something with a little more creativity and freedom and mechanical engineering looked like a door of entry.
"I want to go from where you're getting told what to do and going by the book to where you're writing the book," he said.
After he finishes his MCC associate's degree in mechanical and industrial engineering, Stewart will continue his mechanical engineering studies at Baylor University.
Stewart, it turns out, isn't the only one employing a 3D printer to help the cause for local medical workers. Andrew Telep, Baylor's assistant director for its Experiential Learning Commons, found out from a friend who's an administrator at the Family Health Center of the need for personal protective equipment that workers could wear for extended periods.
Telep found a 3D printer design template for a tension-relief mask band from the National Institutes of Health, rounded up several 3D printers from Baylor libraries normally used for student and faculty prototyping, and put them to work over the weekend.
By weekend's end, Telep had finished 475 straps of a projected 540 needed for the FHC staff and planned to turn over the completed set by midweek.
"It's not printing ventilator parts or something crucial like that, but these little doodads have a role to play," he said.
---
Top pics from the weekend: Easter Sunday, coronavirus around the world and more