Neither rain nor snow nor construction on Interstate 35 can stop the Baylor homecoming parade, although the ongoing highway work is forcing participants to build smaller parade floats and state highway personnel to urge motorists to pay attention and watch their speed.
The interstate expansion construction that has closed exits, removed bridges and snarled traffic at times may challenge drivers coming to Waco this weekend for Baylor homecoming activities and passing through Waco for Saturday's football game between the University of Texas and Oklahoma University in Dallas, but Texas Department of Transportation spokesman Ken Roberts said the state is working to minimize disruptions.
Exits that were open for access to McLane Stadium on past home game days will be open, and construction schedules have been scaled back for the weekend.
"We're going to make accommodations," Roberts said. "We're not going to restrict any travel gateways more than we already have."
With the prospect of rain in the forecast to further complicate Waco interstate driving over the next few days, Roberts advised motorists to watch their speed, allow extra time for travel and pay attention.
The route for Saturday's 110th annual Baylor homecoming parade will remain unchanged, starting at 8 a.m. at Eighth Street and Austin Avenue, proceeding down Austin to Fourth Street, then right toward campus. After crossing the I-35 overpass, the parade will turn right on Dutton Avenue, then left on Fifth Street.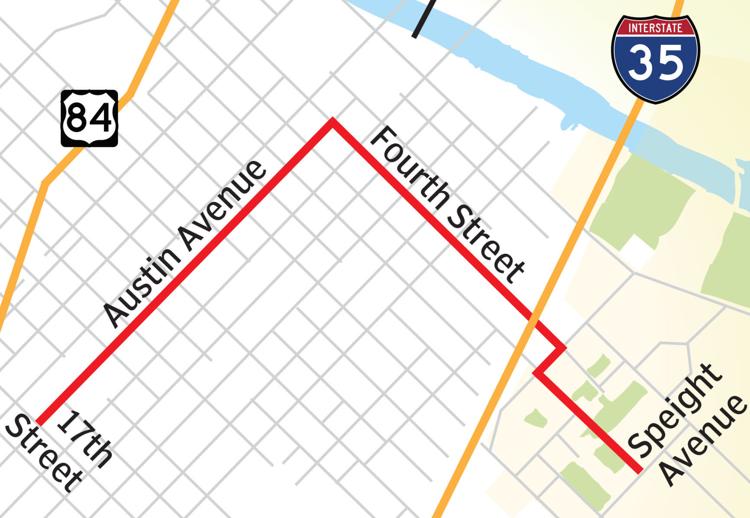 This year's parade will feature 11 floats and 10 balloons among its 150 entries. The 2019 national champion Lady Bears basketball team and coach Kim Mulkey will serve as this year's grand marshals.
To aid navigating road construction, lane shifts and lowered traffic lights, this year's parade floats will be slightly shorter and narrower than allowed in the past. Parade chair Audrey Chisum said the maximum float height is reduced from 16.5 feet to 15 feet, and the maximum width is reduced from 17 feet to 16 feet.
"It made for a lot of double- and triple-checking," Chisum said.
Parade organizers with the Baylor Chamber of Commerce worked with city of Waco and TxDOT staffers on the route, mapping out areas that might present problems. Paradegoers will find a smaller zone for watching at one of those areas near the intersection of Fourth Street and I-35.
The chamber also plans to deploy more volunteers on the street and at spots where floats might have trouble, including the frontage road construction at the Fourth Street underpass.
"There are more hands on deck on the actual route," Chisum said.
The chamber's parade workers are expected to be at their positions at 3 a.m. Saturday.
The parade chair, a senior with a double major in corporate communications and sociology, said this year's parade has had more than the usual challenges, with road construction, float restrictions, higher helium costs, an earlier than usual homecoming weekend and an outside chance of rain.
Interviewed two days from the parade, though, she was still enthusiastic about the event she said brings Baylor and the Waco community together.
"I love the challenges and I absolutely love the parade," Chisum said.
For anyone who prefers to watch the parade from the construction-free zone of their home, KCEN-TV, Channel 6, will broadcast the parade live from 8:30 to 10:30 a.m. The parade also will be streamed on KCEN's website, and on the station's Facebook, YouTube and Periscope pages.
Kickoff for the homecoming game between the Baylor Bears and the Texas Tech University Red Raiders is 3 p.m. Saturday at McLane Stadium.