Over the last two decades, Baylor University administrators and faculty have debated whether the school should follow higher research ambitions.
Could the world's largest Baptist school join the elite ranks of research universities without abandoning its Christian roots and mission? Could it successfully compete for grant dollars and build an endowment big enough to support its ambitions?
While the debates have never entirely vanished, Baylor has steadily made progress toward its research potential under the Baylor 2012 and Pro Futuris plans pioneered by past presidents.
Now the idea of a major research university has a new champion. Baylor President Linda Livingstone is mapping out a bold agenda: Doubling the endowment, building new facilities, expanding the graduate and doctoral student population, fundraising for academics and vastly increasing research spending through faculty infrastructure. All are steps toward the coveted status of "R1," denoting the highest level of academic research.
Much is at stake for Waco in this discussion. R1 universities are considered economic engines driving new entrepreneurship, industrial innovation, employment opportunities and academic profile.
More than a year into her post, Livingstone says Baylor can reach that goal in about a decade.
Her five-year academic strategic plan, called Illuminate, prioritizes Baylor's Christian mission, its undergraduate appeal, and arts and athletics programs, but the research component is meant to set Baylor on the path to tier-one status.
Since 2006, Baylor has been considered a research university by the Carnegie Foundation for the Advancement of Teaching, a group providing metrics for all colleges and universities. But it has never made it to the top tier, which includes the elite company of Duke, Yale, Johns Hopkins and Stanford universities, as well as Texas A&M University and the University of Texas at Austin.
The average R1 university spends well over $200 million per year on research. Baylor, currently an R2 school, spends about $30 million, and more than half of it comes from internal sources. Government, business and nonprofit funds make up the vast majority of research dollars spent by tier-one schools.
"We absolutely have to increase the amount of dollars that are being invested into research to move us up in the ranks of research universities," Livingstone told the Tribune-Herald.
Research spending in FY 2016 (in millions)
| Institution | Internal spending | Total spending | % internal spending |
| --- | --- | --- | --- |
| Baylor | $15.7 | $26.8 | 58.5 |
| Texas-Austin | $128.5 | $621.7 | 20.7 |
| Texas A&M | $260.9 | $892.7 | 29.2 |
| Texas Tech | $84.5 | $172.5 | 49.0 |
| Rice | $35.7 | $154.5 | 23.1 |
| Vanderbilt | $166.7 | $640.8 | 26.0 |
| Duke | $145.7 | $1,055.8 | 13.8 |
Baylor has targeted the STEM fields as areas of high research potential over the next decade. Health, data sciences, materials sciences, human flourishing and ethics, and Latin American pursuits are academic initiatives ripe for research, and Baylor plans to recruit faculty members who can secure outside funding in those areas.
"I think it's absolutely a worthy goal," said Randall Umstead, chair-elect of the Baylor faculty senate, of Livingstone's plan. "It's also a really challenging goal. It's going to take time and patience, and it's going to take a tremendous amount of resources and a lot of very thoughtful and careful planning … To achieve R1 status, there are a lot of markers and a lot of them have to do with external funding received."
For example, Rice University, an R1 school, spent $154.5 million on research in the 2016 fiscal year, according to the National Science Foundation. About 23 percent of that came from internal funds.
And 37.5 percent of the University of Notre Dame's $202 million research spending came from internal sources.
In contrast, 58 percent of Baylor's $26.7 million was spent from institution funds in the 2016 fiscal year.
In the 2017 fiscal year, Baylor spent $29.4 million on research, a spokeswoman said. That amount has grown since 2012 and almost tripled in the last decade. Baylor is already a national leader among private universities in research spending in the humanities.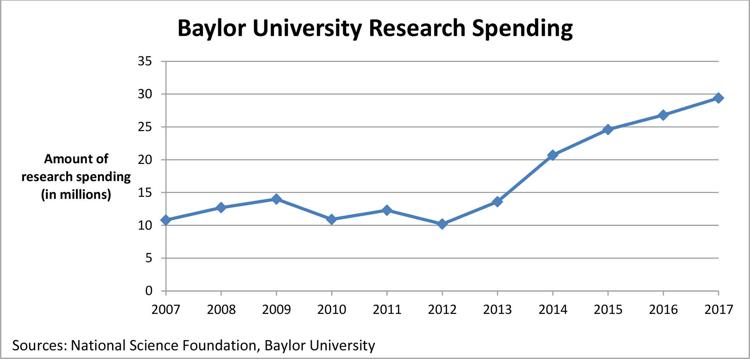 Livingstone declined to project how much Baylor must spend in five to 10 years to achieve R1 status. Faculty teams have begun determining those amounts, and Baylor's top research advocate said the metrics for that status often change.
Vice Provost for Research Truell Hyde said the activity coming from the Baylor Research and Innovation Collaborative and the Baylor Science Building is central to the final goal.
"I look at the numbers all the time, and I can say with a straight face that if we continue on the upward direction we've been moving the last decade. … In a decade or so, we're going to be R1," Hyde said.
A new facility for science and engineering research is the highest priority on a 15-year master building plan, Livingstone said. That plan also includes a remodel of Tidwell Bible Building and the construction of a new welcome center near Interstate 35 and University Parks Drive.
Fundraising the future
A soon-to-be-unveiled capital campaign will emphasize the endowment, which currently sits at $1.3 billion. Livingstone has said that number should be doubled in preparation for Baylor's research push and nationwide tuition hikes.
"It's one of the best ways to help buffer tuition increases over time," she said. "The more you can build in a stable funding base separate from tuition that help fund faculty research, faculty salaries and student scholarships, the better capacity you have to keep your tuition lower and keep your increases lower from year to year. … I think one of the challenges is educating about the value of endowment."
University statistics show that giving to Baylor has accelerated in recent years, and didn't decline even after negative national headlines about a sexual abuse scandal that reached a peak in 2016.
Baylor has raised $113.9 million in the 2018 fiscal year, representing a 12 percent increase over last year. It is the seventh consecutive year with more than $100 million in donations. This year's 1,400 donors represent an 8 percent increase over last year. More notably, new gifts and pledges to the endowment have increased by 70 percent.
Over the past year, Baylor added four endowed chairs, representing endowment giving of more than $10 million. That brought the total number to 16, a spokeswoman said. Those positions are funded permanently through an endowment fund for that purpose.
A bulked-up endowment and increased research spending from faculty in specialized areas is expected to boost another key demographic: graduate and doctorate students. Livingstone said she aims to keep Baylor's undergraduate population around 14,000 students, but graduate student enrollment goal is to gain 800 new students per year in five years.
That represents 4,000 students entering such programs in five years, well over the 2,743 graduate and professional students currently at Baylor. A bolstered population of these students has far-reaching implications.
It could lead to startup companies, industrial innovations and opportunities for established businesses to consider Waco expansions, economic development officials say. A population boost of several thousand to Waco's some 150,000 people brings retail and housing use.
"There are plenty of reports out there from individual institutions and some broad professional associations that do show a strong link between research expenditures and economic development in local areas," said Jon Barnhart, a research consultant with EAB Strategic Research, a Washington D.C.-based firm. "As a very, very general trend, I would say there is a positive correlation between having a strong research university in your area and the ability for the immediate area around the university to see the benefits."
Bill Clifton, a longtime Waco businessman and economic development advocate, said Baylor reaching R1 status would be a "huge plus for our community."
"There's nothing more important to the community in my lifetime than the research at the BRIC that Dr. Hyde heads up," Clifton said. "That has more to do with providing long-term job security and economic benefits for the community than anything I've worked on, and I've been working on economic development since '95."
Clifton said he'd like Baylor to provide clearer metrics about its research goals.
"They state they want to be a tier-one university in 10 years, but they don't tell me how that's going to be measured and how they're going to check their progress every year to hold the folks accountable," Clifton said.
Umstead echoed that concern, saying faculty members, sometimes frustratingly, sought more information about the plan during its rollout. However, he said the communication process improved when Gary Carini, vice provost of graduate professional education, started overseeing the plan from his office.
One challenge for the university's research ambitions is the vacancy in its top academic post.
Baylor's search for a provost has dragged into the summer, past a search committee's May deadline. Michael McLendon resigned as interim provost in April, citing personal and medical reasons.
The position has seen great turnover. McLendon was tapped as the temporary replacement for Greg Jones, who resigned after one year in the role. Jones had replaced Edwin Trevathan, who resigned in January 2016 after less than eight months.
Livingstone said a search firm and university committee will begin the process again in August.
"To find the right person for that particular position, I think is something we have to be very careful and thoughtful about," she said. "We had some very good candidates in the pool last time that are doing wonderful work at the institutions they're a part of, but I think at the end of the day we felt like we needed to take a little bit more time and ensure that we find the right person."
Room to grow in faith
Barnhart, the research consultant, said Baylor is viewed positively in the realm of research universities, and its Baptist identity is no hindrance to its research ambition. He pointed out that other Christian schools, like Notre Dame or Villanova University, have greatly expanded research capabilities.
"For them, it very much is an extension of their mission," he said.
Livingstone views Baylor's religious roots as an advantage in attracting top students and faculty with faith-based ideals.
"It takes a lot of diligence and discipline to find (exceptional Christian faculty members) and to help them understand who we are and where we're going as an institution, but there are a lot of those types of faculty out there," she said. "There are very, very few institutions that give them the opportunity to really integrate their faith and profession as an academic, both from a teaching and research perspective the way Baylor does."
With that mission in heart, the university continues down the paths explored in previous plans. This time, a more intense focus on research defines the plan, Hyde said.
"What's really exciting from my point of view is to have a president who, in front of any crowd, will talk about Baylor being unashamedly Christian and committed to being an R1 research university," he said.