Baylor University Athletic Department officials concede they probably could have done a better job of rolling out a new tailgating plan for this fall at McLane Stadium, but they're working to address the concerns of longtime tailgaters.
Baylor fans have bombarded university officials with emails and phone calls for the past few days about an exclusive contract with the Tailgate Guys to manage the tailgate areas. Now that officials have had a chance to explain the plans in more detail, some fans say it's still bad, but not as bad as they first feared.
Fort Worth resident Jim Reeves, whose group has been tailgating at Baylor games for 20 years, said the site rental is going up from about $900 for two spots to $4,500 for the same amount of space. The group, called the Bears' Den, also won't be allowed to use the $3,000, 20-foot-by-30-foot tent it bought.
"It is not as bad as I thought, but it will still be bad on the cost side and the tent side," Reeves said. "I think when anybody hears about change, you just naturally default to a worst-case scenario. I don't think is will be worst-case scenario, but it is not going to be as good as it was."
Baylor Athletics Director Mack Rhoades last week announced the exclusive contract in which the Tailgate Guys will provide bellhop service, tents, chairs, tables, equipment, electronics and more. The Tailgate Guys website shows rental site costs range from $450 to $8,500 depending on tent size and amenities.
Some loyal Baylor tailgaters voiced fears that the Saturday game day experiences they had worked hard to perfect would be changed forever.
But after the initial shock subsided, many of the tailgaters say it appears Baylor officials and the Tailgate Guys are willing to show more flexibility that it seemed at first, including allowing fans to use their own equipment, tables, chairs and big-screen TVs. They also will be allowed to pull large smokers in on trailers, and parking RVs, as long as they remain on the guests' tailgating "footprint." But they can no longer park cars near the tailgating locations.
"While we recognize some of you may have concerns, I want to assure you the decision was made with the best intentions in mind for Baylor Athletics, our fans, and our future growth," Rhoades said in a written response to the initial fan uproar. "Though Tailgate Guys specialize in offering turnkey packages, they, too, offered us the flexibility to customize the Tailgate Guys model to best fit our needs at Baylor."
Rhoades denied that a bigger payday for Baylor was "the driver for this decision." He said that was a "very minimal consideration," adding that the primary reasons for the new contract with Tailgate Guys were to "create an enhanced turnkey fan experience and outsource operations to provide improved customer service and the more efficient use of Baylor Athletics staff."
Also, he said Baylor wanted to "mitigate risk by reducing vehicle traffic within tailgate areas and to increase tailgating opportunities for the Baylor community."
Longtime Baylor fan, Bear Foundation board member and tailgater extraordinaire Hobby Howell said he negotiated with Tailgate Guys and talked with Baylor officials, but he thinks he will be moving on.
Tailgates at McLane Stadium wouldn't be the same without Hobby Howell or Jonathan Grant.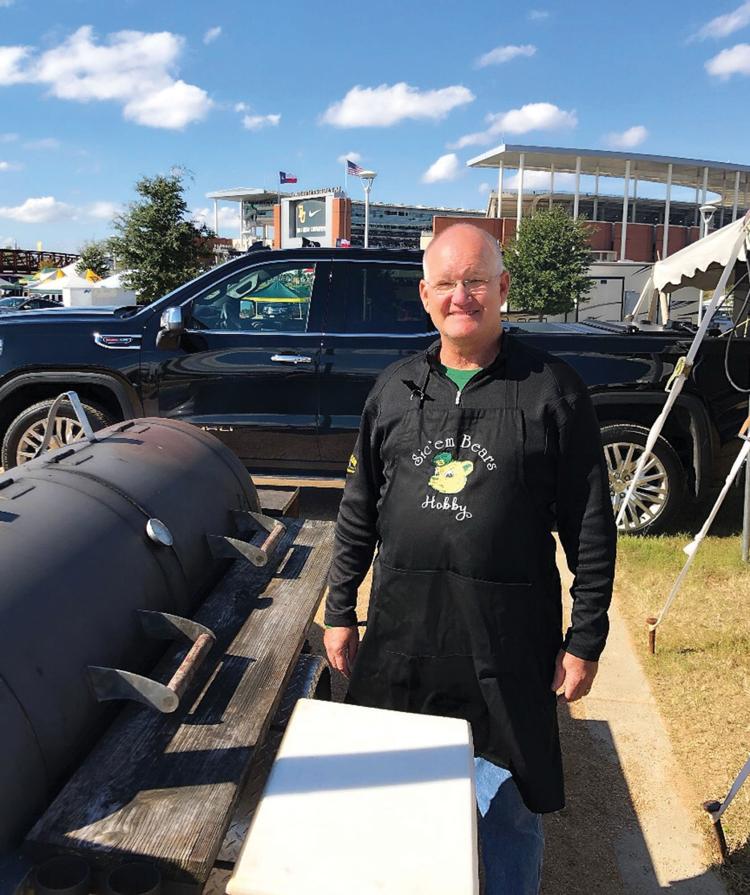 He said he likely will go across Martin Luther King Jr. Boulevard from McLane Stadium to Brazos Parking, a private tailgating location owned by Mack Hardin and Vernon Davis.
Hardin said Monday he has heard from a lot of Baylor tailgaters disgruntled over the new arrangements and said he has "a reasonable number" of tailgating slots available.
"I'm hearing that because of the changes in policy and rate structures that people want to explore their options for tailgating spaces," he said. "I think they are looking for more flexibility than what the new management group is offering. We consider it an opportunity. We appreciate the opportunity to talk about our options at Brazos Parking."
Jovan Overshown, Baylor senior associate athletic director for external affairs, said Baylor officials knew there would be some pushback because of the changes, adding that communication about the changes on their part could have been better.
"Change is hard," she said. "We knew, of course, that there are those who are not always going to be comfortable with change. We knew it wasn't going to be warm and fuzzy. But I think people are experiencing greater flexibility than what it initially seemed like. Our heart is to keep people who have been tried and true Baylor fans and tailgaters from Floyd Casey (Stadium) to McLane."
Overshown declined to release details of the contract between Baylor and Tailgate Guys.
"Revenue was not the primary driving factor," she said.
Sammy Citrano, who operates George's Party Zone across from McLane Stadium on game days, said he has heard a lot of grumbling from Baylor fans about the new tailgating deal. He anticipates an influx of business from those who decide it is too expensive, give up on it and come to his Party Zone instead.
"I have heard some people say it was going to price them out," Citrano said. "If they give up, we always have plenty of TVs and food and beer here. All they have to do is walk in, spend their money and walk out. We are the no-hassle option."
Mega-tailgater Jonathan Grant said he thinks his large group will stay, but there are a few more things he wants to negotiate, such as locking in prices for more than one season and keeping the group's spot on the river.
"The price is definitely going up, but we got a much better rate than what we were offered the first two times, and we feel like we have kind of maximized the best they have offered us," Grant said. "Still, we will pay considerably more and have to rent things that we already own."