---
Baylor President Ken Starr announced Friday night that Baylor will hire an independent attorney to investigate the school's handling of the Sam Ukwuachu sexual assault allegations and is creating a new position within the athletic department to oversee athletes' behavior.
Ukwuachu, 22, transferred to Baylor from Boise State after a tumultuous but successful freshman season in 2013. He was convicted last week of sexually assaulting a freshman Baylor soccer player in October 2013 after a Baylor Homecoming party.
The jury heeded Ukwuachu's pleas and spared him from prison, recommending that he be placed on felony probation. Ukwuachu was placed on 10 years probation, and as a condition of his probation, 54th State District Judge Matt Johnson sent Ukwuachu to the county jail for 180 days, the maximum term and condition of probation available under law.
Last week, Starr announced that he had asked Baylor law professor Jeremy Counseller, the faculty athletics representative, to conduct an internal inquiry into how Baylor handled the Ukwuachu accusations.
"We must guarantee there is no room at Baylor University for those who would perpetrate sexual violence on our campus," Starr said in a statement released at 7 p.m. Friday.
"After reviewing the results of his internal inquiry, I am recommending that our board of regents retain the services of outside counsel to investigate thoroughly these matters and recommend continued improvements."
Starr said the board will announce its selection of outside counsel early next week.
In addition, Starr said, he is creating a "unique position" within the athletics department.
"This officer-level position will report directly to the president and ensure our student-athletes maintain the high level of personal ethics and integrity that Baylor Nation demands," Starr said in his statement. "I will work directly with the board of regents to formulate the specific responsibilities of this position."
Counseller declined comment Thursday about his investigation and did not return phone messages left for him Friday.
In response to the Tribune-Herald's questions Wednesday and Thursday about Counseller's ongoing investigation, Baylor spokeswoman Lori Fogleman initially said "we have nothing further to discuss at this time." When pressed, she repeated items from Baylor releases sent out after Ukwuachu's conviction and sentencing last week.
Starr did not return a phone message left at his office.
Later, Fogleman sent what Baylor titled a "Q&A concerning procedures for investigation of allegations of sexual assault" dated Aug. 24 and posted on its website.
She added that Baylor gave Counseller, a former prosecutor, "wide latitude" in his investigation.
"Our top concern is always the safety of our campus and we are doing everything we can to make sure we have the procedures in place to investigate any issue that has to do with campus safety," Fogleman said. "President Starr has made it very clear that this university is taking this issue very seriously and it is of the highest priority. Professor Counseller has full rein to get to the bottom of this issue, to identify any gaps or mistakes that were made and to engage any individual or talk to anyone he needs to."
Fogleman said universities are bound by the Family Educational Rights and Privacy Act, which makes many issues involving students confidential.
"We are going to be as transparent as we can about the process," she said. "But by that very nature, you cannot expect a university to release documents or discuss sensitive information that violates federal law for the sake of transparency."
Counseller, a well-respected expert in evidentiary and procedural issues, has been a law professor at Baylor for 12 years. He graduated from Baylor Law School with honors and also earned a master's of business administration degree from Baylor's Hankamer School of Business. He is an honor graduate from Stephen F. Austin State University, according to the school's website.
He wrote and edited "The Handbook of Texas Evidence (Civil Practice)" and is co-author with Baylor law professor Jim Wren of "Texas Commercial Causes of Action" and "Texas Trial Procedures and Evidence." He also is a contributing evidence editor of the State Bar of Texas General Practice Digest.
John Segrest, the former McLennan County district attorney who swore Counseller in as an assistant district attorney in 2009, said the professor worked in his office as an unpaid volunteer for three months to get some real-world prosecutorial experience.
"I would not disagree with Baylor's decision (to appoint Counseller). Obviously, he is very competent and knowledgeable," Segrest said. "He is a very nice individual and struck me as being one who was committed to carrying out the responsibilities of the office he held when he was working with me. I had no reason to question his impartiality or that he had any biases of any sort."
Segrest said Counseller handled all duties in the office, from misdemeanors to felonies to presenting cases to a grand jury.
"He wanted practical, real-world experience in applying the principles of justice and integrity and all those things you can preach about but never really have to practice as a law school professor. He fit right in. I always had a fear that when you invite a professor in, you can always be tested. But he didn't lord over anybody else (that) he had reached a status that many of the assistant DAs had not. He didn't try to lecture or tell us how we should be doing things."
Like Baylor, Florida State and the University of Alabama have had their share of controversy connected to athletes' behavior.
Jameis Winston, a former Florida State quarterback who won the Heisman Trophy, not only weathered sexual assault accusations but was arrested for shoplifting food items, including crab legs, from a local market. He now plays for Tampa Bay in the NFL.
Meanwhile, Alabama was criticized for allowing defensive lineman Jonathan Taylor to transfer to the school after he was dismissed from Georgia for domestic violence. He later was dismissed from Alabama after another alleged domestic violence incident.
Jay Rayburn, head of the school of communications at Florida State, said he was not consulted, but thinks Florida State made a few mistakes when handling the media fallout from the Winston incidents.
Rayburn, who teaches reputation and crisis management, and Kenon Brown, professor in the advertising and public relations department at the University of Alabama, said the key to Baylor bouncing back with its reputation intact is "transparency."
"One of the things that you have to do is be completely transparent," Rayburn said. "In crisis management, there is a saying that has been around forever: 'Tell the truth, tell it all and tell it quickly.' You can't just tell part of the story and think that will be the end of it. It won't be. Some dogged reporter will keep digging and it will be back on the front page with you again in a negative light because it looks like you didn't tell it all the first time.
"Sooner or later, it is going to come out. In this day and time, with social media and everything else, you just can't hide things, and I don't know why an organization or university would try to do that."
Brown, who has researched and written on sports image repair and sports crisis communication, said he thinks Baylor will be better-served with someone not affiliated with the university conducting the inquiry.
"As you know, whenever you hear 'self-investigation,' you get a lot of sighs and eye-rolling because you know that those investigations are not going to be unbiased," Brown said Friday before Baylor announced it would retain outside counsel to look into its handling of the Ukwuachu case.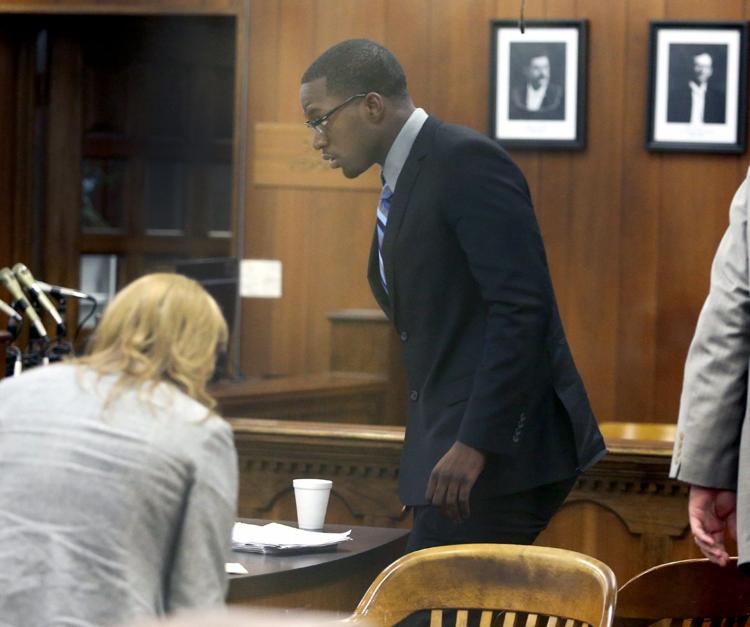 "An independent investigation at this point would be better. There were definitely some missteps in the process the first time around, so at this point, the best thing is to admit those missteps, just admit you made a mistake and conduct an investigation to further look into those missteps we made so it doesn't happen again."
Brown said there are a lot of similarities between Baylor's Ukwuachu situation and Alabama's Taylor matter. Both players had troubled pasts and the coaches decided to give them second chances.
"I am all for second chances and you try to help players rehabilitate themselves and their careers," Brown said. "But you are better off not getting yourself in those situations in the first place because if you are betting on a player with a troubled past, you have no room for error."
Baylor needs to show now that they are taking significant steps to see that it doesn't happen again, Brown said.
"Actions speak louder than words," he said. "The corrective measures you make after an incident are going to resonate more than your statements."
In their statements released after Ukwuachu's conviction, Baylor officials say they already have made significant changes in the way the university investigates sexual assault complaints.
In 2013, Baylor had no Title IX office but it had a Title IX coordinator who oversaw compliance with federal guidelines governing sexual discrimination and other gender-based violations.
Now, Baylor has a Title IX office with a coordinator and two full-time investigators, the release says.
Baylor Associate Dean Bethany McCraw took heat during Ukwuachu's trial for what prosecutors Hilary LaBorde and Robert Moody said was her lack of thoroughness.
The prosecutors' objections to McCraw's testimony led to several conferences in the judge's chambers, which included a lawyer for Baylor who attended each day of the trial. The judge ruled McCraw's finding that there was not sufficient evidence to "move forward" with the case was not legally admissible for the jury to hear.
When McCraw took the stand, she misspoke, telling jurors another version of what she had said in the judge's chambers that she was going to say on the stand.
McCraw testified that the victim told her she kissed Ukwuachu and had oral sex with him before the night of the sexual assault, when the victim had actually told McCraw that Ukwuachu tried to kiss her and tried to have oral sex with her before she rebuffed him.
She apologized to the jury and said she made a mistake. But, that wasn't good enough for LaBorde, who followed her into the courthouse rotunda and berated her for revictimizing the woman and caring more about trying to protect the university.
The dispute left McCraw, a 33-year Baylor employee, in tears and left bad blood between Baylor and the district attorney's office, courthouse officials said. Baylor officials called for a meeting with prosecutors the next day, sources said.
Outside the presence of the jury, McCraw said she relied on her interviews with the woman and Ukwuachu; a polygraph that Ukwuachu reportedly passed; copies of text messages between the pair; and interviews with Ukwuachu's roommate and a friend of the victim before determining "by a preponderance of the evidence" that the investigation should not "move forward."
LaBorde asked why McCraw didn't review a report from a nurse who performed the sexual assault examination. The nurse testified she found signs that the woman had been assaulted.
LaBorde also asked why she didn't interview a Baylor psychologist, who had multiple counseling sessions with the victim beginning eight days after the assault and who diagnosed her with post-traumatic stress disorder because of the rape.
McCraw said that such records are difficult to get and that Baylor officials don't like to pry into student counseling issues, especially those that might involve mental health concerns.
McCraw said she asked the victim for a copy of her examination, but she didn't have one. LaBorde suggested she could have gotten a copy from the DA's office and could have gotten the victim to waive her confidentiality rights so McCraw could have spoken to the psychologist.
The woman, now 20, told jurors that she was a freshman when Ukwuachu sexually assaulted her after a Baylor Homecoming party.
The victim testified at trial that Ukwuachu kept insisting through her screams that "this isn't rape" during the assault and later asked if she was going to report the incident to police.
In a victim-impact statement after Ukwuachu was sentenced, the woman told Ukwuachu he robbed her of her virginity and part of her identity. She said she thinks of herself at times now merely as the "girl who got raped."
"At times, I want to cry a tsunami," she said. "Not a river. Rivers are too calm and too peaceful."