The Baylor University Board of Regents announced Friday that Jerry Clements will serve as its next chairwoman, replacing Joel Allison, who served two years in the role.
After wrapping up their three-day quarterly meeting, regents also announced they approved several construction projects and a more than $698 million annual operating budget, chose committee chairs, and welcomed new regents as others cycle off the board.
The board approved $4.1 million to get an estimated $20 million renovation of the Tidwell Bible Building started, according to a university press release. Most of the money approved by regents, $3.1 million, will actually pay for work on the Cashion Academic Center, where Tidwell classes and faculty will be housed during Tidwell's extensive 36-month renovation. The other $1 million regents approved will pay for renovation designs.
"That's an exciting next step, and the first capital project we'll be working on as part of Illuminate," President Linda Livingstone said, referring to the university's strategic plan regents approved a year ago.
Work on Cashion is expected to start in the fall and wrap up by next spring. Work on Tidwell itself is expected to start next year and wrap up in 2022. The university announced a $15 million donation late last month from the Kansas-based Sunderland Foundation to get the Tidwell project rolling.
The board also approved $1.3 million for improvements to Baylor Sciences Building research facilities that house the university's mass spectrometry center, microscopy and imaging and molecular biosciences center. Livingstone said the proposal for the project came from the College of Arts and Sciences and interim Vice Provost for Research Kevin Chambliss, and will involve mechanical, plumbing and infrastructure improvements, as well as expansion of equipment space used by multiple departments.
Part of building out the Illuminate plan has involved "looking at making sure the lab space that we're providing our faculty is what it needs to be to really move us forward on the Illuminate strategy," Livingstone said.
While the university has its sights set on multiple construction projects, one stuck out, literally. The board approved $1.8 million for "regulatory corrective actions" along the Brazos riverbank behind the Highers Athletics Complex, where erosion started to reveal trash and debris from a closed and capped city landfill. Repairs along the riverbank are scheduled to be completed in August.
The $698.4 million 2019-20 annual operating budget is up from $660.1 million for 2018-19 and from $621.7 million the year before.
The upcoming budget includes an additional $13.4 million for scholarships, compared to an additional $9.9 million last year and an additional $16.8 million two years ago. Livingstone said bolstering scholarships is part of the overall academic plan.
"It's an ongoing challenge for all universities," Livingstone said. "Certainly, as we build our budget each year, we're doing everything we can to make sure that we're pushing as much of our resources toward support for students, including scholarships, support for faculty, and trying to reduce administrative overhead."
Clements will officially take over from Allison as chair of the board June 1. Clements is a partner in the international Dallas-based law firm Locke Lord LLP. She served as chair of the firm from 2006 to 2017, overseeing two mergers and an increase in annual revenue from $222 million to $449 million, according to her page on the firm's website.
She graduated from Baylor Law School in 1981 and is wrapping up a term as vice chair of the board of regents.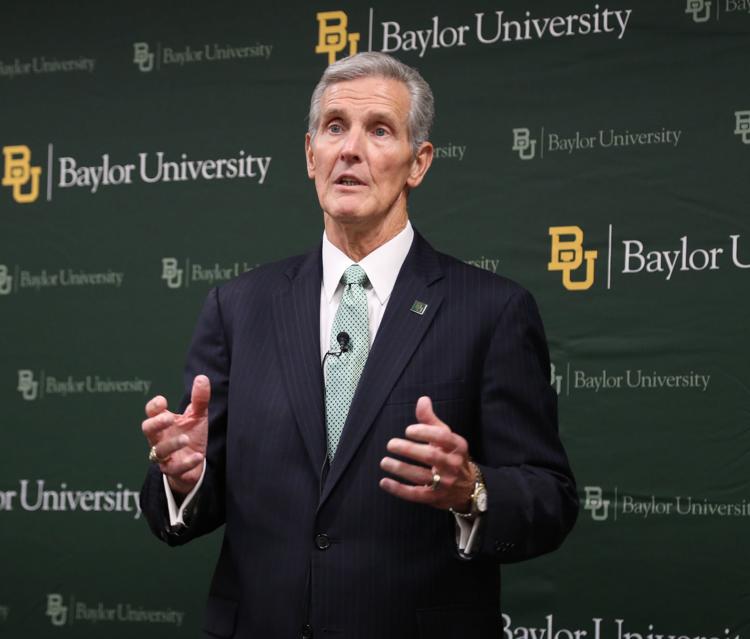 Allison started as chair of the board in June 2017, the same time Livingstone started as president of the university. He retired as CEO of Baylor Scott & White Health in February 2017.
"I can't tell you how wonderful he was during my first two years as president," Livingstone said of Allison. "He did a fabulous job with the board. Really, the board is in a really good and healthy place, and a lot of that is due to his leadership this year."
At a press conference after the meeting, Allison said he likewise is impressed with Livingstone's work.
"We both started our positions on the same day and practically the same time," Allison said. "She has done a fabulous job. She has the full support of this board."
During his time as board chairman, Allison oversaw a restructuring of board governance that changed the regent nomination process and the board leadership structure, and created a second faculty regent position, among other changes.
"With our governance restructuring pretty much now fully implemented, it's really working extremely well," Allison said. "The board is engaged. Dr. Livingstone and her team are very engaged."
In addition to executive committee and committee leadership selections, other board membership updates approved this week include new regents elected by the board, a regent elected by alumni vote, regents appointed by the Baptist General Convention of Texas and confirmed by the board, a regent nominated by the Baylor Bear Foundation and confirmed by the board, a faculty regent confirmed by the board and a student regent confirmed by the board.
Livingstone said the topic of Gamma Alpha Upsilon, an unofficial student group seeking recognition as an official chartered group, came up in a handful of committee meetings, including the Student Life Committee chaired by Kim Wilson Stevens. The group's stated purpose is to support LGBTQ students, and its leaders have said it is not an advocacy group. University policy prohibits LGBTQ advocacy groups.
"This is really a student life issue, and how we support and care for our students, certainly our students in the LGBTQ community," Livingstone said. "In the context of that, we really talk about how we love and care for all of our students, and make sure they have a healthy and safe and nurturing learning environment."
She said the university will continue to follow its existing policies when it comes to LGBTQ student groups.
"Obviously, there's going to be a lot of robust discussion on this topic, and that's what universities are about," Livingstone said.