Baylor University's Board of Regents took an unconventional step this month in re-electing Richard S. Willis to serve a fourth one-year term as board chairman, breaking from a tradition of shorter terms for the position.
For more than 20 years, the regents followed an unwritten policy of electing a member to serve as chair for no more than two consecutive terms.
That turnover schedule appeared to be driven by a quest to maintain a flow of new ideas and strategies on the board to further the university's goals of boosting its endowment, raising research activity and elevating Baylor's name and academic reputation.
While it remains to be seen how long Willis will continue to lead the regents or if his extended tenure will set a new precedent for the board's governance, Baylor officials say maintaining consistent leadership within the regents is an asset to furthering the university's long-term advancement goals.
"Continuity and consistency are very important, and to have consistency and continuity in our board chairmanship has no doubt contributed to our trajectory over the course of recent years, and it certainly has been helpful to administration," Baylor President and Chancellor Ken Starr said. "In particular, Willis is a very experienced and wise businessperson who loves Baylor deeply, and who sets a shining example of generosity and philanthropy."
Willis, CEO of Speed Commerce Inc., an e-commerce technology business, was first elected a regent in 2010 and was named chairman in 2012. His tenure coincides with a period of massive growth at Baylor, both in academics and athletics.
Baylor raised a historic $345.3 million between Feb. 1, 2012, and Feb. 28, 2014, its largest two-year fundraising total.
New projects have included the construction of McLane Stadium and neighboring Clyde Hart Track & Field Stadium on-campus, a soon-to-be-completed $99 million home for the Hankamer School of Business, and more than $100 million in new student scholarships.
The regents in 2012 also approved the Pro Futuris strategic plan, outlining Baylor's objectives toward increasing its doctoral graduates, investing more in science, technology, engineering and math (STEM) fields, boosting faculty research, and courting greater alumni giving.
"I tell people all the time, when the board, faculty and administration are on the same page, we can do a lot of great things, and I think that's the case," said Willis, who received his bachelor's and master's in business administration from Baylor.
"We're very fortunate that we all are trying to do the right thing to grow Baylor," he said. "I think it's a good time as well because we are focused on growth, and we're always focused on the students."
While Willis' extended service as chairman represents a departure from the regents' normal pattern, it falls in line with the lengths of terms board chairs serve at Baylor's peer universities.
At Washington University at St. Louis, for example, a person can serve up to five consecutive one-year terms as board chair.
The chairman for Notre Dame's board of trustees serves a three-year term, and there are no term-limit restrictions. Board chairman Richard Notebaert is in his third term.
And at Southern Methodist University, the board chair is elected to a four-year term. Chairman Michael Boone said all officers are subject to review and re-election for each year of the leadership term as a checks-and-balances measure, but he is not aware of a case in which a chairman has not served all four years consecutively.
"Obviously, there's pluses and minuses in everything, but the notion is by the time you get into your job and figure out how to do it, if you have to roll off, you don't get that continuity of leadership," Boone said. "We've had this system in for about 30 years, and it has worked well for us to have a continuity of leadership for a four-year period."
Baylor spokeswoman Lori Fogleman said the trend of regents chairs serving a maximum of two terms is a fairly recent one, with some serving between four and 18 years as chairman in the university's earlier history.
The last board chairman to remain in office for an extended period was the late Winfred Moore, who served from 1986 to 1990. After that, the board transitioned to the unofficial, two-term limit for the chairman position.
Willis said he had not lobbied for the additional terms, and he does not think the judicial committee considered another potential candidate for the position.
Starr said the committee does reach out to the administration for input on leadership decisions, and he thinks Willis' professional career and understanding of higher education issues are a strong fit for leading the board.
For example, Willis' father served as both a professor and administrator at various colleges, including Oregon State University, the University of Idaho and the University of Maryland. Starr said that Willis regularly holds town hall meetings with Baylor's Faculty Senate for input, and said it was Willis' idea to add both a faculty and a student regent position to the board, though those members do not have voting rights.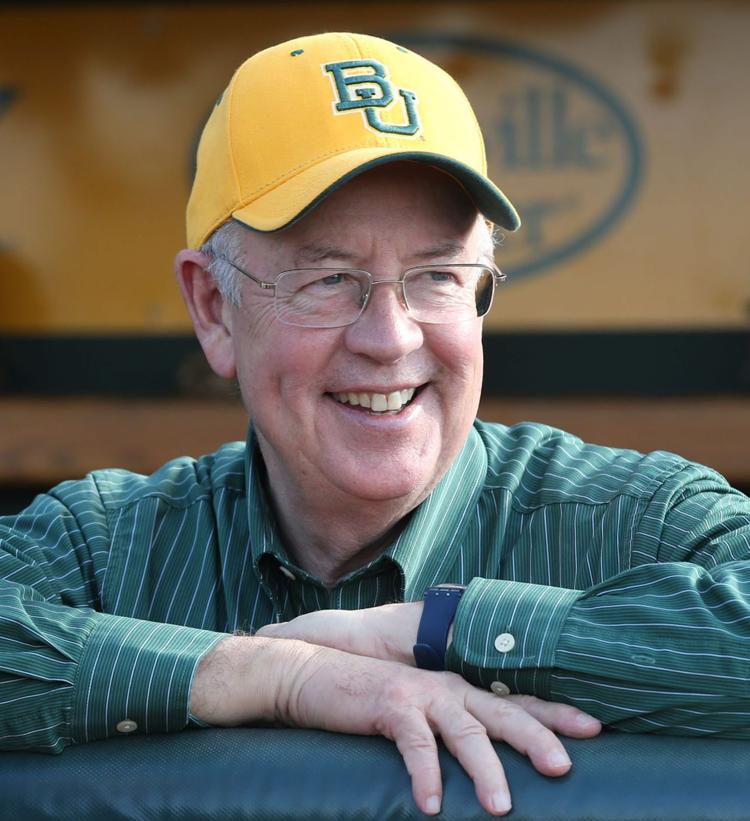 "(Willis) brings a wide array of strengths to the board," Starr said. "He's very open and collaborative; he encourages thoughtful creativity. He is interested in creative ideas and rightly insistent on careful execution and implementation . . . He's very supportive of the administration."
Willis thinks his extended tenure on the board is less about his influence and more about renewed cohesion and united focus among regents.
"Not everybody agrees on everything, obviously, but people really care about each other on the board, so we can have a really open discussion on a lot of things, and once the vote's on, then we're all on 'let's make sure it gets done and let's do it the best way we can,' " Willis said.
Starr cited Willis' fundraising capacity and support of the university as a bonus to his leadership. For example, Willis and his wife, Karen, chaired the $100 million Presidential Scholarship Initiative Starr launched when he first entered office.
The Willises gave up that role when he became board chairman. But the couple has continued to provide support to various university initiatives, establishing seven endowed scholarships and providing the lead gift for the Willis Family Equestrian Center.
Starr and Willis declined to disclose how much Willis has donated to Baylor.
"It sets a great example," Starr said. "We would want the chairman of the board to be as philanthropically generous and financially supportive of Baylor as he or she possibly can be. Richard and Karen certainly are extraordinarily thoughtful and generous in their philanthropy towards Baylor."
Willis points out that regents already dedicate significant time to raising gifts to Baylor, from personal contributions to spearheading specific fundraising efforts.
Baylor last year launched a new $320 million "From Here We Build" fundraising campaign, which aims to generate another $100 million for student scholarships as well as $40 million for a new Dallas-based campus for the Louise Herrington School of Nursing; $100 million for academic programming, endowed professorships, student-life enhancements and career development services; and $80 million for other capital construction.
In addition to those goals, Willis said the board is focused on doubling the university's endowment, which is at $1.1 billion. He expects to dedicate much of the next year to that effort, as well as developing academic programs and support initiatives for students and faculty.
Willis said he's not planning for another term as chair, though he would continue if asked by fellow regents.
"I think four years is a long-enough term, to then bring somebody new in to be able to look at some new ideas," Willis said. "But also it does take a year or two to understand how to be the most helpful as chairman, because there's a lot of stuff going on."