The Trib has dropped its paywall on all the coverage related to the coronavirus. Find all the coverage on our coronavirus latest page.
---
Waco college and university students return to classes this week after an extended spring break with major qualifiers of the words "return" and "classes."
Return, in this case, is not in the physical sense as Baylor University and McLennan Community College will finish their spring semesters online with Texas State Technical College at this time going online until April 13. Classes, too, will continue to consist of students, teachers and material to learn, just not in the same location or even time.
Accelerating measures on the national, state and local level to curb the spread of the coronavirus have left university and college staffs scrambling during their school spring breaks to plan shifts to online instruction and reduce on-campus populations. All that while adapting strategies to keep students moving forward to complete their degrees despite growing national economic and social impacts of historic proportions.
For most involved in higher education in Waco, the final leg of the spring semester will look decidedly different than the first.
Baylor
Over the extended break, Baylor University instructors scrambled to adjust everything from master's thesis defenses, doctoral dissertations and extra credit assignments based on events that have since been canceled to an online format, all while trying to find time to take care of their own families.
Students who left expecting to return at the end of spring break left textbooks, laptops and course materials in their dorms. On Wednesday, the university started taking student requests to have belongings mailed back home to them, and had received about 550 requests as of Friday.
Director of the Academy for Teaching and Learning Lenore Wright has been helping professors adapt. Professors are all scrambling to settle on delivery methods for each lesson, and every detail from how to teach to what to wear, she said.
"Do not attempt to re-create every element of your in-person course in an online environment," Wright said. "Right now, I'm sensing an instinct to do that. There's some pressure to feel like we have to continue to perform at the same expert, high level we would in the classroom. I still think we can be excellent and expert, but with a "less is more" philosophy."
Wright said the palpable stress among faculty and students means keeping it simple is best, even as instructors' inboxes are inundated with offers from companies pitching online learning tools and services to professors.
Wright said asynchronous classes, which give students in different time zones the ability to finish assignments on their own time, is the way to go. Letting students communicate by phone, email or whatever means is most reliable for them is key.
"The school of business has students in China, so that's important to think about," Wright said.
She pointed to Berea College in Kentucky, where students are falling back on corresponding by physical mail, as a particularly creative example.
"This is a time to really be open to how to best access students and communicate with them, again, with the aim of easing the anxiety we're all feeling," Wright said.
English professor and graduate program director Richard Russell said the university started rolling out training sessions initially, but as the permitted crowd size for gatherings dropped from 100 to 50 to 10, sessions moved online.
"I'm not at all comfortable online. That's not my deal at all," Russell said. "I really value the face-to-face, but my wife set me up with a Zoom account the other day and we're trying to have a master's thesis defense tomorrow."
Russell said his initial plan is to run a synchronous online class, where his nine students call in at a set lecture time.
"The university has been very communicative, my chair has been great, my dean has been great, but none of us have ever been through this before," Russell said. "So we're trying to figure out how we care for and love on our students and still have some academic standards. I think, inevitably, some things are going to slip."
Danielle Williams, interim director of freshman composition, said she has been doing her best to help professors navigate a wave of well-meaning emails, links to resources and e-books.
"You get a lot of really great resources, but it's kind of like drinking from a fire hose," Williams said.
She said she has learned to break things down into smaller pieces and communicate more frequently, telling instructors to take the process one step at a time and use existing videos and lectures from reputable sources instead of making their own.
"A lot of the information we're getting from Baylor has great tools, but people aren't prepared to record their own lectures or script their own lectures," Williams said. "That's really overwhelming. So, don't reinvent the wheel. There's a lot of open source things people have put together to help each other."
The hashtag #pandemicpedagogy and corresponding Facebook group have become hubs of for professors and teachers exchanging resources and tips.
"It's been a huge bright spot," Williams said. "This has been really scary, but it's been gratifying to see that we have such a strong national network, in some cases an international network, of writing scholars that really want to help each other.
MCC
McLennan Community College's transition to all online classes is complicated by the college's mix of full- and part-time students, high school students enrolled in dual credit classes, online access for students of limited income and instructors with varying levels of comfort with technology.
And, just as some decisions were made, new measures announced by local, state and national leaders forced changes in those plans.
Between the college's present online courses, the schoolwide use of learning management platform Brightspace for messaging and content and instructors' own use of technology, more than two-thirds of MCC faculty members had a sense of what would be involved in the transition to online-only, Vice President of Instruction Fred Hills said.
Also helping the transition was an increasing use of online textbooks and other resources, thanks to the college's push over the last year to lower textbook costs for students.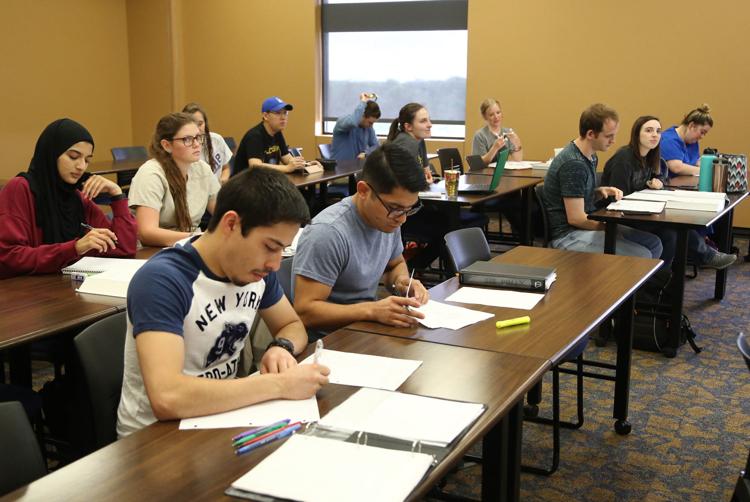 Greater use of Brightspace and the videoconferencing software Zoom will facilitate much of the new online instruction, and many of the school's 218 full-time faculty members spent the past week recording video of their lectures or voice-overs for PowerPoint presentations. History professor and Faculty Council President Ashley Cruseturner said the process has reminded some teachers of better ways to inform their students.
"The old adage was 'Don't be the sage on the stage, but the guide on the side,'" Cruseturner said.
MCC administrators have worked to make sure instructors are supplied with cameras and microphones. The college's information technology, library and teaching support staffers are on alert to help both students and teachers with any problems in the transition.
"We'll be monitoring this very closely," Hills said.
Some issues, such as how to teach and grade classes where practicums, hands-on demonstrations and performances are essential parts of instruction, will be addressed in upcoming weeks. The college also has had to adjust some of its licensing agreements with software providers to handle the increase in online students, and administrators are looking at various software programs for monitoring and securing more online testing.
For students with limited online access, MCC is providing information on internet providers with discounted or free limited service. Leaders of the community nonprofit Prosper Waco have agreed to find businesses and organizations in the area that can provide Wi-Fi service for students.
The college also plans to add Wi-Fi access points at the Highland Gym building so students will be able to work on their laptops or phones from their cars.
Shifting the school's sizable dual credit population of 2,094 students — just under a quarter of total enrollment — has been complicated as well. College-level dual credit classes, taught in conjunction with area public school districts and charter schools, are online, on-campus and at area high schools, each with a different dynamic when it comes to the online transition.
"We have students using every delivery mode we use," High School Pathways Director Londa Carriveau said.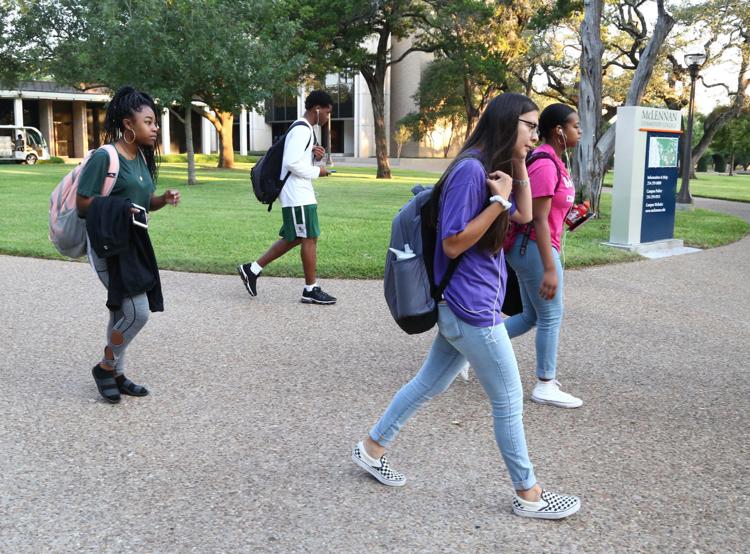 While online dual credit courses have required no change, those offered on the MCC campus will have to move online. Those taught at area high schools, many of which are on extended spring break, may have to find alternative locations with internet access for those students.
"The ISDs are working as hard as we are," Carriveau said.
Monday is not the first day of school, but MCC teachers nonetheless have jitters.
"There's a lot of nervousness," Cruseturner said. "We're jumping off into the unknown."
MCC updates the latest changes in school operations because of the coronavirus on a dedicated page on its website.
TSTC
At Texas State Technical College in Waco, faculty and students will transition to working remotely starting Monday. Students taking face-to-face classes will resume those classes April 14 with online classes continuing on their original schedule.
The college recommends students check a special coronavirus page on its website for updates on any changes because of the coronavirus.
---
Photos: The latest images from the coronavirus outbreak in the U.S., around the world