He is a stranger in town, pursuing someone willing to spill the beans about this place, what makes it tick, the secrets lurking beneath the tranquility.
One can almost see the tumbleweeds tumbling across his path.
Not quite his approach, but nearly, Andrew Church said with a laugh. The California native, University of Missouri graduate and adjunct professor at Baylor University loves capturing slices of everyday life through the eyes of the people living it, relishing it. Maybe the subject is a school principal in Calvert, a museum director in West or a dance teacher in McGregor who once traveled the country as American Honey Queen, and has a sweet voice to match.
The finished product is "Tiny Texas," a series dedicated to hometowns with more than one traffic light, but not many more. Financial and time constraints limit his travels in Central Texas for now, but Church dreams big.
"I would love to go to the Panhandle, maybe to the western part of the state, El Paso," said Church, 38, a Navy veteran whose wife, Karen, is a registered nurse at Baylor Scott & White Hillcrest Medical Center. "I have notions of expanding this to other states. What I've learned in conversations here and elsewhere, in Arrow Rock, Missouri, as part of an academic requirement, is that no matter where you go, Oklahoma, Georgia or Texas, small-town people are hard-working and selfless. They want to just be heard."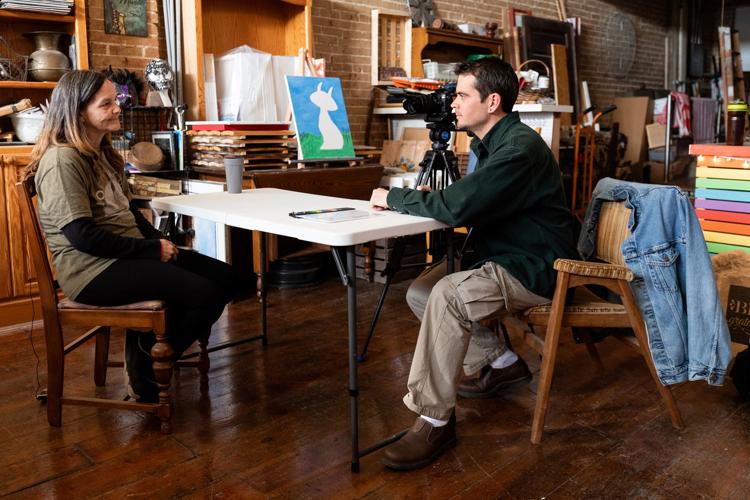 Time spent with Ronnell Trotter left a lasting impression. A school principal and leader of two congregations in predominately black Calvert, a dot on the map between Waco and College Station, Trotter "has a beautiful soul and a gracious heart," said Church, whose admiration for Trotter is palpable.
"All the people I've talked with have been pretty extraordinary, but one in particular shines the brightest, Ronnell Trotter," he said. "It's obvious he does what he does because he loves teaching, loves supporting the growth and development of children. I had asked around, let it be known I wanted to tell stories representative of the populations of each place and that I was in search of a local principal. I had a phone conversation with Ronnell Trotter, met him, talked about the documentary series. He seemed reluctant at first, really didn't want a lot of attention, but finally went along with it."
The two-minute piece on Trotter captures his preaching at New Magnolia Baptist Church and Independent Missionary Baptist Church, his interaction with students in the classroom and hallways at a Calvert school, and his ruminations on life while relaxing during an interview.
He laments the lack of passion he notices among too many young people, but says the Lord and his drive to make a difference keep him moving.
Other two-minute "micro-documentaries" features Bridgett Wood, from Albuquerque, New Mexico, whose holiday travels mistakenly brought her to Calvert a few years back. The "cute" community struck her fancy, and a building that didn't leak, as she put it, became Zorro's Hideaway Food Train.
Brigitte Izzo tells the world about her West-area pecan orchard. Nancy Vidrine discusses the History of West Museum, her Czech heritage, and the journeys her forebears undertook in the 1870s to start fresh in the United States.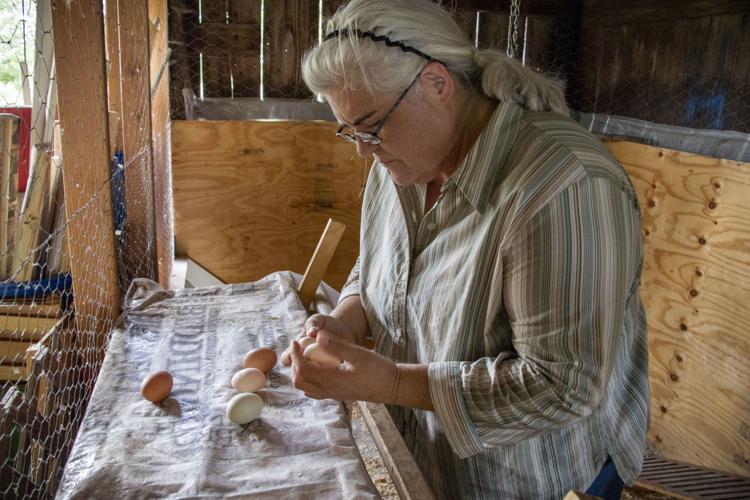 Becky Kandel, from Ohio, talks about her egg business near West. Wielding a power tool, she builds coops as roosters crow and hens cluck. Hardly hard-boiled, she sell eggs at reduced prices and donates others to the needy. Melissa Mahoney, profiles her "paint-and-sip" art studio in Marlin.
It is officially dubbed the Art and Soul Emporium.
Faith Whited, surrounded by wagging tails, chats about her transition from dog attack victim to pit bull advocate and opening the Bosque Animal Rescue Kennel in Clifton, a no-kill shelter. She believes bad people make bad dogs.
Colleen Henson, who owns and operates Let's Dance McGregor, said she was impressed by Church, his in-depth interviewing and his "focus on positivity." She agreed to take part in his production, and says on camera she tries to impart life lessons to students ages 2 to 18, while also providing instruction in classical dance, ballet, swing, two-step, waltz and country swing.
She grew up on a farm in Mooreville, raised honeybees for a 4-H project, and was named American Honey Queen in 2002, after wearing state and regional crowns. She moved to McGregor from Corpus Christi to open her studio.
"I've been interviewed hundreds of times, but I was never approached as I was by this gentleman," Henson said. "He talked about goals for the project, my life and what I do, the kids, and how we all connect to McGregor."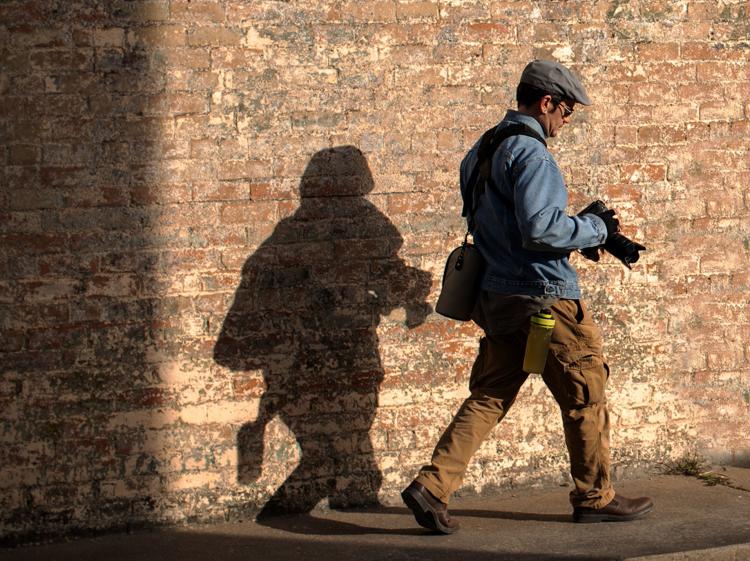 Church said he typically works alone or with his wife, toting two cameras to each locale. He chooses an individual to interview, takes a "man-on-the-street" approach, and solicits information about how they survive and thrive in a small town.
"Very often I do not know anybody in that town," he said. "I walk in, strike up conversations, kind of kick in the saloon door, and try to generate relationships, build trust. I let conversation develop naturally. Rarely have I planned interview questions. I want them to tell their story."
Born in Turlock, California, his father a journalist, Church moved with his family to Columbia, Missouri, where he received a degree in photojournalism and met the woman who would become his wife. This was in 2009, the country was in the midst of recession, and Church found his job search difficult. Karen Church took a job in Dallas, where Church joined the Navy.
"They were hiring," he said with a laugh. "I saw the world producing stories and shooting video. I deployed all over: Spain, Japan, Australia, the Mediterranean. As I gathered rank, I took on more responsibility, was involved in multi-media projects, short videos and public relations-type stuff."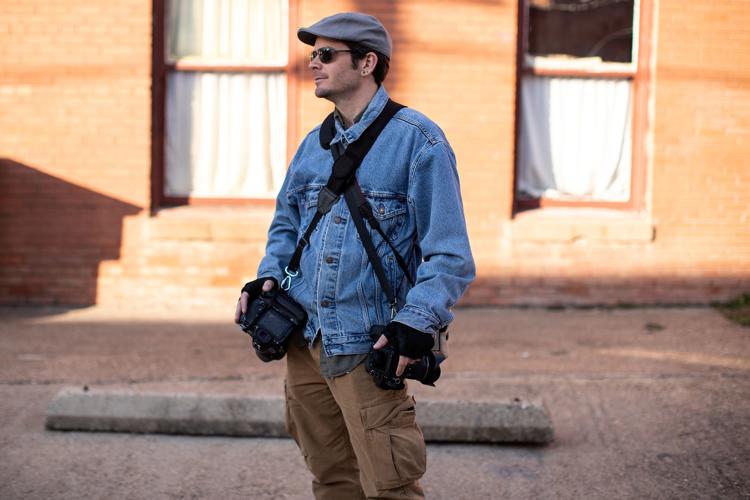 Having joined the Navy at age 30, Church was older than most of his shipmates. They would confide in him, share their insecurities about living up to the expectations of deployment, and he would respond with advice.
"I would try to get them to think beyond their situation, to get it out of their mind as much as possible," Church said. "I think they were just having a hard time coping with everything. I was at a different stage in my life, and I guess you might say I was the level-headed older sailor giving advice and mentoring, although what I said you may not want to repeat."
Upon his return to the United States, Church continued to struggle finding a job in his field. The Dallas Morning News turned him down for an internship, so he worked as a picture framer to help put Karen through nursing school, he said.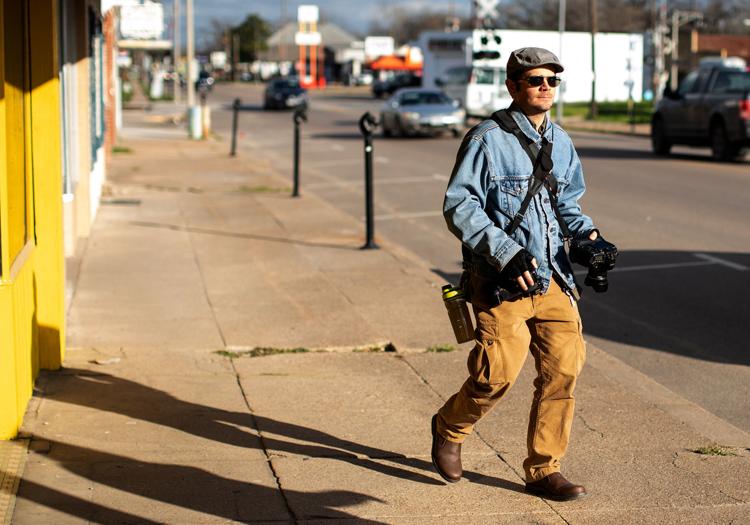 A desire to leave the big city brought the couple to Waco, where Church secured a graduate degree in journalism from Baylor University, then signed on to teach media writing and to serve as an adjunct lecturer. When he is not fulfilling his teaching obligations, he is traipsing off to small towns.
Expenses include meals and fuel for a gas-guzzling Jeep. Some projects require multiple trips. Production includes his DSLR camera equipment, a laptop computer and his expertise.
"I have a conversation, record it, apply multimedia content over that, and that's it, the whole game," he said.
Church said he has no cost underwriter, no sponsor, but he continues to ponder ways to "monetize" the pursuit of his passion. Meanwhile, he will produce these mini-docs "hopefully for as long as I can hold the camera."
"I can't think of anything better than telling these stories," he said.