As Megan Ritzi played her way through a tricky series of notes during her clarinet lesson, she needed to relax, to get comfortable with breathing and playing in rhythm with the demanding beat of the metronome.
So off it came, the prosthetic leg limb attached to her right knee.
"When you have it on, it pulls on the real part of the leg and it starts to hurt on the bottom of the leg," Ritzi said later, showing off the silicone attachment on her knee that screws into the artificial limb.
"I get tired walking around on it. If I go a whole day and don't have a time in the evening for two hours or more to just hang out with this whole thing off, then the next day I'm pretty sore."
The prosthesis and accompanying soreness walking are new — and welcome — challenges for the Baylor University freshman, who only regained the ability to walk five months ago.
Ritzi, 18, and three other student musicians were in a devastating single-vehicle traffic wreck July 29 on State Highway 7 while headed to the International Clarinet Association conference at Louisiana State University.
Baylor music graduate Laura Ezinwa Onwudinanti, 21, and junior John Patrick "Jack" Stewart Jr., 19, were killed in the crash, while Ritzi and the driver, Jake Hale, 21, were taken by ambulance to Baylor Scott & White in Temple because of their extensive injuries.
Ritzi was in a coma after suffering a concussion, dislocated hip, torn knee tendons and numerous broken bones, including a shattered pelvis. Metal rods were installed to hold her left ankle and left femur in place, and her anterior cruciate ligament was removed from her left knee.
She awoke days after the wreck to find her right leg amputated from the knee down. Photos doctors showed her of the mangled limb were her only glimpse at the magnitude of her injury.
An incoming freshman yet to formally begin her Baylor education, Ritzi missed the entire fall semester recovering from the wreck.
Yet at no point, neither in the midst of her hospitalization nor in the challenging and tedious rehabilitation process to learn to walk again, did Ritzi give up her plans to begin her studies at the university and pursue her dreams of a music career.
"I don't think I ever had a freakout moment," said Ritzi, who graduated from Boswell High School in Fort Worth last year — a member of the cross-country team and the marching band. "I've developed a very strong ideal of what God is, myself. I've just learned to stay calm in situations.
"There wasn't an, 'Oh darn, I have to overcome this,' moment. I was just doing this to try to get to where I want to be."
Full courseload
Baylor University freshman Megan Ritzi removes her prosthetic leg while doing stretching exercises at the McLane Student Life Center on campus. She works out once or twice a week to make both legs stronger and improve flexibility.

 
Ritzi is taking a full courseload and participates in the symphonic band, clarinet choir and jazz band through the school of music. She's even driving on her own with her left foot through the use of an adaptive pedal next to the brake.
One of her best friends launched a GoFundMe page that raised more than $41,000 to help pay for Ritzi's medical expenses. And she had the backing of both her high school and Baylor music family.
While she was in the hospital, her Boswell band director, Dimas Delgado, played Ritzi recordings of her previous performances. Baylor faculty registered her for courses, organizing her schedule in a way that limited the distance she had to walk to class each day.
She also has pondered whether she may eventually join Baylor's Golden Wave marching band, if the Texas heat during summer band camp doesn't cause issues with the prosthesis.
And she's planning to get a running prosthetic leg in the next month or so — equipped with a flexible blade instead of a plastic foot piece, allowing her to resume her running routine.
"It's been truly inspirational to see her recovery, and to see the way that she has addressed it head-on without fear or trepidation," said Eric Wilson, director of bands at Baylor. "She's been a real warrior, and I tell her she's one of my heroes, to see the way she has fully embraced her new life and how that's different than before. She's a remarkable young lady."
Dealing with grief
Baylor University freshman Megan Ritzi plays the clarinet during a lesson with her professor Jun Qian. Ritzi's lower right leg was amputated after a July car accident in which two Baylor clarinetists were killed. Her injuries and rehabilitation forced her to miss her first semester, but she began her music studies this spring.

 
Wilson said Ritzi's recovery and journey became a bright spot for the school of music, as faculty and students continued to grapple with the deaths of two talented and bright pupils.
"We're still learning how to deal with the grief of Jack and Laura's passing," Wilson said. "Megan was in a very bad situation, her health was in question. So the fact that she's back now has provided a measure of hopefulness, to see her thriving in her transition. But that's of course still tempered with the loss of Jack and Laura."
Jun Qian, assistant professor of clarinet at Baylor, taught Onwudinanti and Stewart and had developed a bond with Ritzi, who'd spent extensive time connecting with music school faculty and attended summer music camps at the university before deciding to commit to Baylor.
Qian was driving a van with a larger group of clarinet students to the conference at LSU and was about an hour behind the truck Ritzi was riding in when the crash happened. He immediately canceled the trip and focused on comforting the families of the affected students as well as those who were grieving on campus.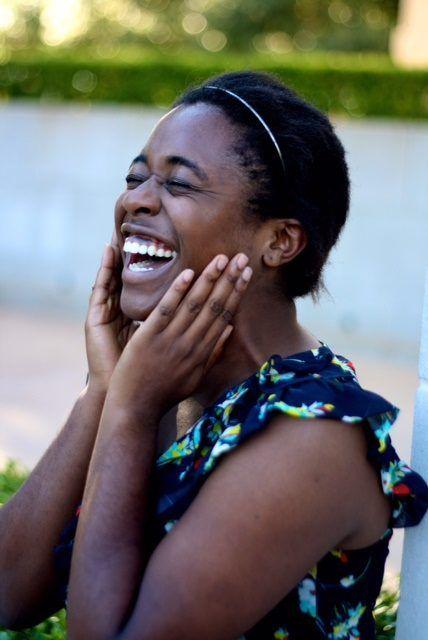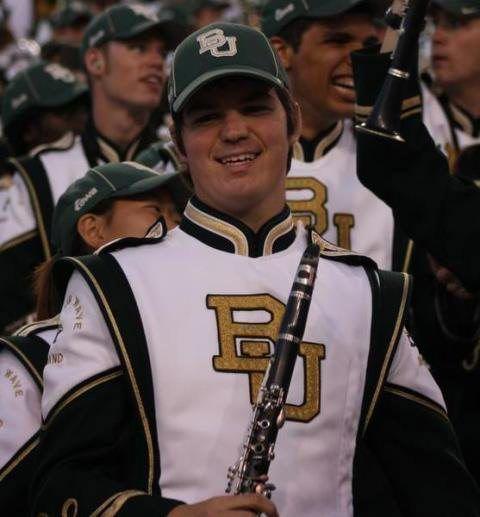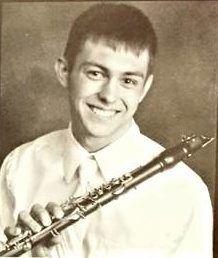 The music school went on to host two memorial concerts during the fall semester, and the woodwind ensemble group dedicated a performance at the Midwest Band and Orchestra Clinic in Chicago in December to Onwudinanti and Stewart.
"School officials went to both students' funerals, and I went to Laura's home to see her mom," Qian said. "It was a process I needed to go through myself, because I am the leader of the studio and I had more students coming in and I needed to take care of the rest of those students."
Qian said he frequently visited Ritzi during the two weeks she was hospitalized at Baylor Scott & White, and continued to maintain contact with her throughout her rehabilitation. He also secured the donation of two new clarinets worth $11,000 for Ritzi from Selmer Company, a Paris-based clarinet and saxophone manufacturer he works with as a featured artist.
"She's a really strong girl and has a beautiful personality," Qian said. "She always feels so optimistic about her life, and that actually really helped encourage me to be a stronger person as well through this tragedy."
Ritzi's progression also has been reassuring to Hale, the senior who was driving the truck at the time of the wreck. Ritzi and Hale both attended the same Fort Worth high school, and Ritzi credits him with sparking her interest in Baylor.
The two have the same clarinet studio class twice a week and occasionally run into each other on campus, he said.
"She's dealing with her personal issues and her physical issues and everything that she needs to go through, but it's nice to see that she's starting to play again and she's starting to work on the things she's going to do the rest of her life," Hale said. "It's just nice to see that she's getting back to some sort of normal routine."
Neither of them have any memory of the crash, while Hale can remember being placed in a helicopter headed to Scott & White.
Hale was hospitalized for a few days, suffering from two fractured vertebrae and two compressed discs in his back, along with a bruised lung. Doctors recommended allowing him to heal naturally without surgery, but his injuries still affected his mobility and clarinet-playing skills.
Hale found comfort from fellow Baylor music school classmates who traveled from Dallas, Houston and other parts of the state to visit him while he was in the hospital. Faculty and friends offered support as well, such as driving him around town for errands and carrying his backpack to reduce the strain on his back.
But he also had some mixed reactions from peers on campus, including some who bluntly sought answers to what happened and others who were more cautious in their interactions and questions.
"I would have to let them know that it's OK; I can talk about it," Hale said. "It happened, it's a part of my life, and it sucks that it is. But it's just something I've had to deal with and live with. I don't think shying away from what happened is the right answer to anything."
Road to recovery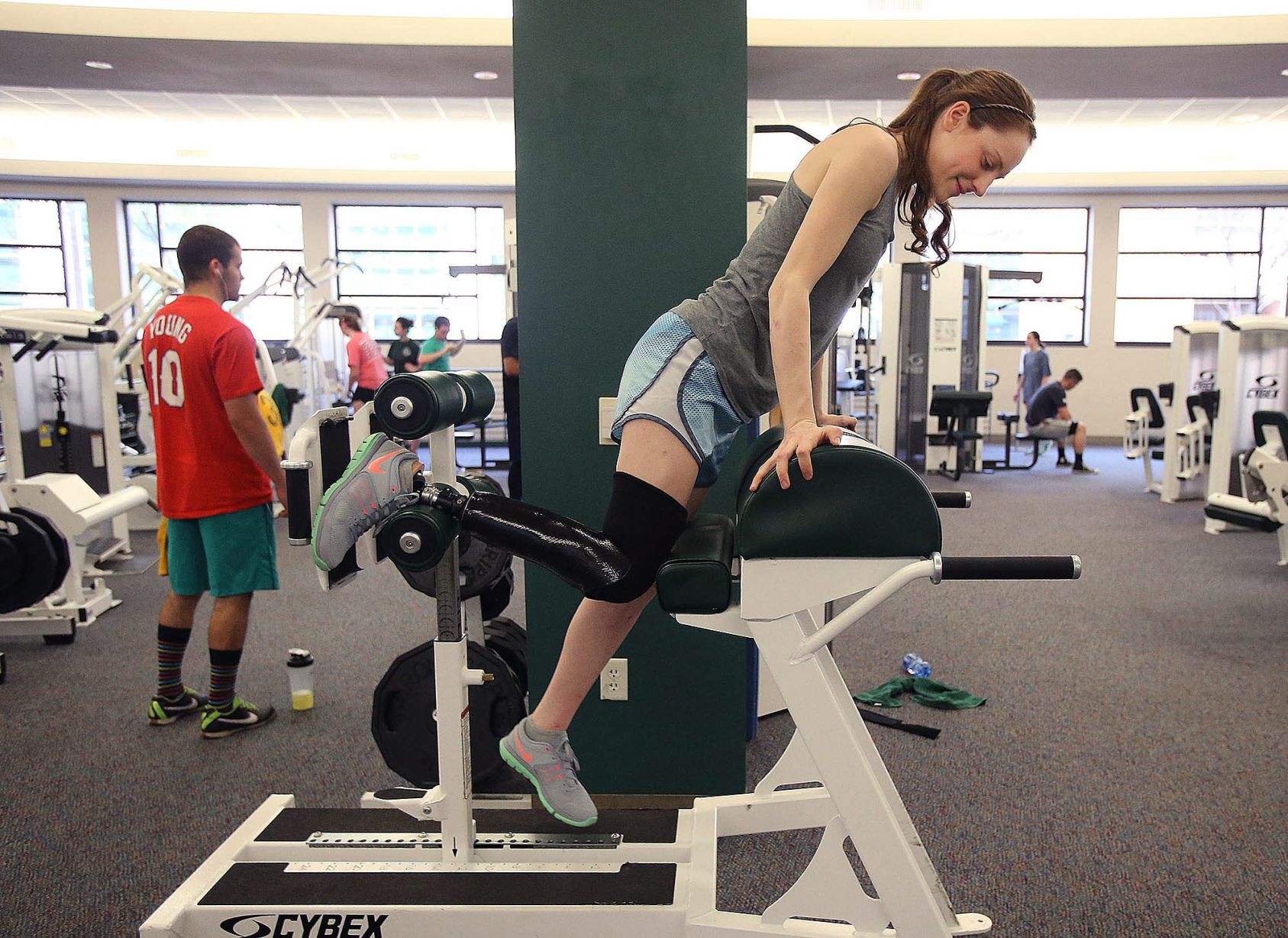 Baylor University freshman Megan Ritzi works out on equipment at the McLane Student Life Center on campus. She hopes to get a new prosthesis that would allow her to run and is pondering joining Baylor's Golden Wave Marching Band. (Staff photos — Jerry Larson)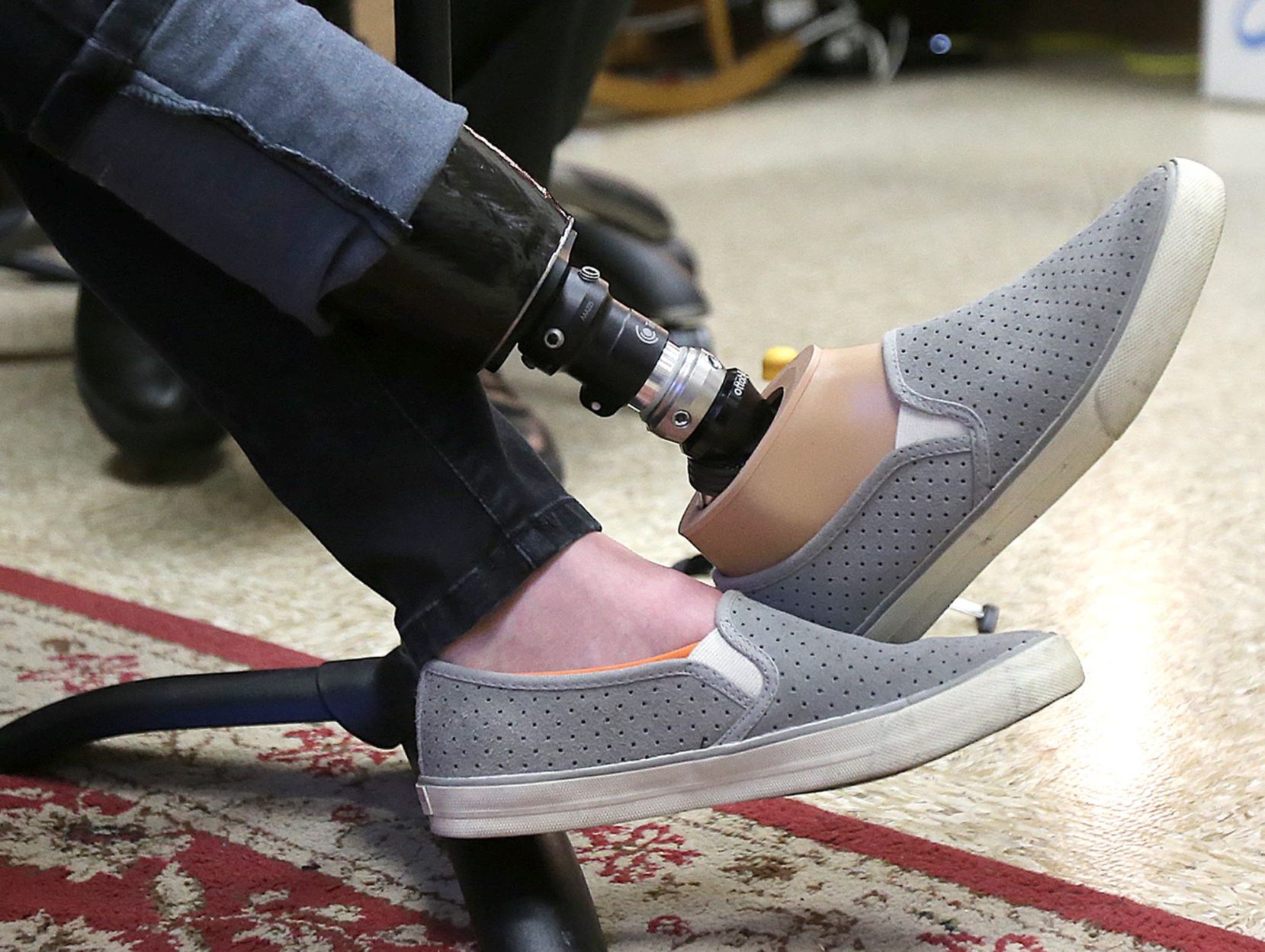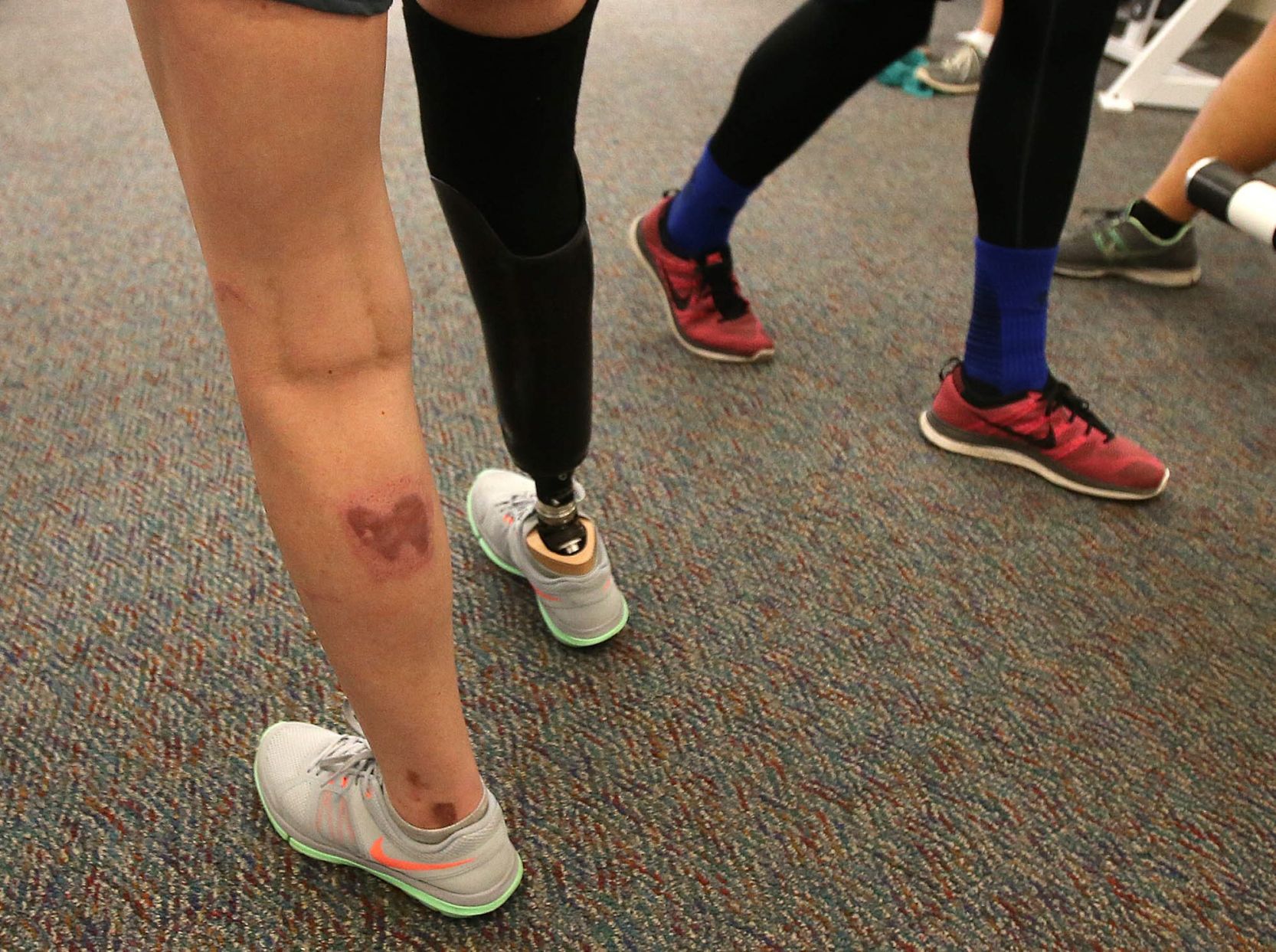 Ritzi said she owes a debt of gratitude to Dr. Michael Brennan, director of orthopedics at Baylor Scott & White, who headed the team that "basically reconstructed my entire lower body." More than 100 nurses tended to her during her 15-day stay.
Her knees initially could not bend, and she had to wear a brace on her left leg to walk. Some of her treatment included being sedated so a therapist could stretch her leg and ankle muscles to boost her range of movement.
"When I'm sore, it just feels like it's an overwhelming aura around my lower body," Ritzi said. "My dad will try to ask me, 'What's sore?' and I'll just go, 'I don't know, it's all sore.' "
She experienced glitches and difficulty with her new limb at Baylor, including a week where she resorted to a wheelchair for mobility because her right leg began to shrink, making the prosthetic piece too large to use. But she figured out how to use strips of material to make the attachment fit her until she received a new prosthesis.
"There's days that are definitely better than others," Ritzi said. "But I think being here has made it lot easier to focus on music. If I'm hurting or something, that's not the focus of my day. I'm getting to class, and I don't have to worry too much about it."
She also works out once or twice each week, duplicating some of the exercises she completed during her physical therapy. She wants to build muscle strength in her left leg, which has the missing ACL, to develop more support and stability as she walks.
She also strives to become more flexible and reduce stiffness she developed in both legs from the wreck and from being confined to a bed so long during her hospital and rehab stays.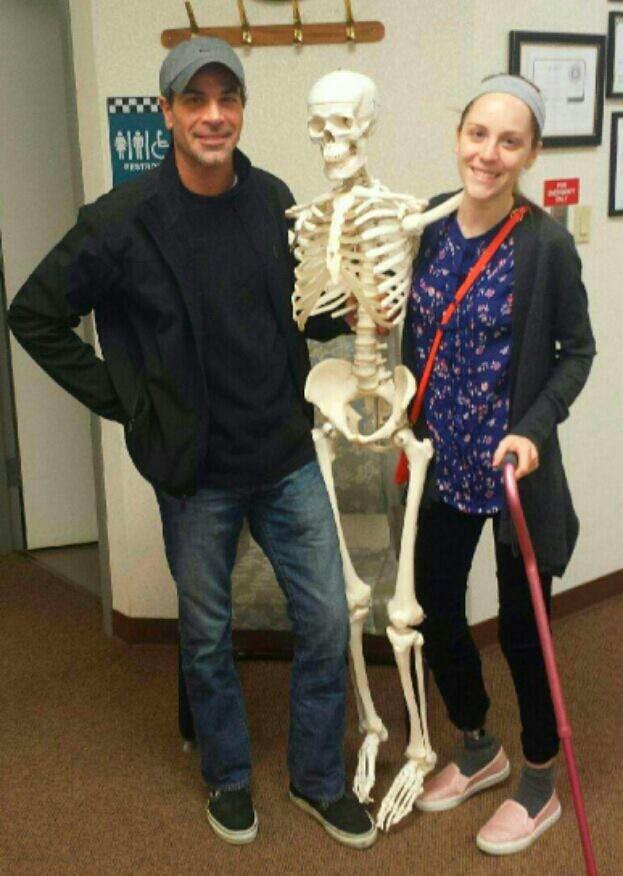 Ritzi credits her dad, Bill Ritzi, and a host of extended family in Texas and New Jersey with helping her remain upbeat throughout her recovery.
Her boyfriend, Charlie Hutto, a freshman at Texas A&M University, routinely made the three-hour drive from College Station to Fort Worth to stay overnight with her at the rehabilitation center and later attended therapy sessions to support her.
And she's found encouragement from Jack Stewart's parents, Patrick and Ann, who have continued attending music school recitals and concerts in memory of their son and to support his peers.
"Jack was their only child, and they really turned their own attention into loving the people that Jack loved and respected and walked alongside," Wilson said. "Music has provided that path, it was such an important part of Jack's life. . . . I think this is a way for them to still stay connected to Jack and his memory and the love that he had for music."
Ritzi is determined to make up for lost time and keep on track with her music studies, despite being a semester behind.
She will have to take summer classes the next two years in hopes of staying current with the proper sequence of courses she needs to graduate on time.
While Ritzi occasionally practiced music in the rehabilitation center, she only began to regularly work on her clarinet skills in December.
Lots of support
"She will have lots of support from my students as well as me on reminding her stuff and getting her back on track," Qian said. "I don't think she wants me to treat her different than any other students. At the same time, I do have to be more patient with her.
"She's gradually picked up her learning process. I tell her, I don't lower my academic standards, and I don't think she wants to be that way. She's a great player . . . I don't worry about her academically, she will be fine."
Long-term, Ritzi has her eyes set on performing full-time, perhaps in a jazz band setting or more classical orchestra, whatever opportunity arises. And she'd like to eventually teach music at the college level as well.
"An idea that I like to make sure I keep in mind is that I'm not going to fill a position, I'm going to create my own position," Ritzi said. "Any great person that I've really admired, they made a place for themselves. I love music, and I love learning about it.
"I could end up anywhere, and if I'm working hard then I'll be happy."
Baylor University freshman Megan Ritzi is described by one of her professors as strong, with a beautiful personality. "She always feels so optimistic about her life, and that actually really helped encourage me to be a stronger person as well through this tragedy," said Jun Qian, associate professor of clarinet at Baylor.