Even from the vantage point of an experimental balloon's camera more than 80,000 feet above the Earth, Baylor University staffer Josh Ward could not foresee how what started as a do-it-yourself hobby project would unlock new avenues of research for Baylor students and private industry.
Using largely off-the-shelf equipment, Ward's flights into the fringe of space are proving that a humble latex balloon, the type used for collecting weather data, can support important experiments in low-temperature and near-total-vacuum environments.
Better yet, those experiments can be done for a fraction of the cost of, say, launching a tiny cube satellite into space or building a vacuum chamber.
It is small-scale science, but science whose small-scale answers could shape the design and construction of electronics used for communication, global positioning and sensors.
"It becomes a very cheap testing platform," said Ward, 38, whose earthbound job as academic consultant with Baylor's Hankamer School of Business Technology Center has him integrating and coordinating technology into business education and instruction.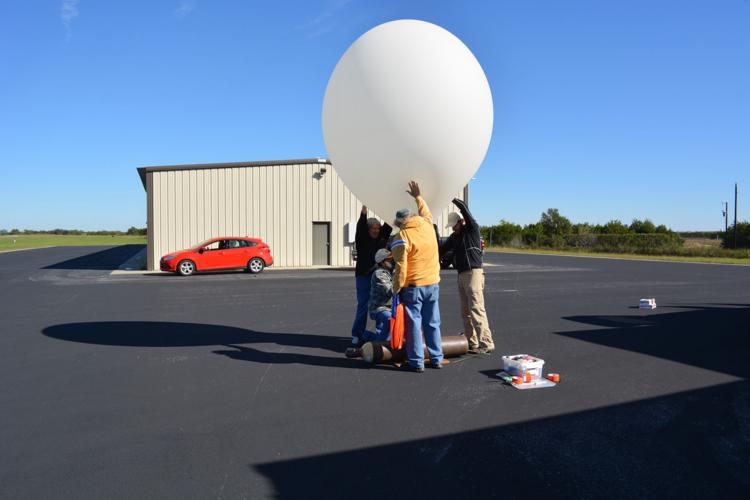 Two weeks ago, Ward and a team of Baylor engineering students and amateur radio buffs launched his third high-altitude balloon. Traveling from near Gatesville to a payload landing some 90 minutes later near Fairfield, passing over Waco in the process, the balloon soared to 83,841 feet before popping.
That was not as high as the almost 100,000-feet altitude reached in a Nov. 26, 2016, flight, and the photos captured by the GoPro cameras onboard weren't as dramatic. But Ward was not disappointed. This flight had a different mission, with success determined more in the data acquired than the images.
That 2016 flight, nicknamed Starduster II, caught the attention of Virginia-based Modern Technology Solutions Inc., an engineering and technology company whose clients include the Department of Defense. The company invited Ward to discuss a possible collaboration, and the result was a $5,000 project grant for Baylor students in the university's engineering and computer science Capstone project.
It is a small grant in the world of Defense Department research contracts, but more than double the $1,800 Ward raised largely through a Kickstarter fundraiser and spent on Starduster II.
The project involved a handful of Baylor mechanical and electrical engineering students, who not only had a real-world problem for their brain-storming, design and development, but a real-world client with a specific request.
"What they're learning is how to listen to a sponsor," Ward said.
Already, Baylor engineers have designed and created, via a 3D printer, a nozzle making it easier for two people to fill and launch a balloon in windy conditions. There is also work on a device that would allow in-flight inflation, which could make it easier for balloons to stay longer at altitude and extend a testing period, Ward said. Presently, balloons filled with enough helium to soar above the winds of lower atmosphere will burst sooner as space approaches. Those with less helium may ascend farther, but much more slowly and with the likelihood of being blown far from a launching point.
Near-space testing allows designers to see how a device would work in extreme conditions, whether cold or airlessness. Batteries used to power GPS devices and radios lose efficiency as the temperature drops. Interestingly, electronics in the cold of space can melt because there is no air to carry away excess heat, Ward said.
Balloons also can carry radio equipment far above the ground, broadening the line-of-sight reach of those operating on certain frequencies.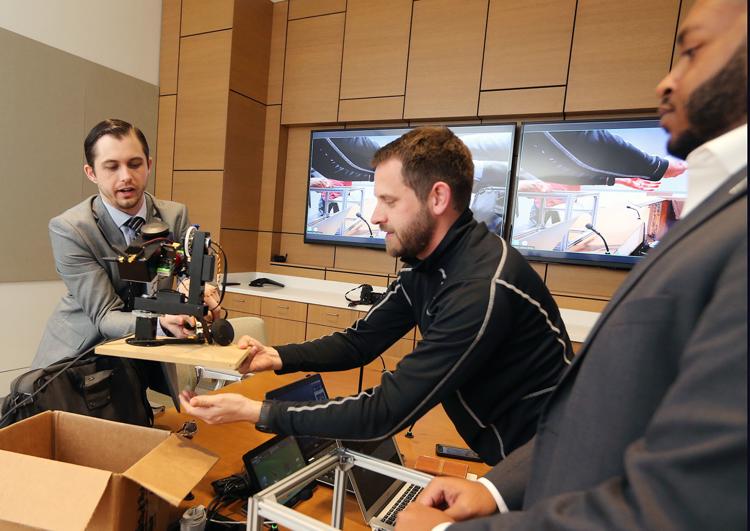 After the October flight, Ward flew to Edwards Air Force Base in California to share the experiment results with Modern Technology Solutions Inc. and talk about future projects. Ward and a new set of Baylor engineering students have a December flight planned and at least three semesters worth of projects in the works, he said.
Given the low cost of experimental balloon flights thanks largely to off-the-shelf components, more companies and experimenters may enter the field, which could mean proposals pitched for aviation and engineering work at Texas State Technical College and the Baylor Research and Innovation Collaborative, Ward said.
Small science, after all, can balloon into something bigger.
"We're eating the elephant one bite at a time," Ward said with a laugh.