More McLennan County parents chose not to immunize their children for nonmedical reasons this school year despite a record-breaking measles outbreak in the country, according to a Texas Department of State Health Services report.
Statewide, the number of parents who sought exemptions increased 14% in 2018-19, continuing a 15-year upward trend that leaves public health officials concerned about potential outbreaks of preventable diseases, the Houston Chronicle reported.
McLennan County officials echoed their state counterparts, urging parents to immunize their children before an outbreak occurs.
Texas has reported 15 measles cases so far this year, with the closest case in Bell County. Three related cases of measles would be considered an outbreak, Department of State Health Services spokesman Chris Van Deusen said. The 15 confirmed cases this year have been sporadic.
"While the number of exemptions has been increasing steadily, it's still a relatively small percentage," Van Deusen said. "Certainly, that's more than we would like it to be."
The jump in nonmedical exemptions is even more pronounced at some private schools and school districts in the county. Live Oak Classical School reported to the state that 1.53% of students filed nonmedical exemptions for the 2013-14 school year, but for this school year it reported 3.91% of students filed exemptions.
Vanguard College Preparatory School has the highest rate of students with nonmedical exemptions for this school year at 9.71%, but school officials said the number is an error on their part.
Vanguard spokeswoman Chelsa Ressetar said the school erroneously submitted to the state the number of all students who have exemptions to at least one immunization, not just students with nonmedical exemptions. She said the actual rate should be 2.42%, with five students filing nonmedical exemptions. Fifteen other students filed "evidence of immunity" to varicella, or chickenpox, because they have had the disease and developed immunity to it. These are mostly international students, Ressetar said.
Van Deusen confirmed that Vanguard officials had contacted the state to correct the number.
"The vast majority of our students have received all of their immunizations," Head of School Bill Borg said in a statement. "There are a few parents who have made the personal choice to not receive immunizations for their children, and we respect the parents' choice on immunizations. There are also students with exemptions, which represent a small percentage of our population. Vanguard maintains a clean campus and has never had a health issue with an immunized or non-immunized student in the history of the school."
At the Midway Independent School District, 0.3% of students filed nonmedical exemptions for the 2013-14 school year. That percentage hit 1.42% this school year.
"From a health care professional perspective, it's disturbing. It's worrisome," Midway ISD head nurse Dee Ann Kleypas said. "I think across the board all of our nurses would say we're having to be more diligent."
Kleypas said she encourages nurses to educate parents about the diseases they are not immunizing their children against so parents are aware of what symptoms to look for, and nurses are striving to be proactive to recognize those symptoms, as well. She said she tells parents their children may be excluded from school if an outbreak occurs. That could last 21 days, depending on the disease.
In addition to Texas, 22 states have reported measles cases this year. As of May 10, 839 measles cases have been reported in the United States, according to the Centers for Disease Control and Prevention.
"Out of every medical intervention that we've had in the modern era of medicine, vaccines are the ones that have prevented the most morbidity — meaning illness and complications — and mortality." said Dr. Gregory Newman, medical director of convenient care at Baylor Scott & White Hillcrest Medical Center. "They're the single best intervention that we've ever had in medicine."
---
| School | 2013-14 | 2014-15 | 2015-16 | 2016-17 | 2017-18 | 2018-19 |
| --- | --- | --- | --- | --- | --- | --- |
| Axtell ISD | 0 | 0 | 0 | 0.27 | 0.58 | 0.74 |
| Bosqueville ISD | 0.17 | 0 | 0.33 | 0.32 | 1.2 | 1.04 |
| Bruceville-Eddy ISD | 0.39 | 0.38 | 0.39 | 0.56 | 0.44 | 0.63 |
| China Spring ISD | 1.12 | 1.2 | 0.71 | 1.02 | 1.38 | 1.39 |
| Connally ISD | 0.09 | 0.15 | 0.12 | 0.04 | 0.04 | 0.09 |
| Crawford ISD | 0.35 | 0.35 | 0 | 0.18 | 0.92 | 3.59 |
| First Woodway Christian | — | — | — | 0.68 | 4.38 | 3.33 |
| Harmony Science | — | — | — | — | — | 0.54 |
| La Vega ISD | 0 | 0.14 | 0.16 | 0.23 | 0.06 | 0.1 |
| Live Oak Classical | 1.53 | 1.42 | 2.99 | 1.53 | 2.53 | 3.91 |
| Lorena ISD | 1 | 0.93 | 0.97 | 1.77 | 1.58 | 1.43 |
| Mart ISD | 0 | 0 | 0 | 0 | 0 | 0.41 |
| McGregor ISD | 0.21 | 0.22 | 0.38 | 0.48 | 0.36 | 0.56 |
| Midway ISD | 0.3 | 0.59 | 0.5 | 0.67 | 0.89 | 1.42 |
| Moody ISD | 0 | 0 | 0 | 0 | 1.31 | 0.76 |
| Rapoport Academy | 0 | 0.38 | 0 | 0 | 0 | 0.25 |
| Riesel ISD | 0.35 | 0.52 | 0.52 | 0.34 | 0.48 | 0.91 |
| Robinson ISD | 0.45 | 0.3 | 0.52 | 0.66 | 0.46 | 0 |
| St. Paul's Episcopal | 5.13 | 2.53 | 2.33 | 0 | 0 | 0 |
| Vanguard College Prep | 2.67 | 2.35 | 1.82 | 3.14 | — | 9.71* |
| Waco Baptist (Eagle Chr.) | 7.55 | 4.85 | 4 | 3.23 | 0 | 4.83 |
| Waco ISD | 0.1 | 0.05 | 0.14 | 0.21 | 0.23 | 0.31 |
| West ISD | 0.29 | 0.32 | 0.25 | 0.55 | 1.1 | 1.32 |
---
Measles is a virus that has been around for centuries and occurs worldwide. It is particularly prevalent in the Middle East and Africa and in some pockets of Asia that have populations that refuse vaccination or have inconsistent vaccination rates, Newman said. It is one of the most highly contagious viruses that affect humans.
For instance, Newman said, before the development of immunizations in the mid-20th century, 90% of people exposed to a person infected with measles would be at a high risk of contracting the disease. The risk remains that high up to two hours after an infected person has left the area.
"We don't have that institutional knowledge of how serious measles can be, how it affects children," said Kelly Craine, spokeswoman for the Waco-McLennan County Public Health District. "We think about them as being simple childhood diseases, but they can be very serious. We've lost that understanding."
A 1954 article in the Waco News-Tribune states 340 cases of measles were reported in one week, but that number likely was closer to 2,500 because most cases went unreported.
Craine said her mother remembers when measles ran rampant through communities and she contracted the diseases herself, including rubella and mumps. Craine's mother talked about staying home for weeks because she was so sick, not to mention contagious.
"There was just a lot of fear of what could happen, a lot of places you couldn't go and a lot of things you couldn't do," she said.
Texas law requires all public and private school students to have 10 immunizations for diseases including whooping cough, polio and diphtheria. It is one of 17 states that permits exemptions to school vaccine requirements based on the conscience or personal beliefs of parents, The Associated Press reported. Only California, Mississippi and West Virginia do not allow exemptions on religious grounds.
Texas started allowing conscientious exemptions in 2003. Since then, the number of statewide exemptions has ballooned from 3,000 to more than 64,000, a more than 2,000% jump, AP reported.
Newman said religious exemptions to immunizations are fairly rare, and conscientious exemptions tend to cut across different ideological lines.
"You may have somebody who may be very conservative in political or societal views and somebody who's very liberal, and they both come to the same conclusion that they don't feel like they want to take the risk or have their children take the risk for vaccination," he said. "Or they feel like through information they've researched that vaccines are not effective or are some — for lack of a better word — scam put on by the government for control of us or to profit vaccine companies."
In 2000, measles was declared eliminated from the U.S., according to the CDC.
"These diseases on the verge of elimination have a chance of coming back," Craine said. "Vaccines are our best protection, and they are the reason rates have gone so low over the past decades."
While there are extremely small risks of injury associated with vaccines, those risks are "minimal compared to the risk you would have actually getting the disease," Newman said. Measles, for example, starts with flu-like symptoms of fever and aches, redness of the eyes and a lack of appetite. Spots might surface in the mouth before a red body rash appears, usually two to four days after the fever sets in, he said. The rash spreads from the head down to the trunk and then to the extremities.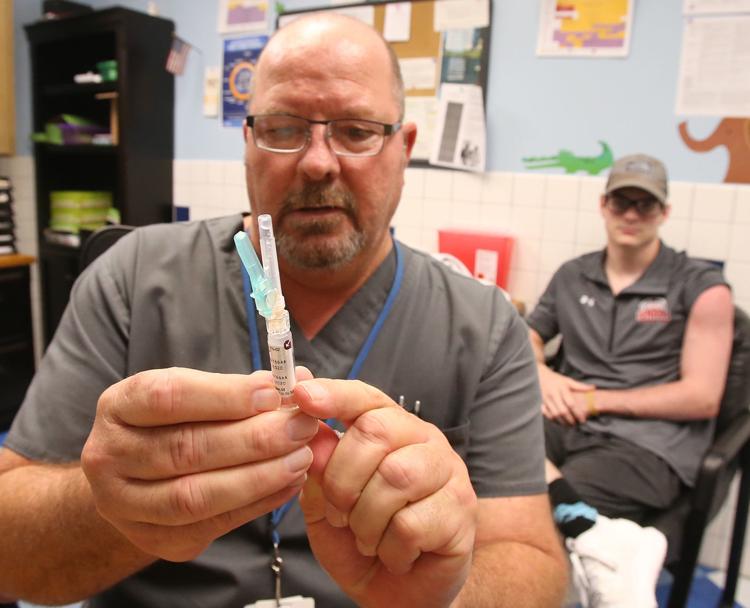 There is no specific antiviral therapy for measles, according to the CDC. Treatment helps relieve symptoms and address associated complications, which can include bacterial infections.
Newman said people with compromised immune systems, including those undergoing chemotherapy, can have further complications from measles.
"The biggest risk for people is severe secondary infection," he said. "For instance, pneumonia is one of the leading causes of death for people who come down with measles. You can get neurologic complications, and these can be devastating because you can get something called encephalitis, which actually can cause long-term neurologic damage."
Encephalitis is inflammation of the brain, and it can cause permanent brain damage, similar to the effects of a stroke, Newman said. Ulcerations to the eyes and blindness can occur, as well as heart enlargement and heart tissue damage.
"It was such a contagious disease, and we know that although most people get through it without having serious complications, when those complications happen it can be devastating," Newman said.
Van Deusen with the state health department said when the majority of people in a community are immunized, measles is less likely to spread. When the percentage of people immunized in a community drops below 90% to 95%, there is an increased chance of the disease spreading.
"There's a concept of herd immunity," he said. "If there's a certain threshold of immunized people in a school or neighborhood or church — in some sort of population — that tends to prevent a community from experiencing an outbreak."
People who cannot be immunized for health reasons and infants younger than 12 months rely on their communities to be vaccinated to build a wall of immunity around them and prevent the spread of disease, Van Deusen said.
The earliest an infant should get a measles immunization is 12 to 15 months of age, Dr. Newman said. That is the youngest age infants can handle the vaccine and develop the necessary antibodies. Then a booster vaccine is done between age 4 and 6, when children start school, making the vaccine series 95% to 96% effective.
"That's part of the difficulty of getting immunized is that there are some people who want to be immunized, but they don't respond well to the vaccine and they don't develop the full protection against measles illness," Newman said. "What we want to do is have enough people immunized so that if somebody comes in contact with measles, it doesn't spread to those people who weren't able to get the vaccine."
People born before 1957 likely were exposed to measles and developed antibodies to the disease, or they had measles illness and developed the antibodies, which typically provides lifelong immunity, Newman said. There probably are many adults born before 1980 who only received the first vaccine for measles and might not have had enough of the vaccine to develop the full protection against measles, he said. Newman recommends those adults get a booster shot.
The physician also recommends people rely on their physicians for accurate information about vaccines, not the internet, because physicians have endured thousands of hours of education and training.
"If you're going to rely on your physician for good information for the rest of your health care, then I would also rely on your physician or nurse practitioner or (physician's assistant) for good information about vaccines, as well," he said.