It would be rare for one to come face to face with a person who has had more of a profound effect on someone's life than Adrian Krainer has had on Faith Fortenberry's.
Krainer and the 7-year-old got to know each other Thursday at Baylor University, where Krainer was speaking about his research that developed a drug, branded Spinraza, that likely saved Faith from an early death and also significantly improved the quality of her life.
Faith, a second-grader at South Bosque Elementary School, was diagnosed when she was 17 months old with spinal muscular atrophy, a neuromuscular disease that is the leading genetic cause of death in infants.
Faith is serving this year as a national ambassador for the Muscular Dystrophy Association and she and her family have traveled to Washington, D.C., Florida and Wisconsin in recent months speaking to donor groups, singing the praises of Spinraza and pushing for legislation that would make SMA testing a part of all newborn screenings.
Krainer, St. Giles Foundation professor at Cold Spring Harbor Laboratory in New York, was introduced Thursday evening at Baylor by Faith's mother, Leeann Fortenberry, who thanked Krainer for his work that she said saved Faith's life.
Faith zipped around the cavernous Baylor science building in her shiny pink wheelchair and fetched cold water from a dispenser for those visiting with Krainer and her parents before a reception in Krainer's honor.
"I know you must get tired of hearing this, but you are our hero," Leeann Fortenberry told Krainer when they met.
Krainer, blushing a bit, confessed with a smile that no, he does not ever get tired of hearing that from parents whose child's life drastically has been improved because of Krainer's research.
In introducing Krainer before his lecture, Leeann Fortenberry told the crowd how much Spinraza, the drug administered through spinal injections that came from Krainer's research, has meant to Faith and her family.
"No longer do I think, 'Will I bury my daughter in her teen years or sooner?'" Fortenberry said. "But instead, I know my Faith will do great things, will continue to thrive with the treatment of Spinraza and for many years to come. Thank you, Dr. Krainer. Thank you from me and thousands of families like me for more time to enjoy our children and to watch them do great things — things they would have not been able to do without you and your years of research."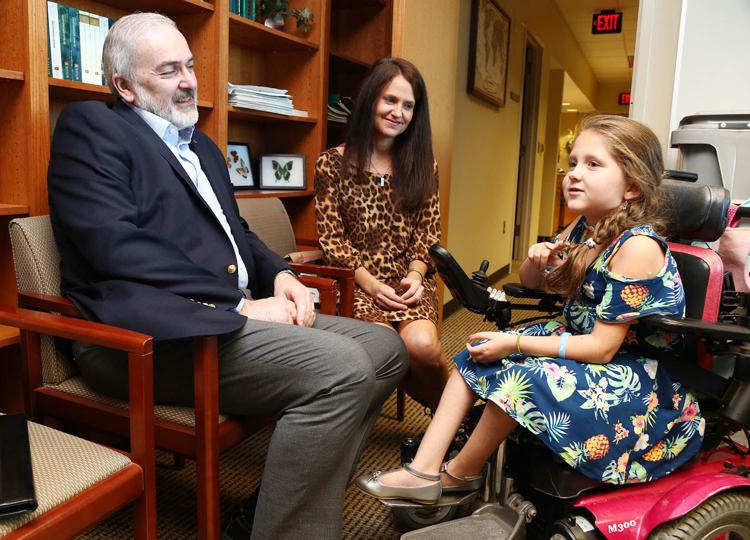 Leeann Fortenberry, a third-grade teacher at South Bosque, said she and her husband, Don, who works in marketing for senior health care, were devastated when Faith was diagnosed with SMA in 2013. But it got worse, she said, when their doctor spoke the words she will never forget — there is no treatment.
As Faith's disease progressed, she lost the ability to crawl. She could no longer lift a fork to her mouth and she lost the ability to cough or sneeze because her lungs were weakening.
Faith had her first bout with pneumonia in March 2015. The emergency room doctor told the Fortenberrys he was not sure her lungs were strong enough for her to survive the night.
"That was the longest, most painful night of my life," Leeann Fortenberry said.
That 17-day hospital stay was followed by another 14-day stay a month later and a 13-day stay four months after that.
"The hospital stays seemed to become closer and closer together and scarier each visit," she said.
While the Fortenberrys watched Faith become weaker, they held out a sliver of hope that continued SMA research would produce a treatment that the Food and Drug Administration approved.
Leeann Fortenberry got the call they had been waiting on two days before Christmas in 2016. Spinraza had been approved for treating SMA.
After fighting a battle with the family's insurance carrier about whether it would cover the drug, which costs $175,000 per injection, the family saw surprisingly positive results within weeks of the first injection. Faith has since had seven injections.
"Faith began to be able to raise her arms high, she began to open water bottles, she was able to blow bubbles, she could sit unassisted once again, and the best was the day I heard my baby sneeze and cough, something she could no longer do," Leeann Fortenberry said. "You don't realize how important sneezing and coughing are for healing from an illness until you are unable to do so."
Faith's voice grew louder as her lungs grew stronger. She reached over in her wheelchair to get something from the floor and pulled herself back up. She could brush her teeth again, open the caps on markers, pull on her shirt and was less dependent on respiratory equipment.
Before she took Spinraza, Faith could not roll over in bed and called to her mother each hour to turn her over.
"I work full-time, and getting up every hour was excruciating on the family," Leeann Fortenberry said. "Now she sleeps 10 hours a night, and I and her Dad are getting a lot more sleep now. Things are so much better. Faith can get the tray from the lunch room now into her lap and lift it onto a table. She doesn't require near as much assistance at school."
Since Faith started taking Spinraza, she has not had one hospital stay for respiratory problems, her mother said.
Krainer, who has won awards for his groundbreaking research, said it took five years for the FDA to approve Spinraza and it now is approved in 34 countries. It remains the first FDA approved drug for SMA.
He said he had no role in naming Spinraza, which throughout his research was being called Isis.
"That had to be changed for obvious reasons," Krainer said.
Leeann Fortenberry said Faith loves her role as MDA ambassador, saying "they treat her like a queen."
The family wants to use the opportunity to spread the word around the country about the importance of requiring SMA testing of newborns.
"We need all 50 states to make SMA a part of newborn screening," she said. "Many states have done that. We are waiting for Gov. (Greg) Abbott to require it here. It would have made such a difference if we could have started Spinraza instead of waiting five years. We had no idea. We didn't know that we both were a carrier of this, so if we would have had newborn screening, Faith would probably be walking now."