---
Drive around West three years after its worst day, and you'll still see a few unfinished houses and streets and a rabbit warren of portable buildings that house displaced students.
But amid the construction mud and mess is a town that is building back stronger, and recovering more quickly, than its leaders could have imagined.
The community Sunday will hold services to commemorate what locals have taken to calling 4/17/13, the date that the West Fertilizer Co. plant caught fire and exploded. Fifteen died, mostly first responders, about 200 more were injured, and shock waves from the detonated ammonium nitrate stockpiles wrecked the surrounding neighborhoods, schools and a nursing home.
"I think for the most part the recovery has been remarkable," said John Crowder, the First Baptist Church pastor, who was displaced from his home for a year and a half. "Physically, it's amazing to look at the community and see how much progress has been made in a relatively short amount of time. . . . When you see everything coming together, you do have a sense that we're going to be OK."
West leaders say the next big symbolic milestone in the route to recovery will be completing the imposing new school under construction for middle school and high school students on Jerry Mashek Drive. Teachers will begin moving into the building in late May, and classes will start in late summer.
"I really believe it's going to provide some closure," West ISD Superintendent David Truitt said. "The families and staff have been through so much. They're a resilient group, but I know they're eager for the day they'll be back in a traditional campus. . . . Our school district has been given the chance to reinvent itself through new facilities. I believe West is going to be better than ever."
Elsewhere in this close-knit farm town of 2,800 people, the visible signs of renewal are as unmistakable as the bluebonnets and Indian paintbrushes springing from the black clay.
Eighty-eight of the 120 homes destroyed by the blast have been replaced with new homes, most noticeably better than the old ones.
West Rest Haven Nursing Home, destroyed in the blast, has been rebuilt with more amenities and a physical therapy center for the whole community. About 90 residents are living in the facility, which can house 122.
More than a mile of streets have been either repaved or dug up and reconstructed, with another 2.4 miles to go. All of the 13,370 linear feet of water lines and 8,140 of sewer lines called for in the recovery plan have been built, and a new city well and water tower are about to go in.
When all the work is done, West's infrastructure will be much improved over its pre-blast condition, said Jed Walker of Walker Partners, the Waco engineering firm overseeing most of the municipal reconstruction.
"The city is getting rebuilt," Walker said. "They had a 60-year-old (water) system that was in very poor condition. One of the two wells was completely out of service. A lot of the streets were in poor condition, and the drainage was in very poor condition. . . . In the north part of town, the infrastructure is all new, just like a new subdivision, and likewise, most of the houses are new.
"You can compare the progress of West to any other disaster city — New Orleans, other towns after Hurricane Rita or Katrina — and the response and reconstruction time is phenomenal. It's been too slow for Tommy Muska, but light-years faster than other communities."
Muska, the mayor since 2011, agreed with Walker that speed was essential to recovery. The town lost a third of its property tax base in the blast, along with much of its water revenue from displaced homeowners, and if those residents decided to relocate out of West, the city's finances might never recover.
"My concern when this happened was that there was going to be an exodus to Midway and China Spring," Muska said, referring to the suburban school districts. "They'd get a great school and take the insurance money and live there because they're working in Waco anyway."
A few did leave, including some elderly residents and some who chose to build on large acreage outside town but in the West Independent School District, Muska said. Others will likely return once the new school opens, he said. But overall, the retention rate was remarkable, Muska said Wednesday on a driving tour of West.
"I think they love this town," he said. "They have roots in this town that go back a long way. Part of it is that they're stubborn enough that they were going to fix their place and go from there."
---
---
Crystal Anthony is among those still rebuilding. When the Tribune-Herald interviewed her a year after the blast, she and her children were living in an RV at their former home site.
Though she had insurance, it wasn't enough to rebuild, and she had to pay off the mortgage on her old house, as well as replace a car she lost.
A former West ISD board member, she is now living with her teenage daughter in Waco in a friend's apartment, the fifth place they've lived.
"I work at the Methodist Home as a transition coordinator," Anthony said. "People look at me and don't realize we are displaced. If they find out they say, 'You don't act like it.' Well, I can't put a sign around my neck saying I'm displaced. . . . I'm rebuilding, but it's a long process."
Now she's building a new house in West, with help from friends and local churches.
"It's still home," Anthony said. "I still have family there, still have friends. I'm still vested in the community. So why not?"
Muska said more jobs would also help West rebuild its population. On the tour Wednesday, he pulled his truck over at the large tract that once was the site of West Fertilizer Co. and later a giant crater carved out by the blast. Now it's graded flat and covered with gravel and weeds.
"I would love for the city to be able to get its hands on this area for an industrial park," he said. "Not a fertilizer plant, but maybe a place for a distribution center."
He said the catastrophe has caused the city of West to get serious about zoning and land planning to make sure that industry and residences are kept at a safe distance. Likewise, the city's volunteer fire department has beefed up its training and its incident command structure as recommended by state and federal investigators, Muska said.
Speaking of the disaster, Muska said, "It did enlighten us, and we're taking full advantage of that knowledge, with the high price we had to pay."
Crossing over the railroad tracks, he noted the progress on West City Park, which was leveled by the blast. Now it is more popular than ever, with shaded pavilions and grills and a firefighter-themed playground in honor of those who died fighting the fertilizer plant fire. New restrooms are under construction, and the Dallas Mavericks have promised to rebuild the basketball court. Once all that is done, the city will create some kind of memorial to the firefighters, Muska said.
"It's going to be simple," Muska said. "We're not a fancy town. We're a pretty simple town."
Muska and other West leaders said the speed of West's recovery is possible because of a combination of the community's determination and a boost from state and federal governments.
The state of Texas provided $4.2 million for the city infrastructure project, while the Federal Emergency Management Agency provided $766,000. The city of West also issued certificates of obligation for $1.5 million of construction on the south side of town, which wasn't hit hard by the blast.
Meanwhile, West ISD is completely revamping its facilities at an estimated cost of about $70.5 million, without additional costs to school taxpayers.
That includes $19 million from federal disaster funds and $10.3 million from the Texas Education Agency, with the rest coming from insurance, said Charles Mikeska, West's assistant superintendent.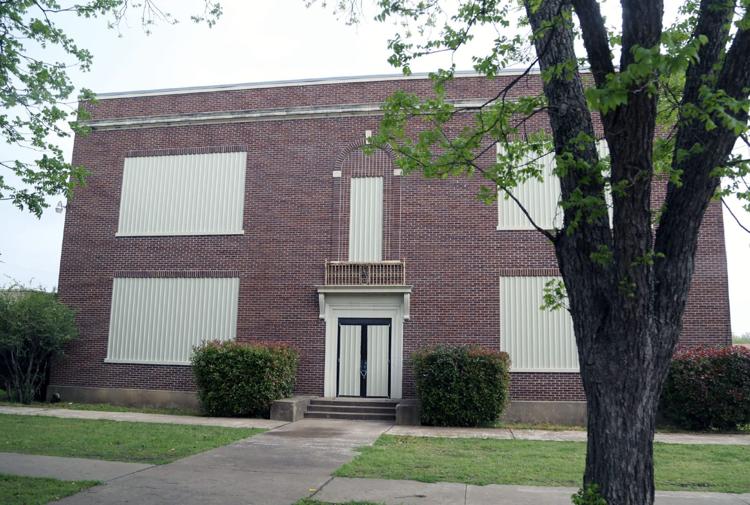 The school district is spending $4 million renovating the damaged old middle school building, which dates back to 1923, and has made some safety improvements to the elementary school.
The biggest project is the new $50 million school, which is split evenly between the middle and high schools. Co-locating the schools allows them to share three gyms, food service facilities and an auditorium, school officials said.
One gym will be large enough to hold large events, and another is "hardened" with reinforced concrete, allowing it to serve as a storm shelter.
The school will have technology labs, computer rooms, expandable classrooms and an art studio. Theater and band programs will open onto the auditorium, which has a balcony.
"This is a chance to look at how we teach kids and meet students' needs rather than trying to retrofit an older facility," said Amanda Adams, West ISD executive director of curriculum and instruction.
Band and fine arts director Todd Modgling, dressed in a hard hat, was checking out the band hall during a tour Wednesday.
"The biggest thing for me is that this will have vaulted ceilings," Modgling said. "It's a very different listening environment than in the portables. You can hear better and you can find that wrong note. You also get that resonance."
Modgling said his students are eager to make the move.
"They're super pumped and ready to get in here and make it their own," he said.