VALLEY MILLS — Just across the McLennan-Bosque county line, on what passes for this small town's main drag, sits a collection of sheet metal and memories better known as Valley Mills Mantels. That is where Aubrey Stringer turns native Texas woods into handcrafted decorations for fireplaces.
Joanna Gaines, of "Fixer Upper" and Magnolia fame, occasionally drops by, as does a city police officer who enjoys woodworking, travelers from as far away as Washington state, and tree trimmers dropping cuttings with Stringer.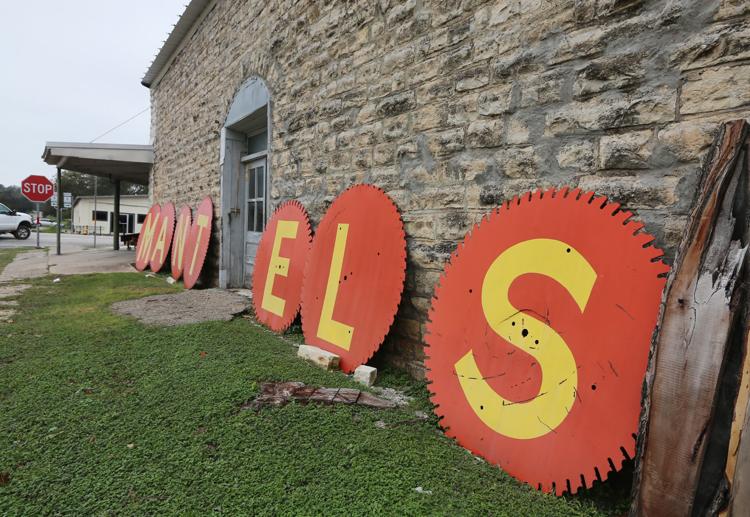 "We trade for Winchester guns," proclaims a sign inside the main building, a drafty place with high ceilings, a concrete floor, fresh coffee percolating and logs and product samples lying about. Outside can be heard the screaming of a saw blade cutting mesquite, cedar, walnut or pecan, guided by Mike Summers or Lukas McNair, employees who keep the establishment humming.
At first, Stringer is nowhere to be found, having made a run to the hardware store. The place seems deserted, but visitors should not be fooled.
"Welcome. We're here somewhere. Browse all you want, or for assistance, come to the rear shop," another sign stylishly painted by Summers states.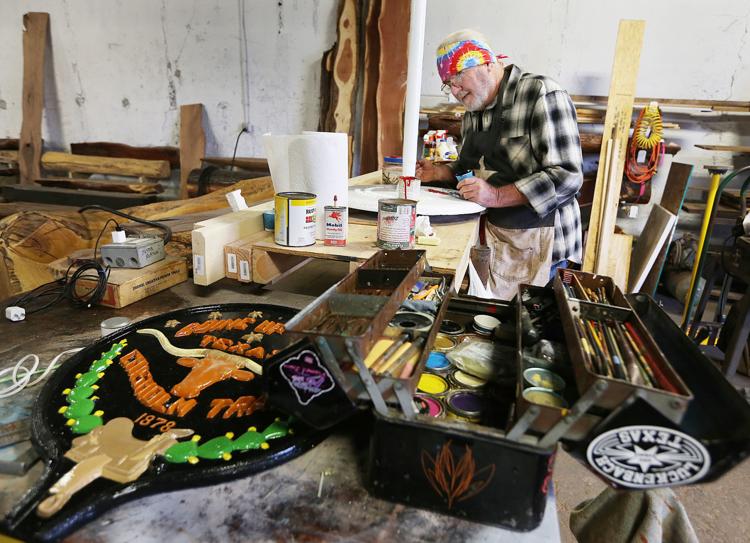 Stringer, 76, soon arrives, issues greetings and settles in to talk shop. He prices his mantels at $50 to $3,500, depending on size, detail involved and work hours. A would-be customer just passing through, possibly from out-of-town, may receive the three-person team's undivided attention.
"They can run a few errands, maybe visit the area or go eat lunch, and we can have a mantel ready when they get back," said Stringer, who also ships product and mentioned Alaska, Missouri and "both Carolinas" as recent destinations. Business has surged since his handiwork was featured twice on "Fixer Upper," he said. He reluctantly agrees to pose for "selfies" with customers who caught his act and are smitten with all things Gaines.
"I'm part of what I like to call the Magnolia trail," he said. "People want to visit the homes Chip and Joanna have redone, Jimmy Don Holmes' metalworking place toward Crawford, just follow the billboards, and then Harp," Clint and Kelly Harp's handmade furniture retailer, Harp Design Co. in Waco, whose creations were featured on HGTV's "Fixer Upper" and then on the Harps' own "Wood Work" spinoff show on the DIY Network.
"But I'm definitely not a celebrity," Stringer said, with emphasis.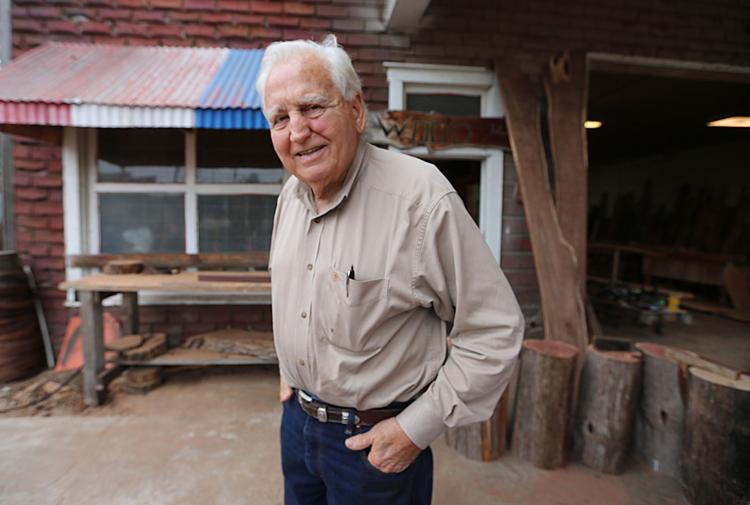 Stringer, who now lives in Woodway, graduated from Waco High School, studied business at Baylor University, and sold street-sweepers for Tymco before launching his own parking-lot striping service, which he sold to buy heavy equipment used to dig soil conservation lakes in Central Texas.
But woodworking and sawmills were always his first love, ever since he was a first-grader and spent a summer with his grandmother in the small East Texas town of Linden. He had the run of the place, he recalls, riding shotgun in a truck that delivered oil and diesel to mills in the area. He was so rambunctious, a rope was tied around him so he could not stray far from the vehicle during stops, he said. He grew to love the smell of oil and sawdust.
Fast forward to life as a seventh-grader at North Junior. His dad sold barbecue in the back of Crestwood Food Store, where young Aubrey made himself useful by counting soda pop bottles and selling minnows. At Waco High, he loved woodworking class and study hall, during which he received one-on-one exposure to power tools from instructor Fritz Linnstaedter.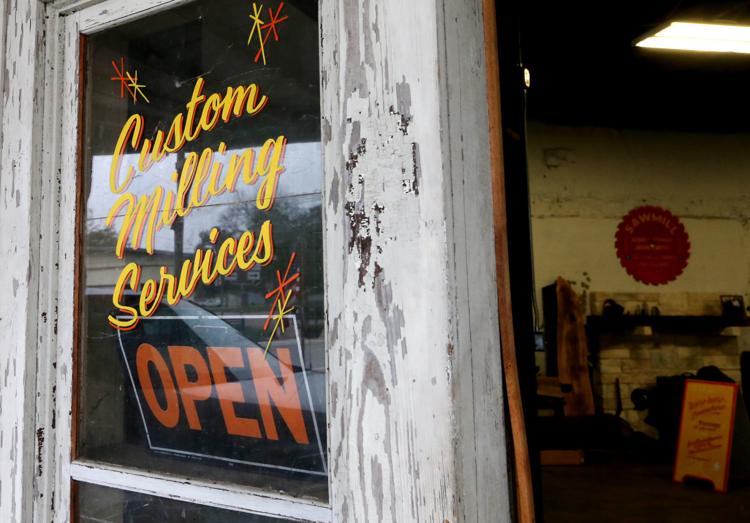 Then it was off to college and a career, but he continued to crave a shot at creativity with wood as his medium. He started making fireplace mantels about 12 years ago, sometimes displaying finished products at Darden Building Materials. Three years ago he set up shop in Valley Mills, taking over a 120-year-old rambling string of buildings with a past as a livery stable, blacksmith shop and garage for repairing farm implements on their last leg.
Stringer, relaxing in his self-described "Archie Bunker chair," discusses his house rules: His crew applies no stain to the wood unless the customer provides it. A customer may return a mantel three times without charge. Each return after that triggers a $100 fee. His crew uses no screws or glue, though epoxy sometimes is applied.
"The reason?" Stringer said. "Wood has a mind of its own. I don't want somebody saying, 'It cracked where it was glued.'"
He opens for business seven days a week, but only 1 to 4 p.m. Sundays, when folks should go to church and out to lunch before buying mantels, he said.
"My largest single customer bought 14 mantels for lodges he was building in the Hill Country," Stringer said. "He put seven in storage, and they burned up in a fire, so he bought seven more. A contractor in Florida called and asked if I could fill an order for a thousand mantels. I told him 250 was the most I could come up with at one time, and I would need cash up-front."
The would-be buyer balked, "which didn't disappoint me at all."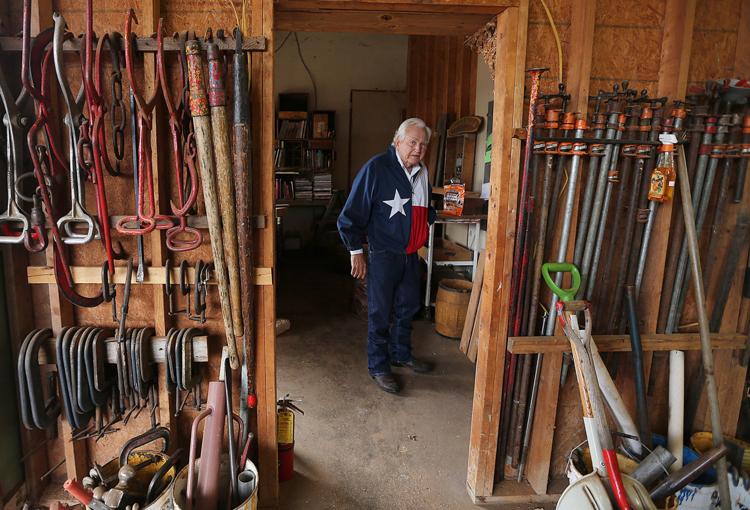 Mashed and mangled fingers are commonplace at sawmills, but Stringer said neither he nor his employees has suffered a catastrophic injury.
"The only accident I can recall is when I almost had a finger pulled off," he said. "I called a friend of mine, Dr. Ethridge, and asked him to meet me at the hospital. He suggested I come to his home instead. I did, and he sewed up my finger on his kitchen table. That's a true story."
That would be Dr. J. Kendall Ethridge, a retired orthopedic surgeon, who confirmed the recounting during a visit to Stringer's mill Thursday.
"His finger was ripped open," said Ethridge, who called himself Stringer's in-house surgeon and a member of the Aubrey Stringer Protection Society.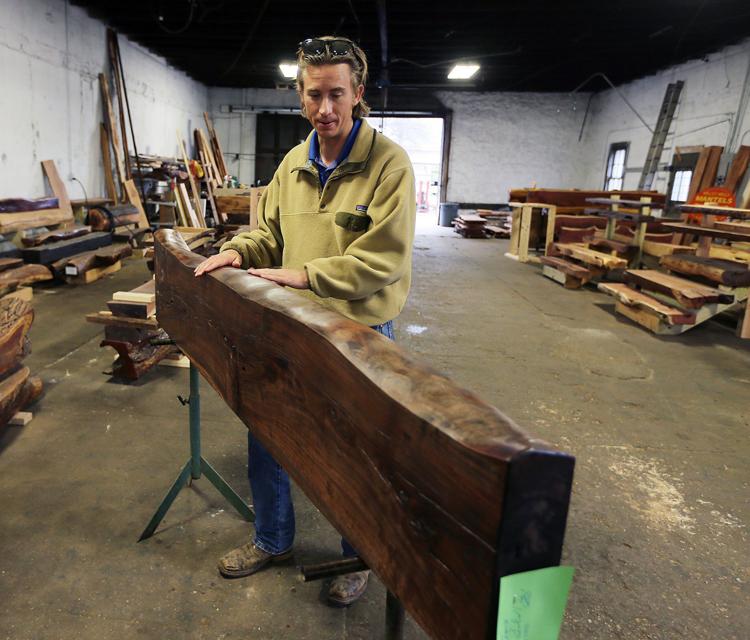 At 76, Stringer said he is gearing up, not winding down. He has big plans that revolve around a circular saw blade several feet across that will be powered by a 350-horsepower Cummins engine. This beastly combination lurks on a 70-acre site Stringer owns a short drive from downtown Valley Mills, through a green-and-gold gate, past pecan, hackberry and pine trees, accessible only by gravel roads and paths gouged by feral hogs. Stringer and a friend, Mike Smith, of Valley Mills, continue to tinker with the sawmill in the making.
"I bought most of what you see here over in East Texas for $450. It was a rust bucket with no motor, no blade," Stringer said, pointing out the new paint job, concrete base and parts that have been repaired or replaced.
"This will leave the circle-saw marks on the wood, which are like the signature of a sawmill," he said. "They are very popular."
Stringer said retirement has not even crossed his mind, though he recently underwent emergency surgery to remove his gall bladder.
He enjoys working with wood and meeting people. He's making a profit.
"I'll be here until I drop," he said. "I guess I need to build myself a casket, so they can just toss me in it and take me to Wilkirson-Hatch."