Robinson, a 62-year-old bedroom community of almost 10,500 people, has relied on Waco for a close-to-home downtown experience, but some city leaders hope to change that.
The idea of a downtown has long lingered in the minds of Robinson city leaders. Still, feasibility, cost, expectations and location have some wondering if it's possible to develop a town center to serve as a hub for community events, shopping and meetups.
But Mayor Bert Echterling has an idea.
During a recent city council meeting, Echterling and city staff presented a proposal to incentivize private development of a downtown by using a tax increment reinvestment zone. A portion of taxes collected in the designated area would be used as investment incentives for developments that meet predetermined criteria.
"We're just initiating the discussion to start the thought. Do we want to start a downtown? Do we want Robinson to have a downtown face?" Echterling said. "I've thought about it my whole career, being born and raised here."
Echterling said the preliminary idea still needs extensive discussion: What will the space look like? How large would it be? What will it contain? Where will it be?
One candidate for development as a town center is the city-owned block surrounding City Hall on West Lyndale Drive. Only a couple of areas of the block are privately owned, Echterling said.
Echterling said he would like to see a uniform layout and development for a mix of uses, including retail, restaurants, office space, city services and residential.
A tax increment reinvestment zone could be used to fund certain projects within the area, he said. The city could potentially sell land to developers to bring in attractions and recoup costs to build green space and walkways, he said.
"Right now, we have been and are a bedroom community," Echterling said. "Our park brings wonderful unity within the community and holds several events held throughout the year.
"As Waco gets larger, there's also an appeal for a small town community feel. We're definitely not going to compete with Waco's downtown, but we're not trying."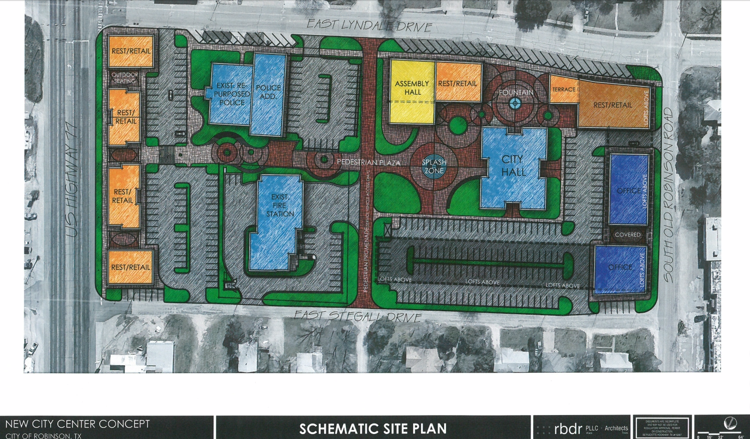 Downtowns often serve as a magnet to bring drivers off the highway and into a town to visit, Mayor Pro Tem Jim Mastergeorge said. There are plenty of heavily traveled roads in and around Robinson, but no main attraction to draw people off the highway and into the town, he said.
"There's never been enough emphasis on commercial or tourist attractions in this city," Mastergeorge said. "That's really set us back quite a bit."
He would love to see an evening coffee shop move in, or some place other than a gas station or doughnut shop for people to gather.
"Nobody stops for anything because there's nothing to do," he said.
Still, investing in a downtown would be a tough call, Mastergeorge said. There are many directions the project could go, and more discussion is needed, he said.
Robinson is at a disadvantage to cities with downtowns, including McGregor and Valley Mills, council member Vernon Leuschner said.
"I think we don't have that because of our close proximity to Waco. We didn't need one. Now we're suffering from that," Leuschner said.
The idea has potential, and while it could take 15 to 25 years to come to fruition, city leaders must start somewhere, he said.
Leuschner said he was surprised by the proposal when it came before council. However, if the project has the backing and oversight of Lemin, it could be successful, Leuschner said.
"If anyone can pull us out of the '80s it's him," Leuschner said. "That's where we are. We're stuck in the '80s. Ever since he's come on board, I think we're moving forward."