It may have taken more than 80 years but McGregor residents will finally get the shared community space they have long requested.
The city plans to spend about $2 million to redevelop a disused fertilizer and grain facility into the area's first community center, able to host a variety of events and hopefully drive economic development, city leaders said. Dubbed The Exchange, it will be at the former Top Crop Grain & Fertilizer property at 204 W. Fourth St.
"The city is doing some really good things right now, and this is one of them," said Kevin Houchin, a former McGregor Independent School District superintendent volunteering on the project. "One of our goals was to revitalize downtown, well this is right downtown. Our tourism and having visitors out here, well this is a reason to come to McGregor now, we'll have this great facility. And of course a place for our citizens to gather and do things from quiñceaneras and weddings and whatever may come."
The idea for a McGregor community center is nothing new, but it regained momentum recently, City Manager Kevin Evans said. City leaders even found documents showing a community center high on a list of residents' priorities from the 1930s, Evans said.
The McGregor Economic Development Corp., funded through a portion of the city's sales tax revenue, bought the 14,000-square-foot building sitting on about four acres for $300,000 after it sat vacant for about eight years, he said.
The city has a $2 million bond to pay for the extensive remodel needed, and the Economic Development Corp. will make payments to the city.
Major components of the building will be completely replaced, but the locally famous red doors off of Third Street will be salvaged and possibly displayed on the property, Evans said.
"My wife takes everybody's pictures in front of those red doors and I will tell you I have been ordered to make those red doors salvaged," he said. "We will salvage those red doors. We won't sell them. Probably every girl's senior picture in this town have been taken in front of those red doors in the last five years."
Construction will include adding air conditioning, restrooms, office space, a low, curtain-type ceiling to help with noise, a portable stage, a catering kitchen and panels that would allow for an easy way to divide the building into two spaces, among other amenities.
"It'll be top notch inside, lights, sound," Houchin said. "This has been a long time coming. We're real pleased with the city and the economic development corporation finding a way to get it done."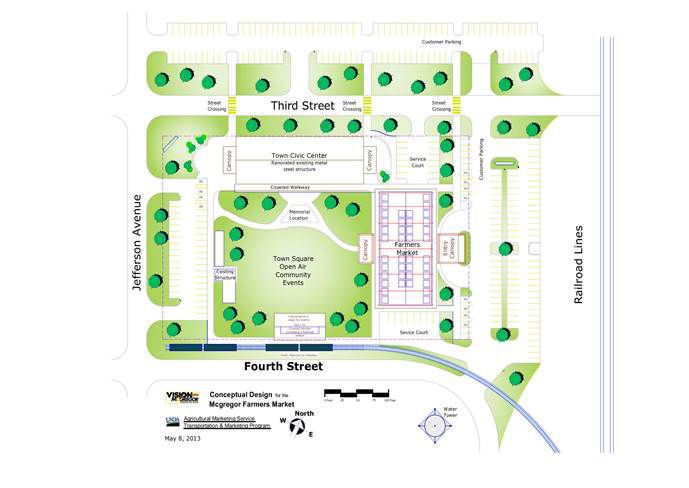 Residents have had to travel to Waco, Crawford or Gatesville for a venue to hold more than about 100 people, but the new community center will change that, McGregor Downtown Association President John Sneed said. It will also be a versatile space, capable of hosting a wedding one weekend and a tractor show the next, Sneed said.
Sneed said he expects weddings, wedding receptions, family reunions and quiñceaneras to be popular at The Exchange in the town 16 miles southwest of Waco on U.S. Highway 84.
The city's annual Founders' Day, which falls on Saturday this year, could also expanded a block to include the community center, he said.
Project backers are also hoping to start a regular farmers market or trade day that would draw people in and provide a boost to neighboring businesses, Sneed said.
"It will be an amenity that is attractive to the citizenry of the greater McGregor area, but those folks that do come that aren't normally there, are going to see other things in our community and they are going to spend money with other folks," he said.
The city is in the process of finding a contractor and hopes to have the center open by next summer, Evans said.