Stay informed on the rapidly changing news surrounding COVID-19 with our daily coronavirus email newsletter that will give you all the latest local and national information. Sign up here.
The Trib has dropped its paywall on all the coverage related to the coronavirus. Find all the coverage on our coronavirus latest page.
---
Waco has come to a near standstill with schools shut down, restaurants reduced to take-out orders, and a shelter-in-place edict keeping people home.
But exercise enthusiasts are doing anything but standing still.
Even amid the coronavirus outbreak, trails at Cameron Park and other city parks across Waco continue to remain open for people to hike, run and bike.
Though gyms and workout facilities are closed, people can still exercise on sidewalks and run and cycle along the open road, as long as they keep some space around them.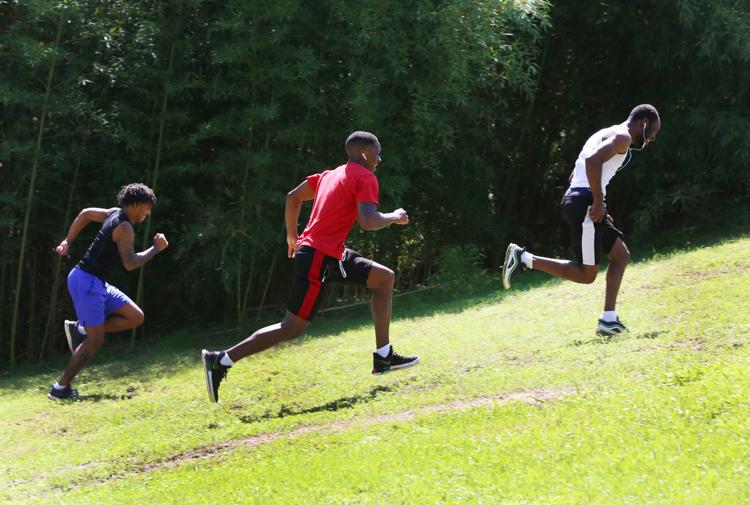 "Obviously being able to get outside and being in the sunshine is a great benefit physically and mentally to the health of the community," Waco Parks and Recreation Director Jonathan Cook said. "Getting exercise is of great importance. But with our shelter-in-place order, we have to do it very cautiously, and there are certain guidelines in place."
Waco Parks and Recreation for now is not allowing group events, including running and mountain biking competitions or social events like birthday parties.
But people are still allowed to use the trail system as long as they practice social distancing by standing 6 feet apart and being courteous to others along the trail.
"We still want to enjoy our great park system, but there can be no gatherings, and social distancing rules have to be adhered to," Cook said. "A lot of people want to get out on the trails and the riverwalk. But when you're on the trail, you need to let people know that you're coming through or going to pass them. Not only be mindful of yourself but also the overall community."
Cook said public restrooms have been closed in Waco parks, but families can still use playground equipment, which has been power washed to help offset contraction of the coronavirus. But he said people still need to be mindful to wash their hands thoroughly and use disinfectant wipes.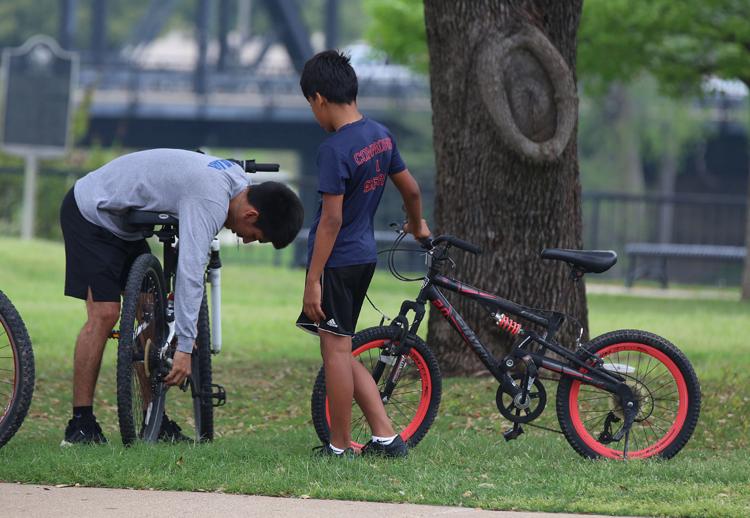 Local running and cycling groups have had to curtail their activities, but they still encourage people to keep exercising.
The Tonkawa Half and Quarter Marathon on April 11 in Crawford has been canceled, while Saturday's Gut Pak Run at Baylor University and the April 18 Run for Autism at Brazos Park East have been suspended indefinitely.
But the Waco Striders group has found a way to still hold its Down 'n' Dirty run April 4 at Cameron Park.
The group is encouraging people to sign up for the race at wacostriders.org and run the 2-mile or 5-mile courses at their own convenience any time from now until April 18. Runners can time themselves and submit their results to wacostriders.org, and T-shirts and medals will be awarded.
"It's all on the honor system," Waco Striders race director Mitch Deskins said. "We're not going to take blood or anything."
Deskins said Waco Striders is no longer organizing training runs on Mondays, Wednesdays and Saturdays to avoid group gatherings. But club members are still running on their own or with a few others.
"We encourage people to keep exercising," Deskins said. "We just don't encourage them to run in groups."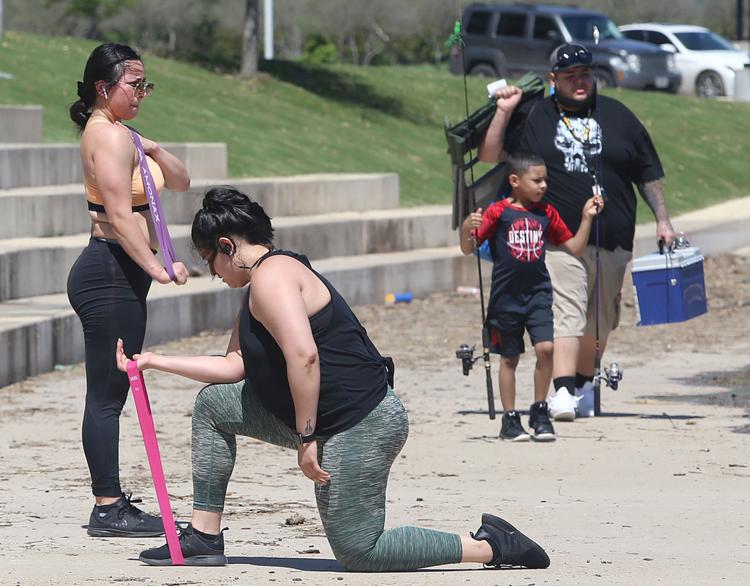 The Waco Triathlon Club has also suspended training, but club President Adam Lewis is hoping the Greater Waco Chamber of Commerce TriWaco Triathlon will still be held July 12.
"We're hoping that by mid-April the shelter-in-place order will be lifted so we can kick off our training program," Lewis said. "But for any beginner who wants to do TriWaco, I suggest getting out on the bike and do shorter rides to begin feeling comfortable on the bike."
The U.S. Army Corps of Engineers has closed all Lake Waco parks, including at the Lake Waco dam, until further notice. Boat ramps at Speegleville, Midway, Airport Park, Lacy Point and Koehne Park are open.
Trails and individual campsites at Mother Neff State Park remain open, but group facilities and the park headquarters are closed, according to a spokesman for the Texas Parks and Wildlife Department.
Cook said Cottonwood Creek Golf Course is still open to the public, but social distancing rules are in effect. Only one person can ride on a golf cart at a time, and there is more space required between golfers on the driving range. Cook said the restaurant and clubhouse have also been closed.
"We want people to get out and exercise," Cook said. "But we're making sure people realize the weight of the situation. We want to stop the spread of the virus and flatten the curve."
---
Photos: Today's top pics from the coronavirus outbreak
APTOPIX Virus Outbreak Japan
APTOPIX Virus Outbreak Japan
APTOPIX Switzerland Fruit Trees Freezing
APTOPIX Virus Outbreak Italy
APTOPIX Virus Outbreak Nepal
APTOPIX Virus Outbreak China
APTOPIX Virus Outbreak Switzerland
APTOPIX Virus Outbreak Germany
APTOPIX Virus Outbreak Bolivia
APTOPIX Virus Outbreak Pennsylvania
APTOPIX Venezuela Maduro
APTOPIX Virus Outbreak Empty Ballparks Baseball
APTOPIX Virus Outbreak Empty Ballparks Baseball
APTOPIX Virus Outbreak Mexico
APTOPIX Virus Outbreak Pennsylvania Daily Life
APTOPIX Virus Outbreak Mideast Iran
APTOPIX Virus Outbreak MLB Empty Ballparks Baseball
APTOPIX Virus Outbreak Mississippi Daily Life
APTOPIX Virus Outbreak South Africa
APTOPIX Japan Financial Markets
APTOPIX Virus Outbreak New York
APTOPIX Virus Outbreak Japan
APTOPIX Virus Outbreak Switzerland
-- HIDE VERTICAL GALLERY ASSET TITLES --