With a tip of the cap to Chip and Joanna Gaines, their Magnolia Market at the Silos and a stimulated economy, Waco officials announced this week the city leads the state with an 82.7 percent hotel occupancy rate.
Source Strategies Inc., which keeps track of hotel occupancy rates, reported Waco topped the list for the quarter that ended June 30, recording a 7.1 percent increase in Waco's hotel occupancy over the 75.6 percent reported from the same quarter last year.
Midland came in second at 77 percent, and the Austin-Round Rock area was third at 76.3 percent.
Waco's hotel occupancy has been in the top five cities in the state since 2016 but has never been No. 1, said Carla Pendergraft, director of marketing for the Waco Convention & Visitors Bureau.
In response to the high hotel demand, there are seven hotels with a total of 795 rooms either under construction or with a permit to build issued by the city of Waco, Pendergraft said. The hotels will be completed over the next several years, with the Hilton Garden Inn at 5800 Legend Lake Parkway expected to open in September.
There are 4,026 hotel rooms in Waco, the highest number Waco has had, despite the recent demolition of a La Quinta and an Executive Inn that are in the process of being replaced. Area hotels reported $86,544,429 in revenue last year, Pendergraft said.
Waco has become a tourist destination, thanks in no small part to Magnolia Market at the Silos, which attracts 33,665 visitors weekly, Pendergraft said. Baylor University, sporting events, conventions and corporate meetings also contribute to the high hotel occupancy rate, she said.
"Nobody can say the true effect the Gaineses have had on the market, but at 33,000 visitors a week to the Silos, they are clearly having a strong impact on the market," Pengergraft said. "Baylor is also a big driver in the market, and MCC and TSTC all generate a lot of overnight activity. Corporate meetings, sporting events, generally more economic activity are factors, but what is really different from years past is Magnolia and the increase in tourism is the new factor in the market."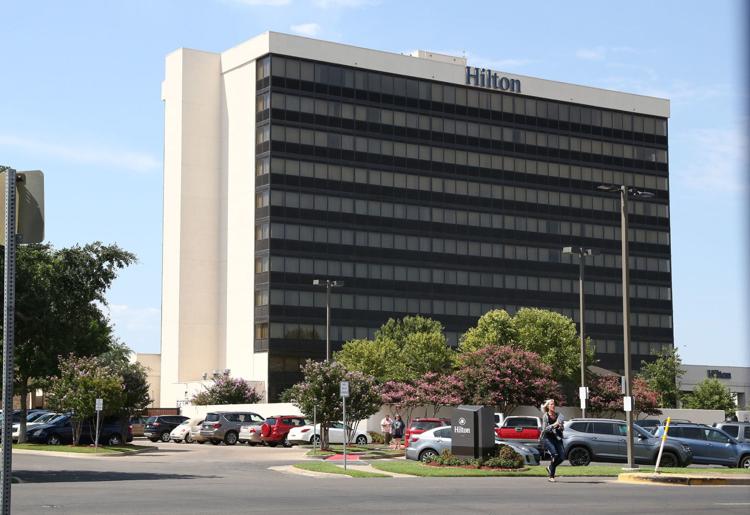 Justin Edwards, general manager of the Waco Hilton, said he sees the so-called "Magnolia effect" almost daily. He said there was a woman from England staying this week at the Hilton who came to town just to see the Silos.
"I think they have definitely made Waco cool," Edwards said, speaking of the Gaineses, who featured Waco and its sights on their "Fixer Upper" reality TV show.
Edwards said he is not surprised Waco is on top of the hotel occupancy list because of the positive turnaround in its image, which has prompted more tourists and a growth spurt.
"It has definitely been a strong growing year and it has been a good year for us," Edwards said. "But Waco has seen that cycle before where everyone is running high occupancy and a bunch of new permits come in and then the market is going to be increased by the significant increases in rooms. Now it is supply and demand and then it flips to too much supply. Speaking honestly as a hotelier, I am not too excited about all the new properties coming into town.
"Competition is good. It improves quality and service for everyone because we have to step up our game. But on the flip side, you have to make the demand for the rooms grow at the same rate or as fast as the supply in the market."
Besides the Hilton Garden Inn, La Quinta Del Sol is under construction at 911 S. 10th St., a Springhill Suites Waco is under construction at 115 Interstate 35, an Aloft Hotel is being built at 900 S. 11th St. and a Hyatt Place is under construction at 5400 Bagby Ave.
Also, permits have been issued for a Tru by Hilton at 2408 Marketplace Drive and for a Residence Inn at 2424 Marketplace Drive.