As McLennan County recorded 50 new COVID-19 cases Tuesday and the state's daily total surpassed 5,000 for the first time, the Waco City Council extended the mayor's order requiring masks in Waco businesses.
Waco Mayor Kyle Deaver signed an emergency order Friday calling for businesses to require face coverings for employees and customers. Woodway Mayor Jane Kittner issued a similar order that took effect Sunday, and Hewitt Mayor Charles Turner followed suit. The Waco order is now set to expire July 7, unless continued by the council.
Waco Code Enforcement will enforce the rule on a complaint basis and will issue warnings to businesses before citing them, said Ryan Holt, assistant city manager and police chief. If an unmasked customer becomes irate and refuses to leave, businesses can call Waco police for assistance, Holt said during Tuesday's city council meeting.
"We're looking for compliance from the businesses," Holt said. "Under the current declaration, if a person refuses to wear a mask … the business owners and property owners have the right to require the customers to do certain things."
Six people, including four health care professionals, submitted public comments in favor of the order. Thirteen individuals commented in opposition. The McLennan County Medical Society also submitted a comment in favor of the order.
Waco-McLennan County Public Health District Director Brenda Gray and infectious disease specialist Dr. Farley Verner presented an update about McLennan County's COVID-19 cases. Gray said the county saw a 1,600% increase in active cases from June 8 to June 22, and is currently averaging 30 new cases per day.
"We are like human atomizers," Verner said. "Definitely, when you cough or sneeze it's obvious droplets and aerosols are generated, but it also occurs with talking, and even more with singing or talking or cheering."
Verner said face coverings stop those droplets and aerosols from being projected, and discourage the wearers from touching their faces. He said while a cloth covering is less effective than a medical mask, they still prevent spread.
"They are not perfect by any means, but they do make a difference," Verner said.
Verner said people who contract COVID-19 become contagious before displaying symptoms, and about half of patients contract the disease from someone who was asymptomatic.
Gray said test results from more than 1,000 Sanderson Farms employees have not come in yet. She said the seven-day running average of the county's positivity rate reached its height of more than 8% in late March before falling to less than 1% early last month. Now, the average is again hovering at 8% or 9% of all tests coming back positive, she said.
According to Waco-McLennan County Public Health District figures, McLennan County has recorded 421 COVID-19 cases so far, with 243 of those cases still active. The county has seen 173 patients recover and five die.
13 in critical conditionThirteen people are hospitalized locally, all in critical condition, and the health district is monitoring 613 people. Forty-nine of local hospitals' intensive care unit beds are in use. However, hospital officials and health district spokesperson Kelly Craine have said the hospitals can readily convert other areas of the hospitals to ICU space if the need arises.
"They can expand their ICU capacity. They have options," Craine said.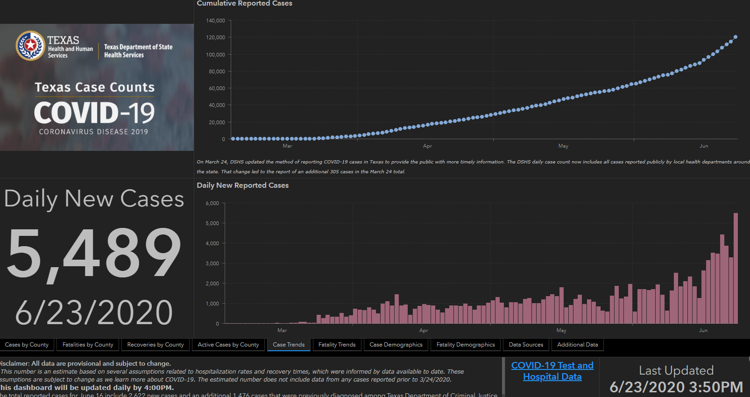 Texas broke a single-day record Tuesday with 5,489 new cases. Statewide, there are 47,436 active cases and have been 2,220 deaths.
"We are seeing this trend going up and up," Craine said. "COVID is here and it is spreading rapidly. Everyone is being more active now. They are going out more, visiting, shopping and other things. We can't really attribute this increase to one large event. Households are gathering. We are seeing clusters, and it is just those day-to-day activities where people are in contact with friends or co-workers and passing the virus."
Craine said she is aware of pushback against wearing masks. But Craine urges everyone to wear face coverings and suggests trying different styles or even bandanas if a particular style of mask is uncomfortable or particularly intrusive.
"There is some pushback," Craine said. "There was pushback when the smoking ordinance came to be. A lot of people were concerned that would hurt businesses, and it didn't. In the '80s, there was pushback on wearing seat belts. There are certain things that have been done to protect the entire community that caused some concerns, but it was recognized then and it is recognized now that these are protections that keep us all healthy."
Baylor, MCC, county
Baylor University and McLennan Community College officials also are requiring masks on their campuses.
McLennan County Judge Scott Felton said the county has been trying to schedule a meeting of the commissioners court to discuss the mask order, but a few commissioners are out of town. He said he will not issue a similar emergency executive order to require face coverings for the entire county without taking the pulse of the court first.
"With the orders in place between Waco, Hewitt and Woodway, that covers the majority of the businesses in the county, so they are covered under those orders," Felton said. "I think 62% or 63% of the county population and 80% of the businesses are covered. But we have a meeting scheduled for next Tuesday."
Felton said the record-setting number of new cases is concerning.
"I am disappointed that the numbers are going up," he said. "Some of it could be from opening up the economy and some of it is other things, like vacations, family celebrations for graduations, and a lot of other things. But obviously, people are paying attention to these numbers going up, and we know we all have to do a better job taking care of ourselves and others and staying healthy."
Businesses to enforce
The emergency orders direct business owners to enforce the rule and require employees and customers to wear a face covering when multiple people are in the same space or are engaged in an activity that makes maintaining 6 feet of separation unfeasible.
Waco's order goes further than Woodway's or Hewitt's, requiring anyone age 10 or older to wear a mask when in a public place where maintaining 6 feet of separation would be difficult. Homemade masks, scarfs, bandanas or handkerchiefs can serve as face coverings. No fine or enforcement mechanism is included for Waco's requirement to wear a mask in public places, and Woodway's order specifies that individuals will not be fined, just businesses owners.
Any business selling goods or services to the public within city limits must create and post a COVID-19 health and safety policy that includes a requirement for masks, by Wednesday in Waco and by Thursday in Woodway and Hewitt. Failure to post and enforce the policy can result in a fine of up to $1,000 per day of violation.
The orders all include an exception for eating or drinking at a restaurant or bar when patrons are maintaining 6 feet between groups. Waco's order for individuals also includes exceptions for physical activity outdoors, driving without anyone from another household, pumping gas, operating outdoor equipment or "when doing so poses a greater mental or physical health, safety, or security risk."
5 tips for wearing face masks in hot weather
Choose your material
Wearing a mask can be hot and make breathing feel more difficult. With that in mind, you'll want to make sure your mask is reasonably breathable to help both increase comfort and decrease the impulse to touch the mask to adjust it — which is a big no-no when out and about.
"You want a breathable fabric," says Nicole Jochym, a third-year medical student at Cooper Medical School at Rowan University who works with the Sew Face Masks Philadelphia organization. Her recommendation: Using a mask that is made from 100% cotton. According to the Centers for Disease Control and Prevention, good options include woven cotton sheets and T-shirt fabric.
While cotton isn't moisture-wicking, she says, it's more breathable than synthetic fabrics like polyester, and it could make masks more comfortable in the heat. Avoid filters, Jochym adds, because they are often made from synthetic materials, and can make masks hotter and harder to breathe through.
Check the fit
Your mask should be somewhat snug on your face, but you don't want it to be so tight that it's uncomfortable or difficult to breathe through. To solve that issue, says Carrie L. Kovarik, an associate professor of dermatology at the Hospital of the University of Pennsylvania, try out different masks, or use one that has adjustable ties.
"A tie mask probably would be better. Elastic straps can be irritating behind the ear," she says. "Don't put it on so tight that you can't breathe."
Jochym seconds that, saying that Sew Face Masks Philadelphia encourages using ties because they are adjustable. "Every face shape is different," she adds; ties have the potential for a better, more comfortable fit.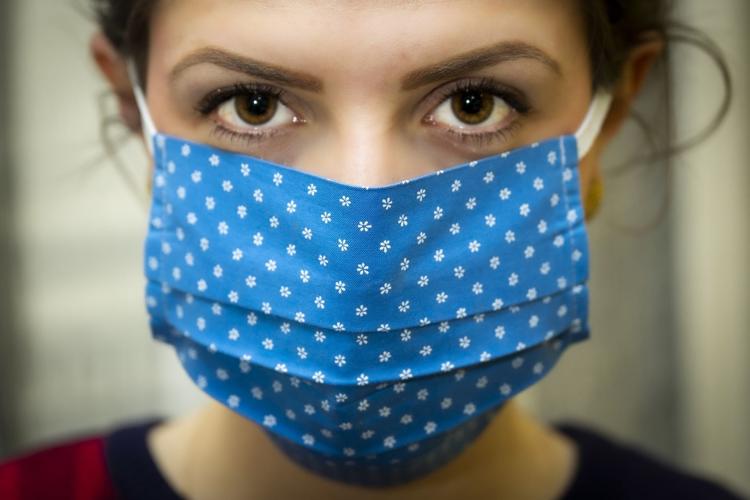 Bring extras
Cloth masks, the Pennsylvania Department of Health has noted, should not be worn when they become damp or wet, which could cause issues in the summer, when we're all sweating more heavily. Because cotton masks will absorb sweat when you wear them, Jochym says, it is important to have several clean ones available to use.
"In Philadelphia's hot and humid summers, it could be difficult to get around with just one," she says. "You have to be able to switch it out as it gets damp on the inside."
Kovarik adds that health-care workers are often advised to take a 15-minute break from wearing their mask every two hours to give their skin time to air out, which could mean using several masks per day. If you plan to swap your mask, she says, do it at home, or if that is not possible, in an area without other people. "You don't want to take it off in the middle of everything," she says.
And always follow proper mask removal techniques, including washing your hands and not touching the front of the mask.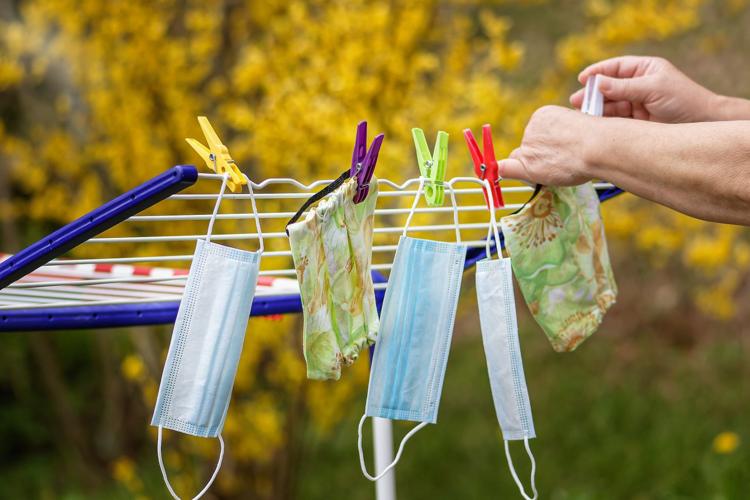 Limit how long you wear one
If hot weather makes wearing a mask uncomfortable, try to limit the amount of time you need to wear one. Masks, the CDC says, should be worn in "public settings where other social distancing measures are difficult to maintain," such as grocery stores and pharmacies.
"Think about when wearing a mask is necessary, and not wearing one when it is not needed," Kovarik says. You may not need one when driving alone in your car, or sitting solo on your porch — as long as you are maintaining proper social distancing.
To help keep your mask time to a minimum, Jochym says, try planning effective routes to your destination, or plan your trips around the number of masks that you have available. And do not wear your mask off your nose when out in public.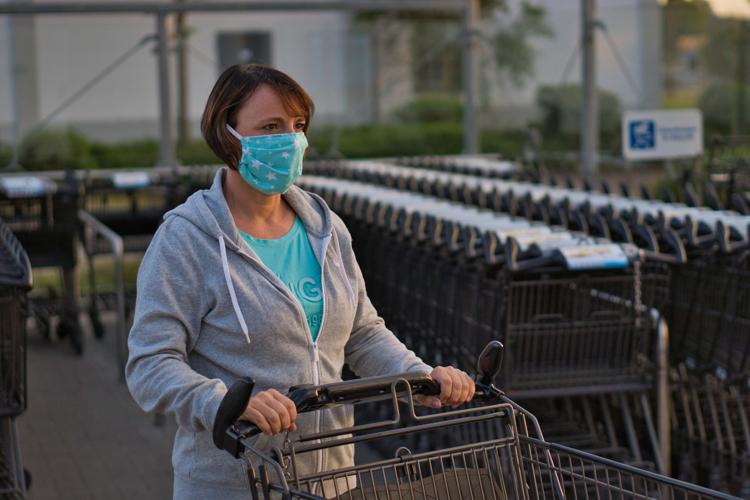 Take care of your skin
Hot summer weather can cause moisture to build up under a mask, which can irritate your skin (similar to a diaper rash) Kovarik says. That problem, however, may be less common for people wearing cloth masks compared to health-care workers wearing less-breathable surgical or N95 masks.
"In hot weather, you will have a lot of moisture under there, and the skin can break down a little more," she says. "Moisture from breath or heat builds up, and you can get a rash."
If your skin does become irritated due to using a mask, Kovarik recommends using a noncomedogenic (non-pore-blocking) moisturizer — and avoid products like petroleum jelly. Apply your preferred salve after wearing a mask to help repair skin.
Additionally, Kovarik recommends not wearing makeup under a mask, as it could further clog your pores.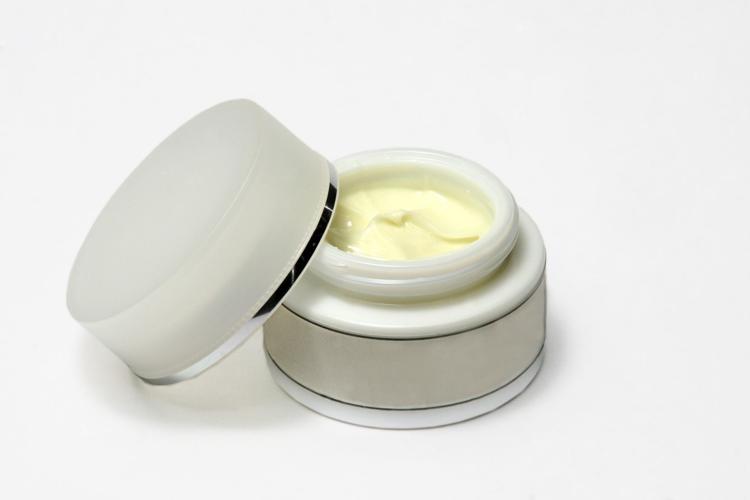 ___
©2020 The Philadelphia Inquirer
Visit The Philadelphia Inquirer at www.inquirer.com
Distributed by Tribune Content Agency, LLC.