More than 10,000 pounds of debris were hauled away Wednesday after police cleared at least four homeless camps behind McCoy's Building Supply on Franklin Avenue, continuing efforts to respond to crime complaints in the area.
Waco police have responded to an increase of calls, including property crimes and thefts, in West Waco, specifically around Walmart, 4320 Franklin Ave.
Authorities, including police and the McLennan County Sheriff's Office, worked with county jail inmate crews to clear thousands of pounds of debris from homeless camp sites littered with food packaging, furniture, clothing and liquor bottles. Other items included books, syringes, magazines, shoes, an empty photo album and a teapot hanging on a tree.
The operation follows a similar cleanup two weeks ago, when officers removed people camping in a wooded area on the other side of Walmart, near New Road and along Waco Creek and a railroad. Officers issued four citations to people for criminal trespass warnings in the earlier effort. The camps on Wednesday were vacant.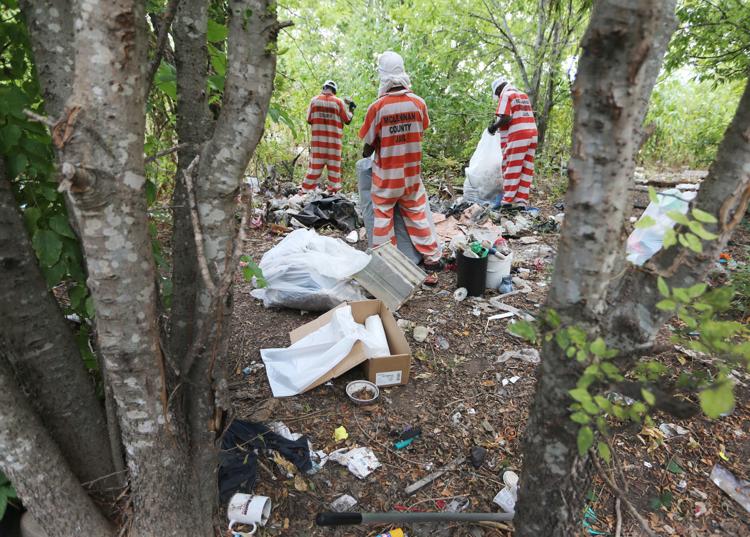 "We are responding to an increase in property crimes in this area," Waco police Sgt. John Allovio said. "Our crime analysis unit has looked at those statistics and has determined a large number of the property crimes are being driven by the homeless population. Management at this particular Walmart is very frustrated with shoplifting rates, also driven mostly by homeless folks."
Advance notice
Allovio started the effort earlier this month to begin dispersing the camps after giving residents advance notice and providing information on resources for the homeless.
"When we get ready to do one of these (efforts), we come in a week before and notify all the people that these camps are going to be removed," Allovio said. "I came in last week with another officer and people were (warned) off the private property then told to get their stuff because we were coming in to clear the private property."
The property is owned by Union Pacific railroad, police said. Officers said the camps created sanitary and public health issues, because of the trash and human waste in and around the camps.
McLennan County Sheriff's office authorities said trash weighing 10,000 pounds was taken to the landfill Wednesday afternoon following clean-up efforts.
Shaun Lee, chairman of the Heart of Texas Homeless Coalition, said he expects the removed campers to migrate to other places around Waco.
"Most people who are removed from these camps simply move to other camps," said Lee, a local MHMR program manager. "Sadly, it's not just about the availability of resources. While it is true our community has homeless shelters, there are a number of reasons why someone may stay in a campsite instead."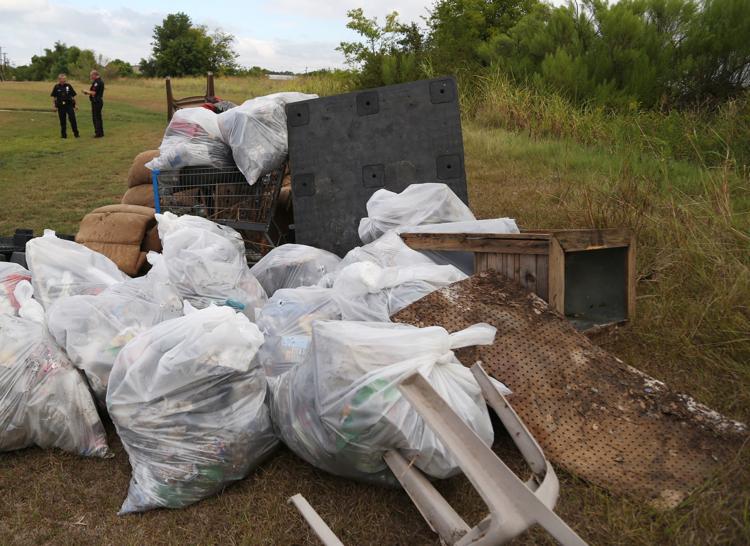 Waco police Sgt. W. Patrick Swanton and Allovio said the operation was necessary for the community's well-being.
"This is the second one we've done this month, and we've seen some comments from people saying 'Leave them alone. Who are they bothering, and they are homeless people that don't have anywhere else to go,'" Swanton said. "Those are not accurate statements. They do have somewhere to go. Waco has an abundance of resources for homeless communities to reach out to, places they can stay and places they can go.
"We would like people to remember that this is someone's backyard, basically. If you are in someone's backyard and leaving the conditions like were left here, you as a citizen would not want that."
Many struggle
Lee said many people who are homeless struggle with addiction, mental health issues or both. He said those issues often keep homeless people from staying in homeless shelters.
He said one opportunity for struggling homeless people is PATH, or Project for Assistance in Transition from Homelessness, operated by the Heart of Texas MHMR.
"This can be a slow process, especially with mental illness and substance abuse concerns," Lee said. "There are individuals who have been known for years by our outreach team and they still haven't been able to be successful with a path out of homelessness. Others are able to engage quickly and get back on their feet.
"Most fall in between, and setbacks like the clearing of the homeless camps are unfortunately part of their lives."