More than two dozen Waco Sculpture Zoo animals destined for riverside display still remain in wraps, but a possible public viewing by year's end is a step closer after federal officials recently approved their installation plans.
Federal Emergency Management Agency officials have approved the engineering plans for the foundations of the 29 animal sculptures planned for the Sculpture Zoo. That opens the way for the Waco City Council to put the foundation work up for bid later this summer with construction anticipated for early fall, nearly a year after organizers initially hoped.
The Sculpture Zoo, intended to mark the Cameron Park Zoo's 25th anniversary last year, started as an idea for five or six animal sculptures placed near the zoo. Donor response to artists' submitted designs, however, paid for all 29 submitted proposals — elephants, lions, giraffes, birds, apes, bats and more — after a fundraising challenge from Waco businessman Clifton Robinson and his wife Betsy.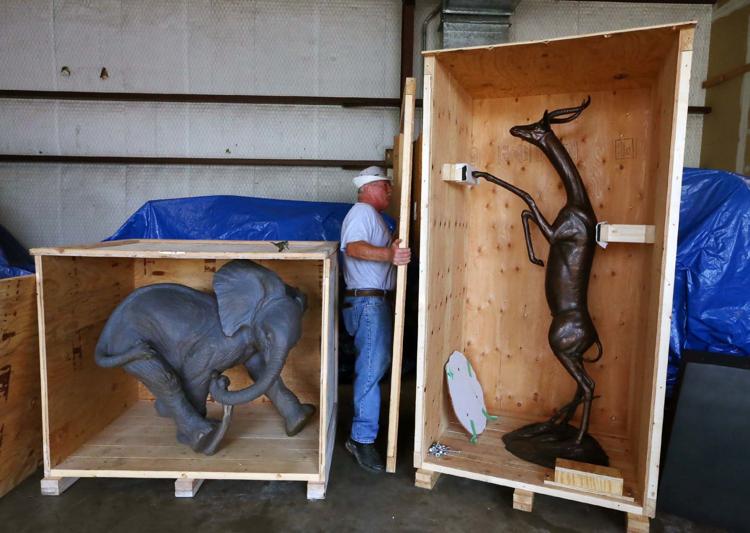 Expansion of the project beyond the zoo environs to areas along University Parks Drive and Washington Avenue put it in the Brazos River floodplain and subject to review by FEMA. Federal agency guidelines for construction in the floodplain required that the sculptures' bases be engineered to withstand a 100-year flood.
The first sculptures began arriving last October and were put in storage until their bases could be built and installed. A structural engineer then had to calculate the design of each base depending on the sculpture's size, weight, balance point and surrounding soil.
With FEMA approval of those designs, the project moves to the bidding stage. Prospective bidders will meet with city staffers and project leaders July 8 to go over the bidding details.
"It's been essential to spend time getting the details right," Creative Waco director Fiona Bond said in a statement. "Now we can be confident these sculptures will be standing for generations to come."
Creative Waco, a nonprofit arts organization, is coordinating the project, with Amanda Dyer as project manager.
Interim city parks director Jonathan Cook said he anticipates the city council could call for bids at its Aug. 20 meeting with bid approvals the next month and construction following later.
"We'll have art sculptures for Christmas," he said.