Activity is picking back up on McLennan County roadways now that businesses are reopening throughout the state, according to data distributed by the University of Maryland.
Vehicle traffic dropped off steeply in mid-March as the novel coronavirus led residents to keep to their homes as much as possible, and travel activity has been on the rise since bottoming out in early April, Waco Metropolitan Planning Organization Director Chris Evilia said. The university provided countywide travel statistics to him and other MPO officials throughout the country that show similar patterns across small, mid-size and large metro areas.
"I think if you had asked me back in the middle of March about the very sharp decrease in travel in response to the various shelter in place orders, I think we would have said 'Oh, that's more than we would expect at that time,'" Evilia said.
The data tracks changes in miles of vehicle travel, using the week of March 8 through March 14 as a baseline representation of "normal" for each metro area.
"For McLennan County at least, we were at 39.9 miles of travel per person," Evilia said. "Then we saw a very sharp dropoff that very next week, down below 30 miles per person. Then it bottomed out at the week of April 5 through 11, when we were down to 22.8 miles of travel per person."
Evilia said the dropoff represents a 43% decrease in the amount people were traveling, and the numbers include freight and deliveries. Another report from private logistic company INRIX found that freight volumes decreased about 13% nationally. Evilia said the decline was even sharper in Texas because activity in the gas and oil industry slowed.
"What was interesting is that right after that week, April 5 through 11, the amount of travel started increasing," Evilia said. "By the time we got to the beginning of May, we actually were back up to 28.7 miles of travel as opposed to 22.8."
As of last week, McLennan County is back to 30.1 miles of travel.
"Some of these increases were before there was any official action to reopen parts of the economy. Those came right around the first of May," Evilia said. "There are two parts to that equation. First of all, I think it speaks to how difficult it really is to socially isolate, especially for a long period of time. Let's face it, freedom of mobility is hard-coded into our nation's DNA."
On the other hand, he said the modest increase demonstrates that most people made an earnest effort to stay home and take the threat seriously, something most of the areas in the survey mirrored.
"In comparison to other metropolitan areas, it's remarkable how similar these curves are," Evilia said.
He said summer is still a slow time for McLennan County, and travel miles tend to decrease as local colleges empty out, but its impossible to predict what summer will look like this year. Over the next year, the MPO will try to figure out what changes in travel and behavior will become permanent and how those changes will affect the organization's various transportation projects.
"What happens with brick and mortar retail? What happens with telecommuting in the long term?" Evilia said. "If there is a big shift … there could be a change in traffic patterns and even traffic volumes in certain parts of our community."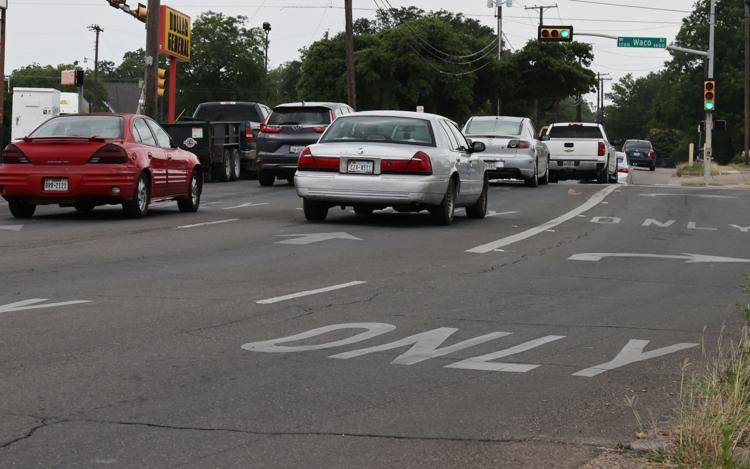 Cellphone data has its limitations, but can be used to track the movements of individuals rather than cars. According to community mobility reports published by Google, McLennan County residents' movement has been markedly less than baseline levels. Only grocery stores and pharmacies had returned to baseline levels as of May 16 after plunging by 40% the week of April 11. Movement around workplaces decreased by 40% by April 4, but was back up to just 20% below the baseline as of May 16. The data lumps retail and recreation into the same category, down 28% from the baseline as of May 16.
Waco Public Works Capital Program Manager Jim Reed said the city took advantage of the lull in car traffic to knock out street and utility work in areas that would usually stay busy throughout the day. He said traffic has steadily picked up in the past few weeks but has still not reached pre-pandemic levels.
"We've seen a turn in the last three weeks, where traffic on the major corridors like Franklin and Waco Drive, Fourth and Fifth, we see the concentration picking up," Reed said.
It's more of a return to normal for his staff, who are used to working under conditions with more traffic.
"They're used to the traffic, but it was refreshing for a spell to be able to work in an environment where you aren't looking over your shoulder all the time," Reed said.
---
Waco reopens for business: Scenes around town on May 1