The future of a nearly finished nonprofit grocery store in East Waco is now in question after a disagreement with city officials about a set of doors.
Rapoport Academy founder Nancy Grayson is developing Elm Avenue Market in an old building at 700 Elm Ave. and has received a pledge of $97,946 from the Tax Increment Financing Zone to make improvements.
In June, Grayson asked the TIF board to repurpose $22,011 of that money, designating it for exterior building renovations instead of sidewalk and parking improvements.
The board recommended approval, but Grayson said she was caught off guard when she discovered the amendment hinged on removing roll-down metal doors she had already installed on the building to secure its porch area when the business is closed. She said she found out about the requirement at last Tuesday's Waco City Council meeting.
"It was like a ramming rod that day," Grayson said.
The staff recommendation, including the removal of the doors, was included in the publicly available agenda packet for the June 20 TIF board meeting.
The council last Tuesday approved the TIF recommendation on first reading, including the staff recommendation against the doors, and will take its final vote Aug. 6.
At last week's meeting, District 1 Councilwoman Andrea Barefield said the doors pose a problem because area residents have repeatedly voiced distaste for roll-down metal doors, bars on windows and other overt security measures, either bringing it up in passing or through groups including the Northeast Riverside Neighborhood Association.
"We understand there are several business that have been in existence for a very long time that have bars and things, but as new businesses open, the community has stated a preference that those are not welcoming and inviting," Barefield said.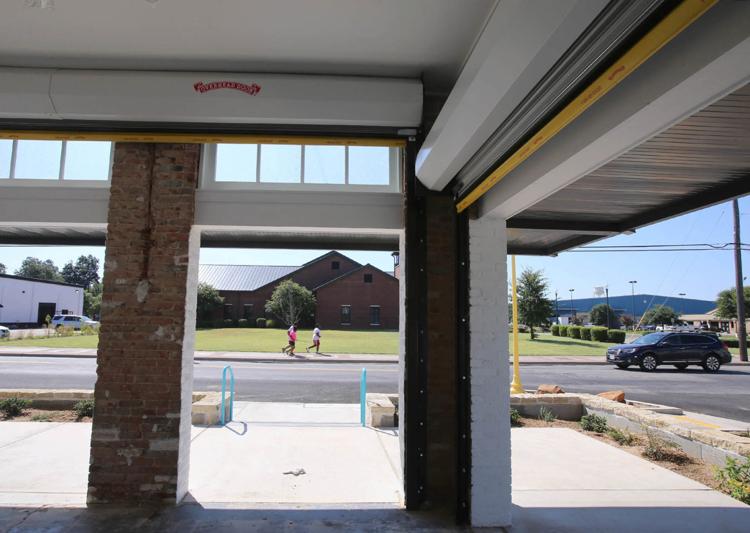 Several existing structures have similar roll-down doors, and many buildings still have barred windows.
City Center Waco Executive Director Megan Henderson said the doors would violate the rules the council has set for the downtown overlay district, which includes Elm Avenue. The overlay includes a glazing requirement, mandating a certain percentage of a street-facing storefront be glass.
"It's the same as boarding up a window," Henderson said of the roll-down doors. "That basically creates the impression that this is an unsafe area. The crime data do not bear that out, and people's lived experiences do not bear that out."
Henderson said replacing the metal doors with glass doors would be more in keeping with the downtown overlay.
Grayson said the metal doors were included in the schematics for the initial TIF application. She submitted the budget amendment request in February, after the city had updated the sidewalks surrounding the building and construction on the structure had uncovered original transom windows that would require restoration.
"Our goal became making it more historically accurate," Grayson said.
She said the doors would be used to protect furniture, displays and produce at night, and the market was always intended to serve as a place for neighbors to visit and spend time on the building's patio.
"I can't not have a way to secure that at night," Grayson said. "I'm not in a position to move watermelons in and out of the building. It's logistics, it's community spirit, it's all of those things that help support a local grocery that's community-centric."
City Economic Development Director Melett Harrison said Grayson can still receive the TIF funding amendment if she replaces the doors or agrees not to use them on a regular basis.
"She could remove the amendment," Harrison said. "The original was approved, but the amendment would require non-use or she loses it all. If she wants that additional $22,011, it comes with the attached strings on those doors."
Grayson said the project would be impossible without TIF funding.
"We're just a couple who cared about a nonprofit grocery for a food desert," Grayson said. "It's not an endeavor we'll make any money from, it's simply to have the neighborhood have equitable access."
Barefield said the Elm Avenue neighborhood has been in need of a grocery store for years, and the issue came up frequently when she worked at City Center Waco.
"It was, I believe, one of the larger TIF recipients of its kind," Barefield said. "Clearly, it's something we believe in and want to see."
Grayson said she still has not decided how she will proceed.
"I'm wrestling with the integrity issues for myself and what's the right thing to do, given the lack of city support," Grayson said.