The McLennan County Archives Building at Ninth Street and Washington Avenue stands as a monument to old paper. It is aged, drafty, has a roof that needs replacing and once held so many documents past their prime that the county hired a commercial shredding company to reduce the backlog.
But it serves a purpose in McLennan County commissioners' juggling act to find space for paperwork, staffers and vehicles in need of repair — all while continuing to lease back part of the Grand Karem Shrine building at 701 Washington Ave. that the county sold last year to Magnolia's Chip and Joanna Gaines.
Work is ongoing to move other county offices into the County Archives Building, and renovations are planned to extend its useful life keeping county records safe.
Add to that mix finding uses for the old five-story jail downtown, which has not held prisoners since 2010. Commissioners voted Tuesday to cover expenses for Pittsburgh-based IKM Inc., an architectural firm, to send a two-person team to Waco to tour the jail and discuss the firm's qualifications. The trip would cost no more than $2,000, according to a letter presented to commissioners and signed by IKM's Roger Hartung, who said any future work for the county on this project would be separately billed.
Precinct 1 Commissioner Kelly Snell voted against paying the expenses.
Vehicle service center
Commissioners also instructed facilities manager T.J. Jackson to proceed with his recommendation the county create a new vehicle service center on State Highway 6 instead of further considering placing it in an existing building behind the former Red Cross blood center on Cobbs Drive that the county now owns.
Jackson said the switch could reduce the total cost from $800,000 to $400,000 at most, requiring only the installation of a vehicle maintenance shop, vehicle lifts, overhead doors, oil drums and office space.
The Cobbs Drive building "is only a shell," with no sprinkler system and no current connection to water or sewer service, he said.
The county's existing garage is near the Grand Karem Shrine building downtown, and also now belongs to Chip and Joanna Gaines, who bought it about a year ago for $500,000. The county continues to lease the space until a replacement is found, paying about $4,000 a month.
Commissioners earlier this year considered building a new archives building next to the Jack Harwell Detention Center on State Highway 6, specifically an 84,000-square-foot, one-story structure with an interior mainly containing rolling storage and rack storage. It agreed to pay Langerman Foster Engineering Company $19,700 to examine soil conditions on a four-acre county-owned site near there to determine suitability for construction.
But that option is off the table, at least for now, county officials said.
"That was going to be fairly expensive, so we decided to really investigate better utilizing the facility we had," County Judge Scott Felton said Tuesday.
That would be the McLennan County Archives Building at Ninth Street and Washington Avenue. It was built in 1916 for the Texas Telephone Company, purchased in 1928 by Southwestern Bell Telephone Co., which in the 1950s built a two-story addition, according to the county website. The county bought the building in 1994 for $5,000, at a time County Judge Jim Lewis and commissioners were pursuing extra space to meet future county needs, county Administrator Dustin Chapman said.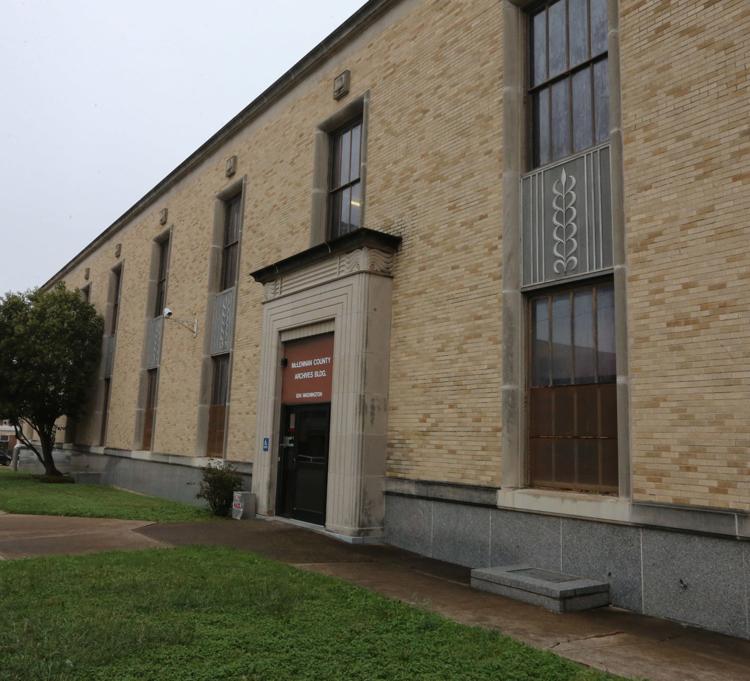 The archives building was appraised at almost $1.28 million last year, according to the McLennan County Appraisal District. Older buildings downtown continue to increase in value as development downtown has blossomed.
'Moving parts'
Jackson, who oversees facilities maintenance for the county, told commissioners Tuesday construction is progressing well on the archives building's first floor. It will become home to indigent health services, which is relocating from the 53,000-square-foot Grand Karem Shrine building. The Gaineses recently announced plans to turn the Grand Karem Shrine building into a hotel.
"Magnolia has been great to work with," Chapman said when asked about the Gaineses' response to the repeated county lease extensions.
"There have been a lot of moving parts, but we are making progress," Chapman said.
The county is relocating the Texas Agrilife Extension Service, now at 420 N. Sixth St., to Cobbs Drive, while shifting family court from Grand Karem Shrine to the space Texas Agrilife Extension is departing.
Removing family court and indigent health from Grand Karem Shrine will clear the building of current users. But the county's human resources department will move into the space temporarily during its own construction project.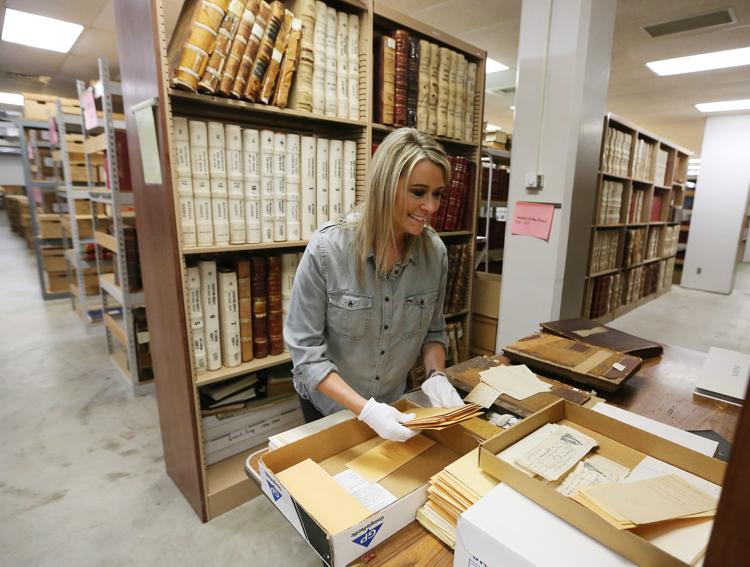 The human resources department's need to use the space led commissioners to approve another lease extension for the Grand Karem Shrine building Tuesday. This extension lasts through March.
Jackson said the County Archives Building should serve the county well at least five more years. It will need a new roof and a heating, ventilation and air conditioning system with humidity controls to preserve the documents.
"We now have a chill-water system there, and parts of the building have no heating capacity," Jackson said. "We are in the process of preparing bid documents for an HVAC system and for a new roof for archives and for a couple of other buildings, and we will soon go out for bids."
He said improvements made to the archives building now should improve the market value of the structure should the county decide to sell it.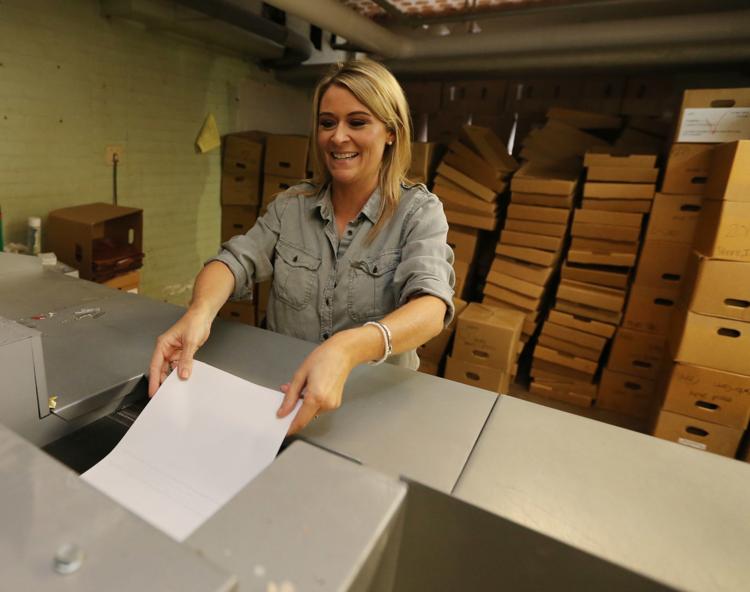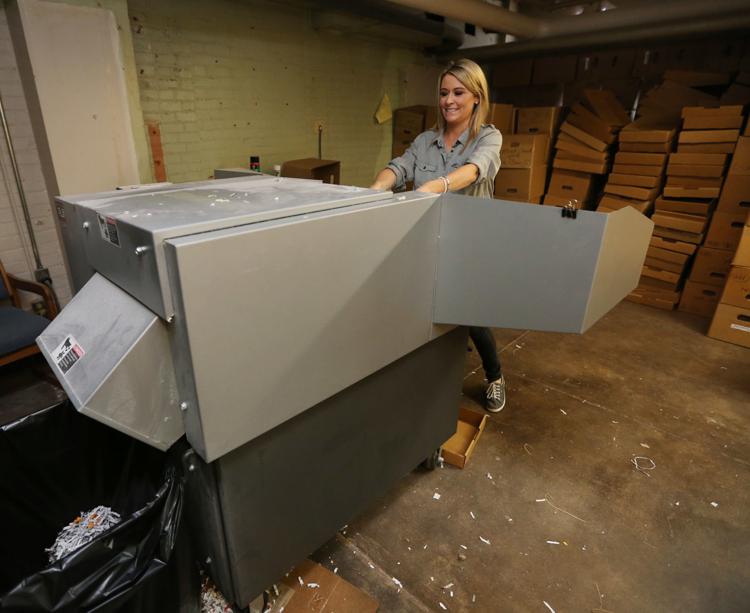 Claire McDaniels, who supervises the archives program, said demand for shredding overwhelmed the department's part-time staffer and the small shredder on-site. She secured the services of RW Lone Star Security to get over the shredding hump, paying it $3,622, McLennan County Auditor Frances Bartlett said in an email response to questions.
"We hang onto documents as long as the law mandates, and the time varies with each department," McDaniels said. "We also have historical documents that we must keep indefinitely, giving consideration to storing conditions such as light and humidity. They are placed in specific folders."
Viewable materials at the archives building include sheriff and constable records dating to the late 1800s and tax maps going back almost 30 years.