When Tim Vaugh first got into recycling business in the 1990s, it was on the upswing.
China was buying massive quantities of unsorted materials in bulk, and sorting them overseas. The demand, and the price, for recyclable material was strong. Vaugh's company, Waco-based Sunbright Recycling, sold about 20 percent of its material in Asia, primarily China.
Then came China's National Sword policy, drastically limiting the recyclables China would accept and bringing domestic prices down.
"When the world's largest country and second-largest economy exits a market, it will naturally be very negatively felt by all players," Vaugh said. "Since then, pricing for all grades of scrap, paper, plastic and metals, have been driven to very low levels."
Recycling participation rates in Waco remain as high as ever, and for residents, the program has remained basically unchanged. Any local changes needed to address the market shift long-term remain to be seen, but Vaugh said he would not be surprised if more onus were put on residents to be diligent in what they put in their recycling bins.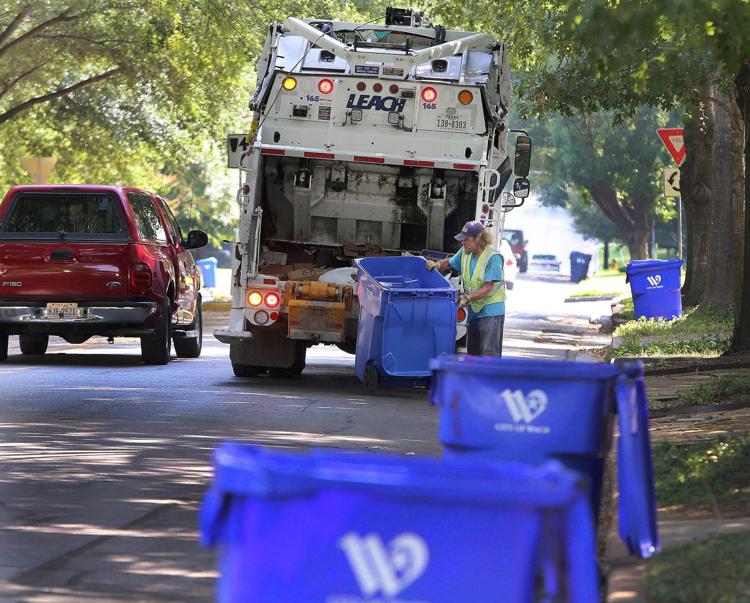 He said China's National Sword policy was "devastating," and changed the international market more or less overnight.
Since early last year, under the policy, China has banned many scrap materials and has not accepted others unless they meet an extremely strict contamination rate of 0.5%, according to the National Waste and Recycling Association. Previously, China had been the destination for about 40% of the United States' paper, plastics and other recyclables.
"The supply outweighs the demand," Vaugh said. "Bulky grades of recycling are being stockpiled."
Sunbright has an agreement with the city of Waco to sort recyclables collected as part of its curbside pickup program. The company then sells the material for a profit. Waco uses a single stream recycling model, which does not require users to sort recycling by type.
Vaugh said all of Waco's curbside plastic and metal is sold domestically, and about a third of Waco's fiber products are sold to Mexico. About 90% of Waco's commercial recycling is sold domestically, and the rest goes to Mexico.
Sunbright has limited the kinds of materials it can accept as paper and plastic companies have lowered prices in response to the glut of materials in the wake of National Sword.
"There's a disconnect," Vaugh said. "So many grades that could be recycled, can't be anymore."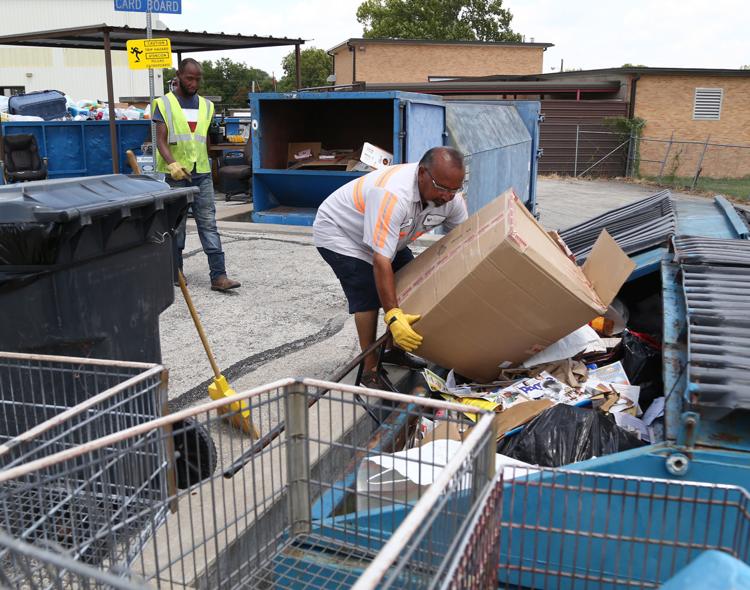 He said he predicts that, while recycling will not be as profitable as it once was, the market will stabilize within the next year as the price of paper and plastic increase along with the cost of trash services.
"The market won't spike as high as it did when China was involved, and that's probably good," Vaugh said.
Recycling participation
Waco Recycling Services Program Coordinator Anna Dunbar said Waco's curbside recycling program has not changed that much over the years. Participation hovers at about 50% of household solid waste customers, which is as high as it has ever been.
She said single stream recycling collected every other week is simple enough to be effective, and the real participation rate is likely higher, as voluntary forms of recycling are not tracked.
"I think over the last decade or so it's become more and more common," Dunbar said.
She said the key to high participation is keeping it uncomplicated. Single stream recycling, bins provided for no extra fee, home delivery and assistance for people with limited mobility have all contributed to participation.
Waco does not accept glass containers in its curbside recycling program but does accept glass dropped off by residents at its Cobbs Recycling Center, at 2021 N 44th St.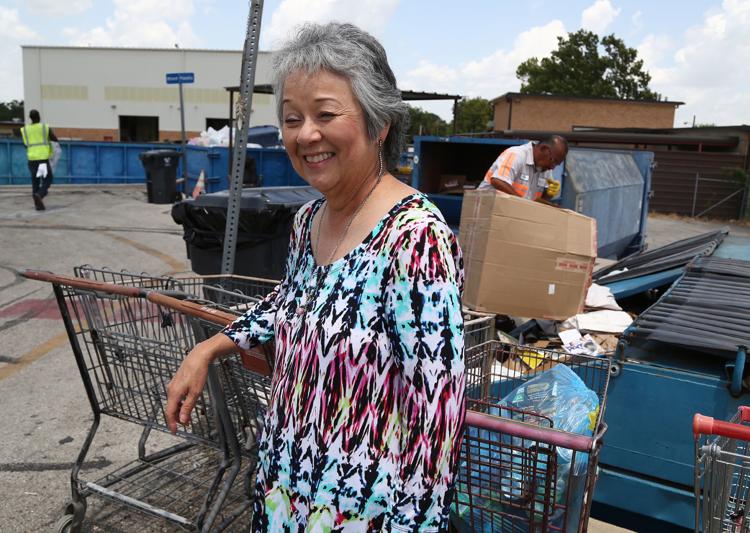 Hand sorting
Sunbright collects between 3,000 and 4,000 tons of recycling a year at an average of about 300 tons a month. It is able to use 70% to 80% of the material it gets. The rest, either refuse or unusable grades of recyclables, ends up in Waco's landfill.
Vaugh said materials like film, bags and small plastic food containers have to be pulled out and discarded and, as always, a fair amount of trash makes it into the recycling bins.
"We always get more trash than we should, but that's just part of the game," Vaugh said.
Materials like paper, cardboard, soda and water bottles, milk cartons, detergent containers aluminum and certain grades of plastics are all still acceptable, but Waco's recycling must be sorted by humans, a process that easily becomes costly and dangerous. Vaugh said in some cases, plastic containers with used needles inside end up in recycling bins, and have injured Sunbright employees on more than one occasion.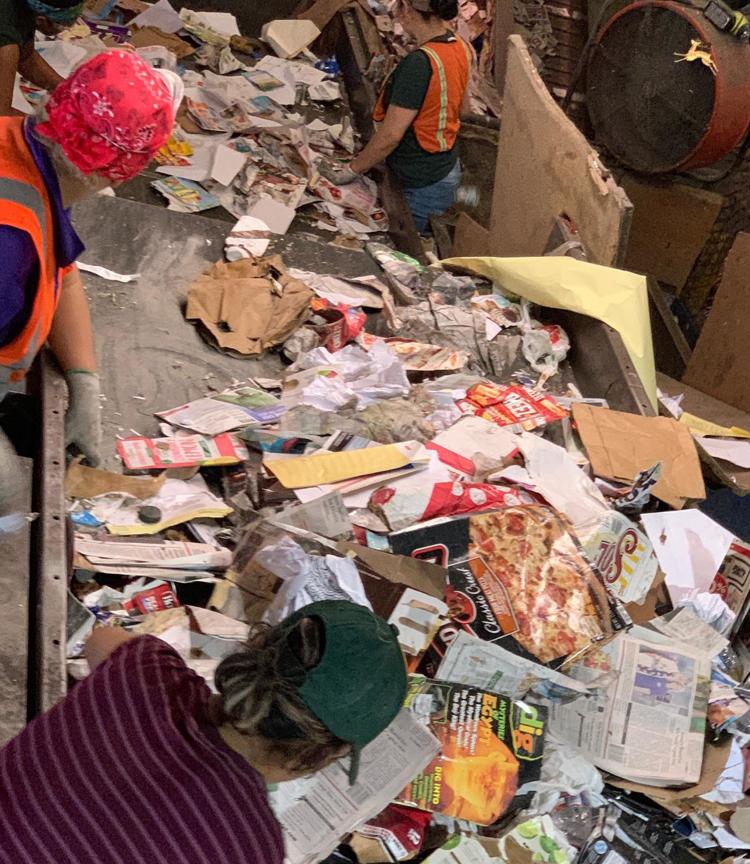 In other cases, perfectly safe and recyclable material ends up rejected because it is contaminated. Plastic bags, for example, could hypothetically be recycled, but they are problematic because of the random trash that often ends up inside of them. Removing receipts, loose change and trash is slow work, making it less profitable.
Vaugh said it is difficult to predict the industry's future, but he has some predictions nonetheless. He said dual stream, or pre-sorted recycling is likely, and there may be stricter guidelines for quality enforcement at the curb. Both would place more responsibility in the hands of the recycling public, requiring them to be more informed and proactive.
"I don't think it's going to hurt participation," Vaugh said. "I'm 60 years old. Our generation, we didn't recycle the way we do today, but the millennials were born with recycling."