Law enforcement stayed busy over the Fourth of July, confiscating at least $10,000 worth of illegal fireworks and assisting in at least three water rescue and drowning recovery efforts, authorities said.
Waco fire marshals patrolled neighborhoods Thursday and took possession of hundreds of illegal fireworks in a six-hour period. Fire Marshal Lt. Keith Guillory said fire crews and police teamed up in the department's annual effort to ensure public safety during the holiday.
"I'd say we have between $10,000 to $15,000, that's a pretty good number, for how much these fireworks are worth," Guillory said. "Our goal is to get compliance, so we don't have to worry about house fires due to fireworks and people getting injured or traumatic injuries from fireworks."
North Waco neighborhoods were one of the areas were fire marshals took the most fireworks away from residents, although patrols stayed busy from 6 p.m. to midnight throughout the city. This year, no house fires were reported due to fireworks, but firefighters did respond to dumpster fires that may have been connected to fireworks, Guillory said.
The city, fire and police departments ramped up educational messages throughout the city this year in hopes of decreasing the potential loss of property and injuries, he said. This year, because efforts were increased, more illegal fireworks were collected than last year, Guillory said.
"We send out a lot of information through (the city's channel), WCCC.TV, different media outlets, Facebook messages and the city ran their own campaigns through Facebook," he said. "Throughout our history in the city with fireworks, we need to keep putting that effort out there and do a better job so we can't say people aren't listening."
Waco police Sgt. W. Patrick Swanton said Waco officers had a busy holiday, but no significant calls or injuries were reported.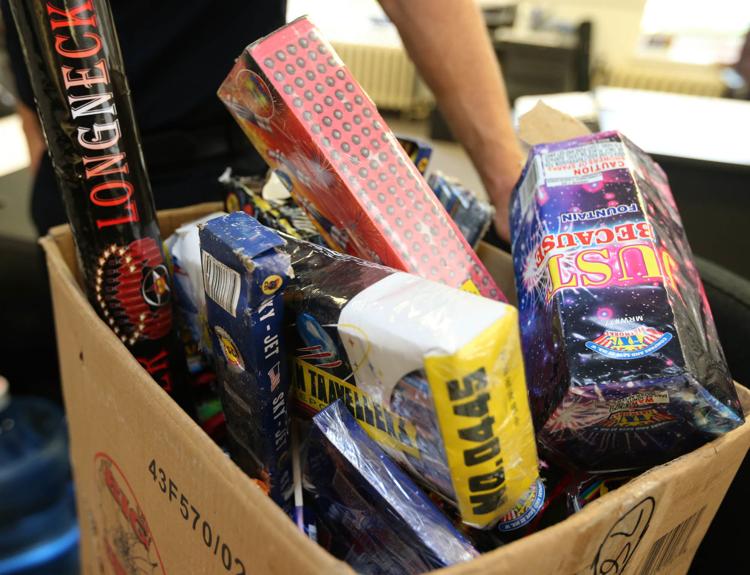 In addition to firework patrol, McLennan County Sheriff's Office deputies were busy during the holiday.
Deputies and Texas Game Wardens recovered the body of Louis Hajek, 39, of Gholson, from the river at about 4 p.m. Thursday, near Bosqueville. Sheriff Parnell McNamara said Hajek is believed to have drowned after he went missing in the river Wednesday night, near property he owns nearby.
Hajek had been missing since 10:30 p.m. Wednesday. His family called authorities at 7 a.m. Thursday to report he was missing, the sheriff said.
His family believed he may have fallen into the river because his property is adjacent to the east bank of the river, McNamara said.
Deputies also responded to BSR Cable Park around 10 p.m., when a 42-year-old man was pulled from the park's wave pool. McNamara said he was reportedly unresponsive when he was taken to Baylor Scott & White Hillcrest Medical Center for treatment.
The man remained on life-support, in critical condition Friday afternoon, Chief Deputy Kilcrease said. His name was not available for release.
From 9 p.m. Wednesday through the end of Thursday, deputies responded to 108 calls for service countywide, Capt. Chris Eubank said. Those calls, including priority calls, the recovery of Hajek's body and calls at BSR kept deputies busy for hours, he said.
"I'd say that is about double our average call amount," Eubank said. "We had deputies at calls and we had other calls holding, so we were running back-to-back calls most the time."
Another call included a missing persons call, after three females, ages 11, 27 and 30, went tubing on the North Bosque River in Bosque County on Thursday morning. The group was reported missing at 11 p.m., before they were located on the shore of the river, near Bone Road, in Valley Mills.
"Authorities had to 'ping' their phone and found that the group tried to make a call at about 8 p.m., and they were able to locate them based off that 'ping'," Kilcrease said. "They were on the water for about 12 hours and I don't know if they had any water with them or not, but they were located by volunteer firemen."
The status of the group was unknown Friday.
"During that same time frame, we worked a suicide, an attempted suicide, and several other priority calls," Kilcrease said. "It was a busy July 4th for us."
Authorities and first responders also were kept busy Friday morning, first at 2:30 a.m. with the fiery collision of two tractor-trailers that kept Interstate 35 closed for hours near Lorena, then by a two-car injury wreck on Interstate 35 that Texas Department of Public Safety officials blamed on driving while intoxicated.