A woman was arrested on a first-degree arson charge Monday afternoon after she was accused of intentionally setting a room afire at the Oak Lodge Motor Inn, Waco Fire Marshal Kevin Vranich said.
Catheyan Alexander, 57, was arrested at the downtown motel at 1024 Austin Ave., after fire crews responded to the blaze around 3:30 p.m. Flames were seen shooting out of a second-floor room, which was gutted along with its contents.
Engine 7 firefighters were the first to attack the fire from the second story, Waco fire Battalion Chief Don Yeager said. No one was found to be inside the room and the adjacent rooms were vacant.
Several fire marshals arrived at the lodge to interview and speak with residents.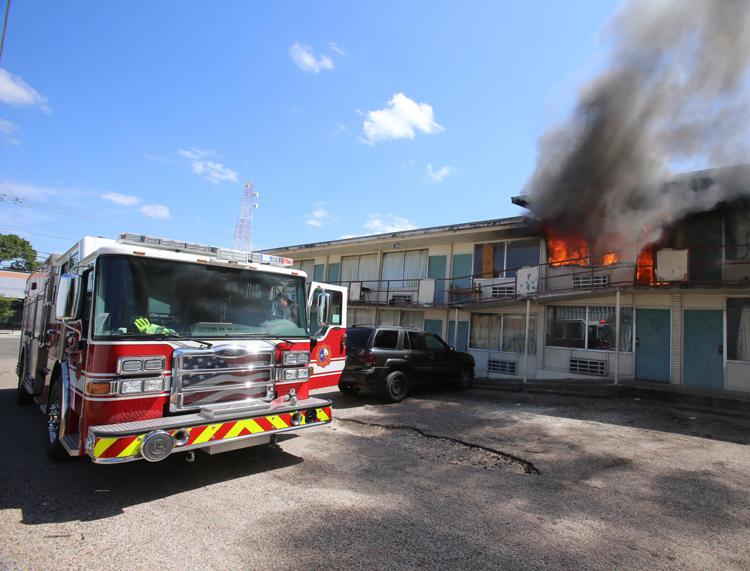 Police had previously given Alexander a criminal trespass warning to stay away from the motel. She spoke to fire investigators shortly after the fire.
Vranich said the building had security footage, and authorities believed Alexander was inside the room and intentionally set the room on fire.
The man who lived in the room was being assisted by the American Red Cross with his emergency needs. Management with the building said they believed they could reassign him a room in the near future.
Waco police arrived at the property at about 6 p.m., and took Alexander to McLennan County Jail on the arson charge. Police also issued her for violating that criminal trespass warning.
Bond information was not available Monday evening.