Brian Boyd lugged his camera down a grassy two-track lane Friday, hoping for one more glimpse of the couple he has made famous.
It was a little past noon, later than usual for the regular visits he makes to the bald eagles' nest at Lake Waco's Reynolds Creek Park. Past a field of bluebonnets and Indian paintbrush, the track veered toward a grove of trees along a creek.
"We're going to hit this road here, and we've got to be real quiet, because if she's on the nest she's going to fly," Boyd said to his guests, a newspaper reporter and a Lake Waco park ranger.
"That eagle already knows we're coming in," he said. "You can do all the camouflage you want, but they know."
Around the corner awaited a towering hackberry tree with its assemblage of sticks at the top, and in it two eagle chicks that were a week or two away from fledging. He was hopeful that the mother or father eagle would come into view, though sightings are never guaranteed.
"It seems like the last couple of days, we've been getting more action," he said. "The other day, they brought two fish in 45 minutes."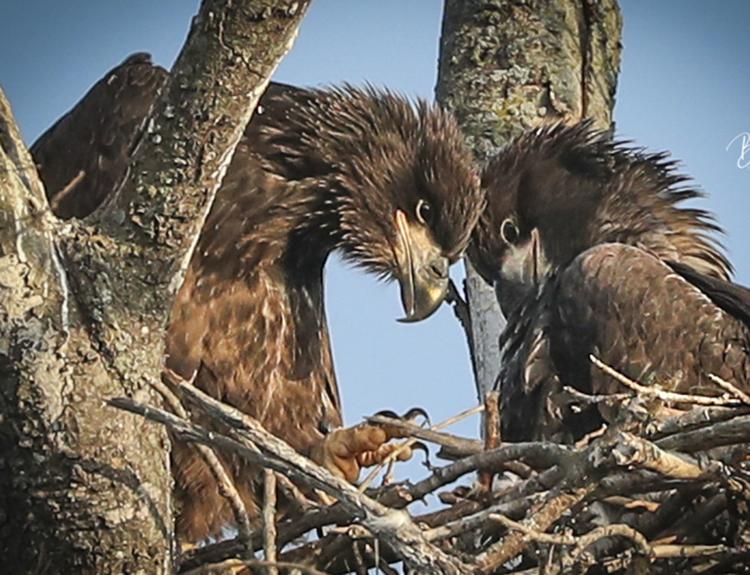 That pair of eagles has been nesting yearly at Lake Waco since 2009, and in each of those 10 years Boyd has documented their daily lives with tens of thousands of images, including some stunning photos he shares on social media and email lists. Since he retired as a State Farm insurance agent in late 2017, he has had even more time to photograph the eagles, and this time of year he is out at Reynolds Creek almost daily with his Canon 1DX and 100-400 mm lens.
It is a pursuit that takes patience. Some years he has logged 100 miles of walking and countless hours of waiting.
Now as he turned the bend, he saw two tripods set up on the road, with two photographers behind them. They were local insurance agents, fans of Boyd's photos, who had taken off work this fine April day to scope out the eagles.
They had their telephoto lenses trained on the two baby eagles, which would occasionally hop up out of the nest on a gust of wind and spread their wings.
As they talked, a fully grown bald eagle — the father, it seemed — arrived with a fish.
Boyd slipped down a poison ivy-lined path into the woods and found himself in a small clearing with another amateur photographer who was also there to watch the nest. He too recognized Boyd.
The feathered patriarch stared down fiercely at the spectators, and Boyd calmly snapped his daily round of photos.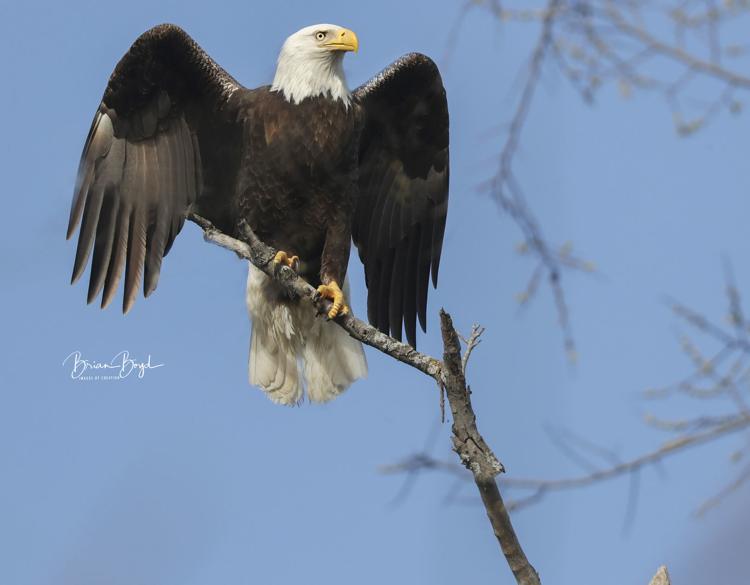 Michael Champagne, the U.S. Army Corps of Engineers park ranger who tagged along on the expedition Friday, said Boyd has done a great service to documenting and promoting wildlife at the lake, and Corps employees use his photos as screensavers on their computers.
Those photos have helped raise the visibility of Reynolds Creek Park, the wildest and most remote park on Lake Waco, and one that has been damaged by recent flooding. Between Reynolds Creek and the Lacy Point Access Area are 19 miles of trail developed by equestrian and cycling organizations, but the general public is less aware of it.
"It's been kind of tucked away, and a lot of people come to the park that's easiest to get to," Champagne said. "Reynolds Park is a hidden gem. I think it's a great park. It's quiet, with great fishing and a great day use area with access to trails."
He said visitors are welcome to watch the birds as long as they stay quiet and do not disrupt their nesting. The nest is along the southeast side of Reynolds Creek on the Paradise Trail, with trailhead parking available at the Reynolds Creek equestrian campground.
The success of the eagles at Lake Waco is an indicator of the comeback of the national bird in recent decades. Bald eagles were declared an endangered species in 1967 because of hunting and DDT pesticides, and in the early 1970s only a handful of breeding pairs were left in Texas. By the time bald eagles were delisted, more than 150 breeding pairs had been documented in Texas, mostly the eastern part of the state.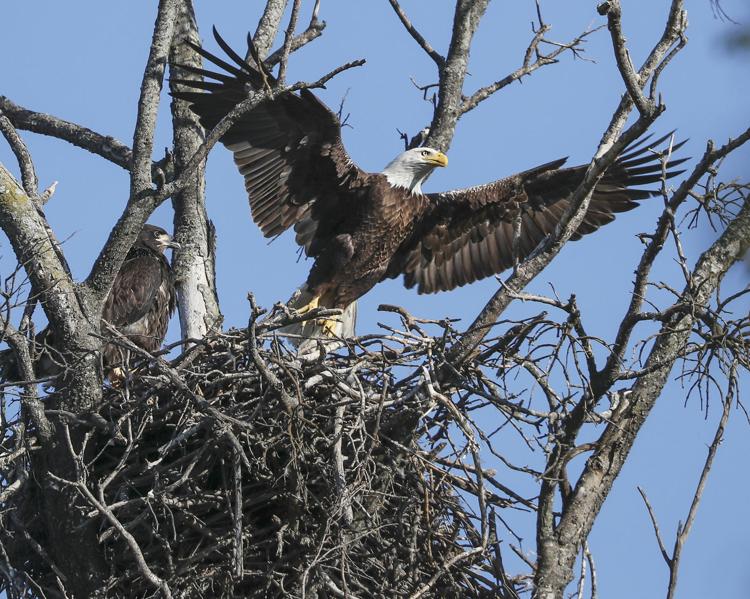 Boyd said since then, about a dozen pairs have taken to nesting in the Waco region, including the Reynolds Creek pair and others on nearby tributaries.
Eagles have long made Lake Waco a stop during their winter sojourn south to Texas, but the Reynolds Creek pair built their first nest in 2009 and have come back ever since. Most years they have fledged one or two eaglets. At least twice nests have been lost to windstorms, to Boyd's anguish, but the eagles keep rebuilding each year.
So far they have avoided the 40-foot steel structure that the local Audubon Society and the Corps built, preferring dead trees. For now they are in the dead top of a tall hackberry tree, which sways in the wind like a metronome.
"That tree may not make it the rest of the season," Boyd said Friday. "I hope the storm this weekend doesn't make it fall."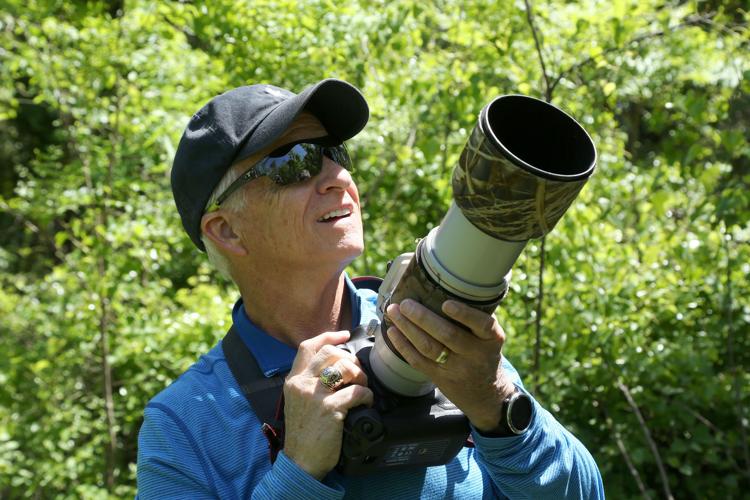 Boyd and Waco optometrist Spencer Moore were the first to document the nesting with high-quality photos, which they displayed in an Art Center Waco exhibition in 2010.
Boyd got his first single-lens reflex camera in the 1980s, when his children were born. He found that he enjoyed outdoor photography, and in the 2000s, when George W. Bush established his presidential retreat in Crawford, Boyd's connections allowed him to shoot photos at the ranch.
That era was winding down when he heard about the nesting pair at Lake Waco in early 2009. The first time he saw the eagles and their nest on a cold February day, it took his breath away.
"I thought, my word, I can't believe it," he said.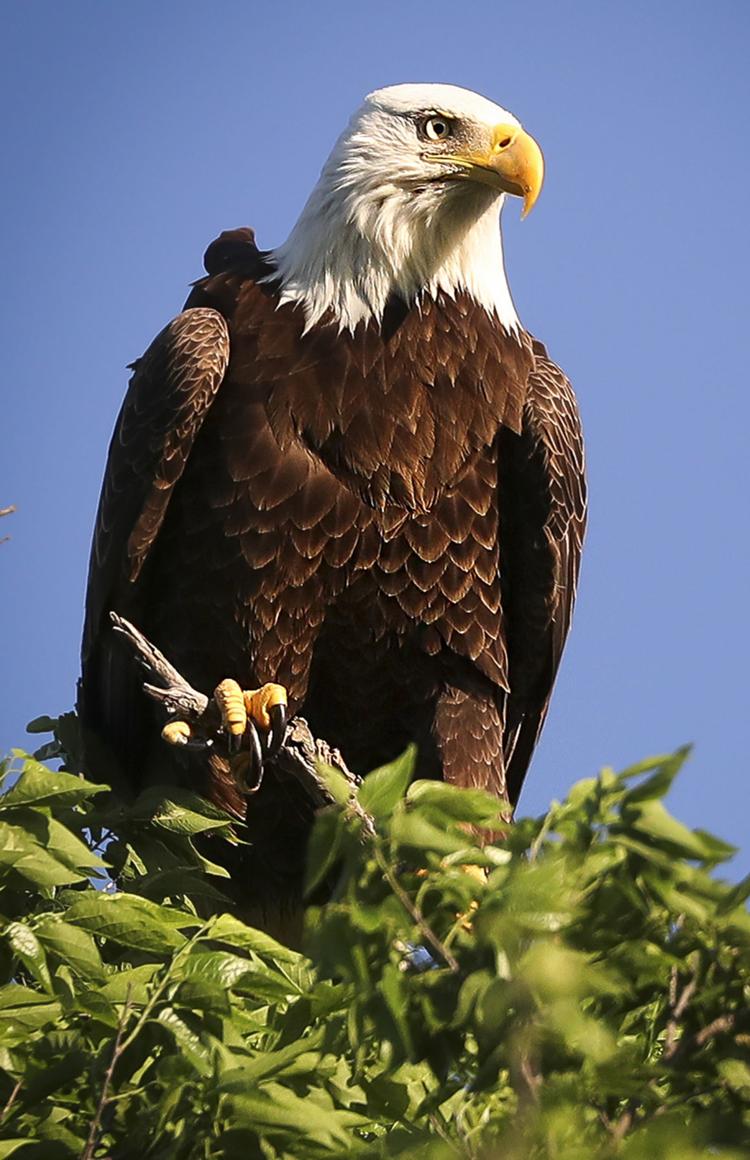 Boyd recommends that photographers bring snake-resistant clothes and a good camera with a telephoto lens.
"To get sharpest pictures you're going to have to have a fast shutter speed," he said. "They're always twitching and moving. You're going to have to be real patient."
Boyd tries to be unobtrusive and limits his presence when the female is nesting, so she can have plenty of brooding time.
These days, Boyd prefers to go solo, and likes it when he has the park to himself.
"That's one reason I don't go out as much on the weekends," he said. "I can hardly wait for Mondays."